It's Crazy How These Things Just Fall Into My Lap. And My Mouth.
He swirled the glass with sophisticated aplomb. The confidence of typical tasting room sommeliers was evident, but he lacked the industry-standard arrogance I'd come to expect in these situations: Me, the ignorant, fangirl neophyte, vs. Michael, the haughty, studied vintner.
I anticipated a constant stream of adjectives like "buttery" and "toasty" and "opulent" to flow from his mouth, but instead he said,
"It's fermented grape juice, you know? It's beautiful, but we don't have to take it so seriously.*"
*I'm paraphrasing quotes because a) I wasn't taking notes, b) I have a terrible memory, and c) I'd had a lot of wine.
Instantly, I relaxed. It turned out that, like the representatives of the other wineries we'd visited that day, Michael was approachable about his passion. Now. I don't know whether I can refer to Michael as an "actual" sommelier. He told us he had no formal education in wine, had learned on the job, and was, in fact, a knowledgeable enthusiast.
But, guys, so was J.K. Rowling about writing, and we all know how that turned out.
So while Michael has a sommelier-like wealth of wine-related knowledge, he's actually the Director of Marketing for Williamsburg Winery, which means that he also knows how to relate to the slovenly masses (aka. "me"). As somewhat of a marketer myself, as well as a lover of wine, I felt like I had finally found "my people."
***
At the invitation of her editors at the Southern Living blog, my friend Brianna was preparing to take a self-guided tour of Virginia's Colonial Wine Trail. When she asked whether I'd like to tag along, I did the same thing I did when a pro travel blogger told me I'd won his drawing for a trip to Sweden: I asked myself what I did to deserve this kind of life, answered with uncontested affirmation and gratitude, and notified my employers that I'd be out that day.
Only a maniac would turn down free wine. And I don't look like a maniac. Do I?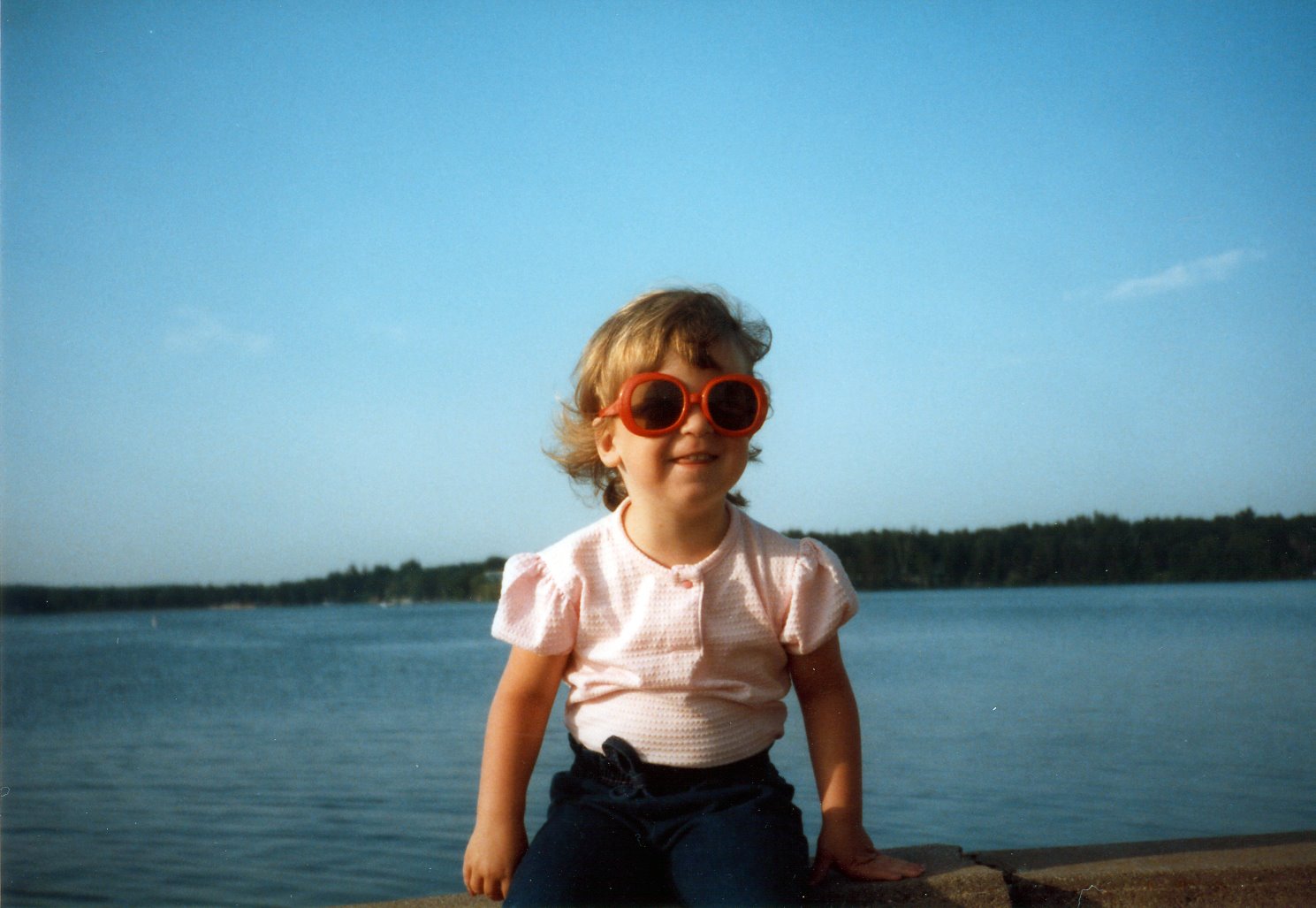 Those of you who know me know that my love for wine runs deep. During a wedding celebration in Oregon last week, a stranger I'd connected with earlier walked up and told me he didn't think he'd ever seen me without a glass of red wine in my hand. And while some might balk or take insult to such an accusation, I simply smiled.
After all, there's no sense in getting angry at the truth.
Back on the Colonial Wine Trail with Brianna, Williamsburg Winery was our fourth and final stop, and I was glad we had saved it for last.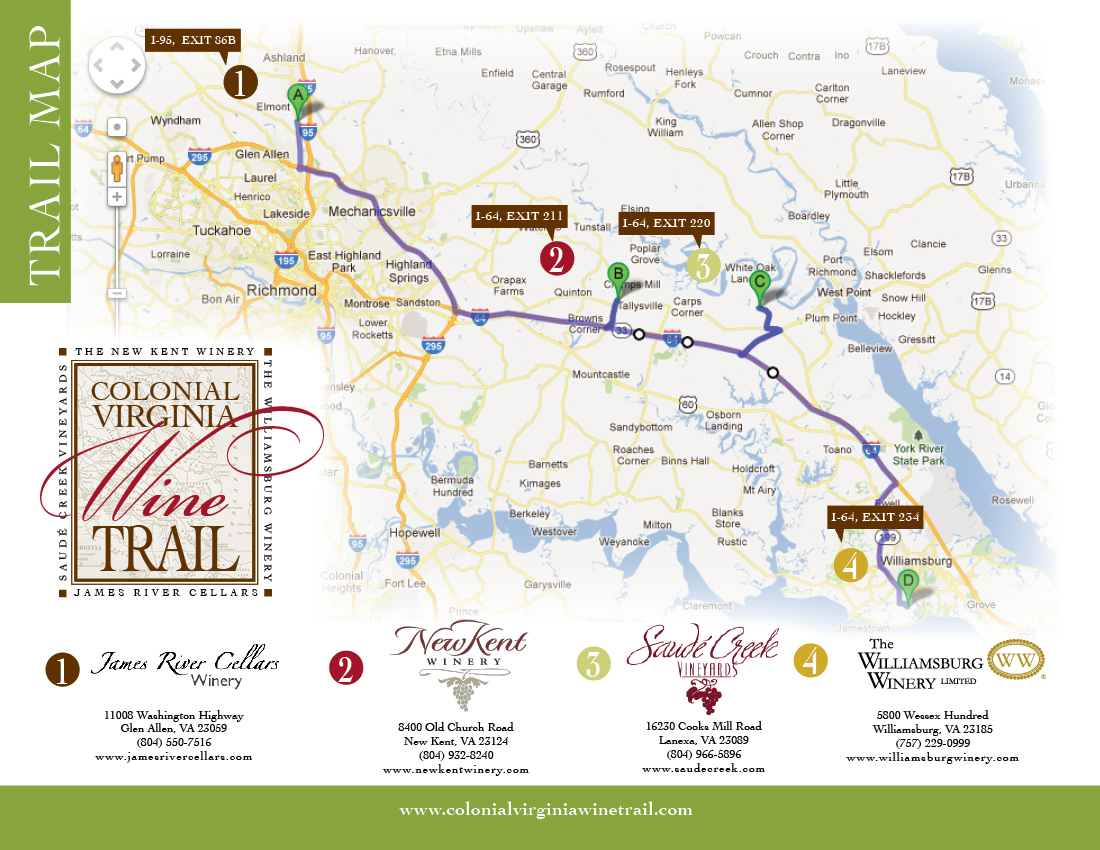 We pulled into the muddy parking lot feeling a bit bedraggled from the day's earlier storms. Following the trail had taken longer than we expected, each of the three prior stops offering something special in the way of craft product pride. (If you've never watched an agriculture-dependent entrepreneur talk about his work, you're missing out. It's almost magical, the way you can see a the culmination of years of backbreaking work and a sense of fulfilled life's purpose reflected in their corneas.)
Each stop was different though, too. James River Cellars embraced a casual "craft winery" vibe with its stand-up bar and driving range-adjacent locale. New Kent evoked the peaceful, dappled vineyard feel of California's Napa Valley, while Saudé Creek proffered stunning views of the Pamunkey River Valley.
Brianna amongst the cases at James River Cellars: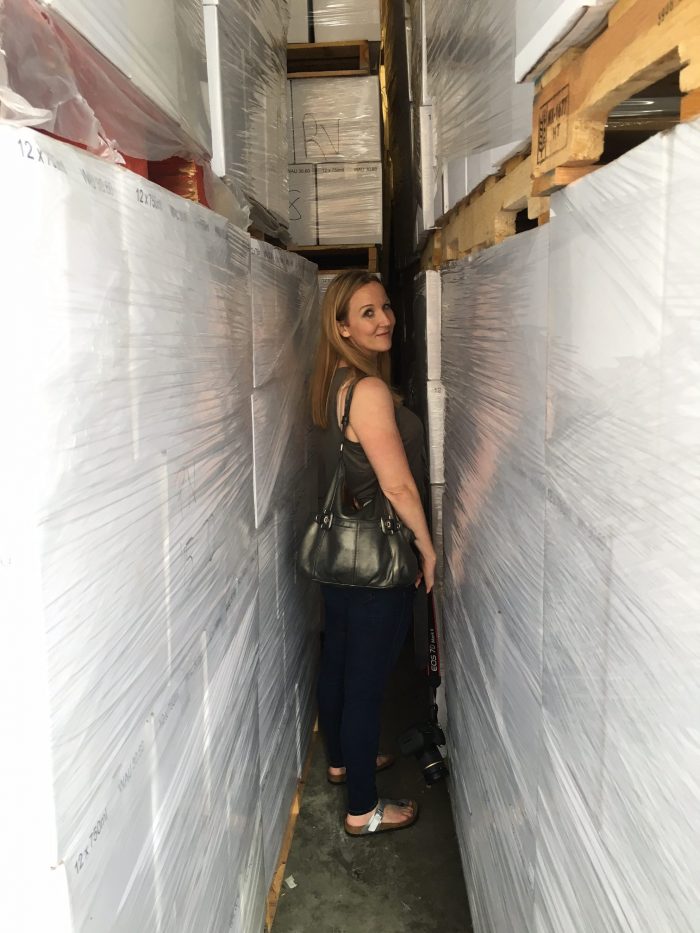 New Kent charm: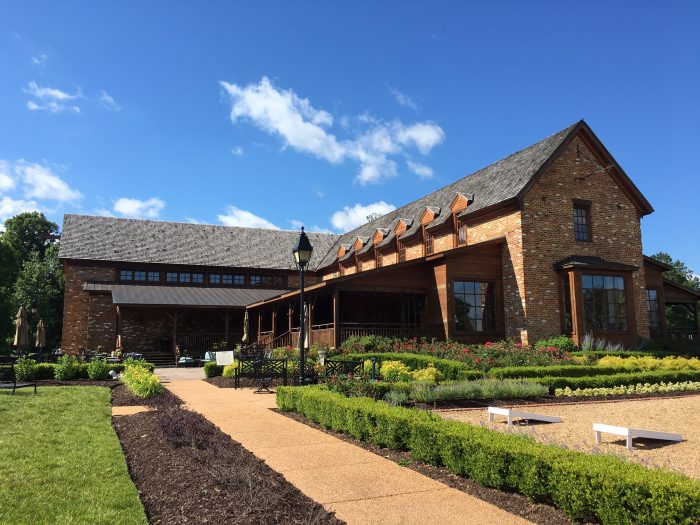 Saudé Creek views: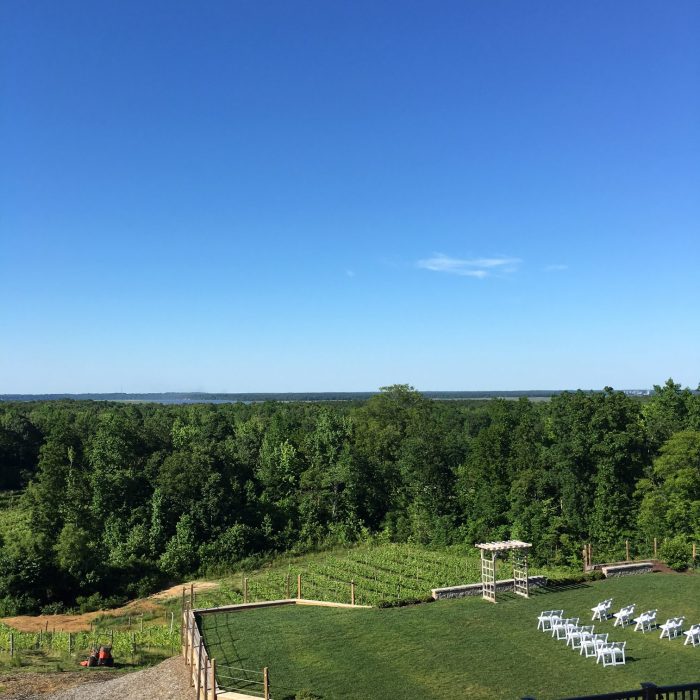 Williamsburg Winery, though, was unique. Upon entering its dark tasting room set back from the rows of barrels in the cellar, I was instantly transported back to the cellars of Italy.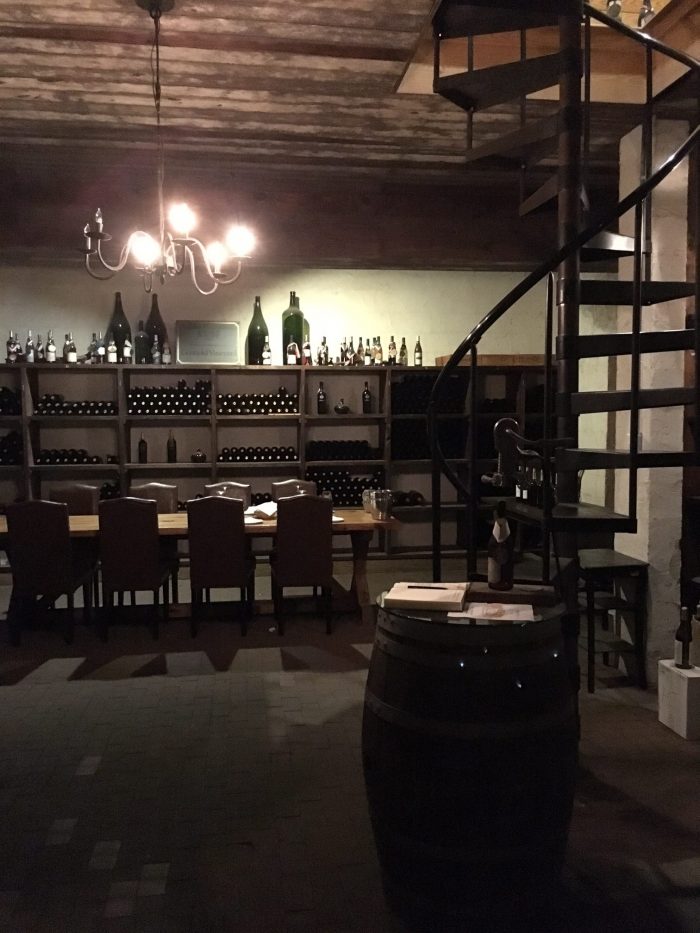 I'm not sure whether it was the dimly-lit air or the dust-covered bottles, but this room had a distinctive medieval vibe. And I loved it. It's probably because my would-be stepfather Ed knows everything (no, really — he should be on Jeopardy) and once told me that a red wine served at room temperature should actually be served at the room temperature of a castle — which is, as you might guess, quite a bit cooler than the room temperature we know and love today. And this room evoked a distinct castle decor.
Which made it pretty cool.
Following our tasting on a whim, Michael removed a dusty, reserved bottle of red wine from one of the shelves. Opening it with a flourish, he said, "This isn't one of our tasting wines, but I want you to try it." Then, while pouring us a glass, he added, "And I wanted to drink some." He went on to explain how Viognier, a green grape which produces a lovely, complex white wine, is an up-and-coming Virginia varietal, perhaps even becoming somewhat iconic to the region.
"Like Pino noir in Oregon!" I shouted, excited to contribute some wine-based fact — any wine-based fact — to the conversation.
"Exactly," he smiled.
Encouraged, I continued. "I have a friend who loves Pinos so much that she owns special tulip glasses to drink the bottles she imports from her cellar in Oregon. Supposedly the curved rim of the glass helps the wine hit your tongue in exactly the right place to fully appreciate it." Michael and Brianna smiled knowingly. My mouth was probably purple. "So you should develop a special glass for the Viognier," I continued, unaware of Michael's Director of Marketing status. "Something elegant and pretty — something that makes you want to drink that wine." I laughed, taking another sip from my glass.
"That's actually not a bad idea," Michael smiled.
"You can have that one for free," I said, winking and tapping my temple with my index finger. My mouth was undoubtedly purple. "You just have to name it after me — 'The Katie,'" I said, and we all laughed hearty wine laughs.
"No, no–" Brianna said once the dust settled. "Not the Katie, but the Katié — you know, with an accent." And after that, the laughing didn't stop.
***
As different regions across the U.S. work to further establish themselves in a world of renowned wines, I can't help but think that many will begin to do their own thing — to evolve a more casual "craft winery" vibe, much like the craft breweries that seem to be spreading like the pox.
In some cases, like with Michael, this could be a positive evolution because it will make wine more approachable to the general public. One thing I'm confident he understands though is that drinking wine is an experience. And if we dilute it too much — temper it with marketing and season it with gimmicks — we forget why we came in the first place.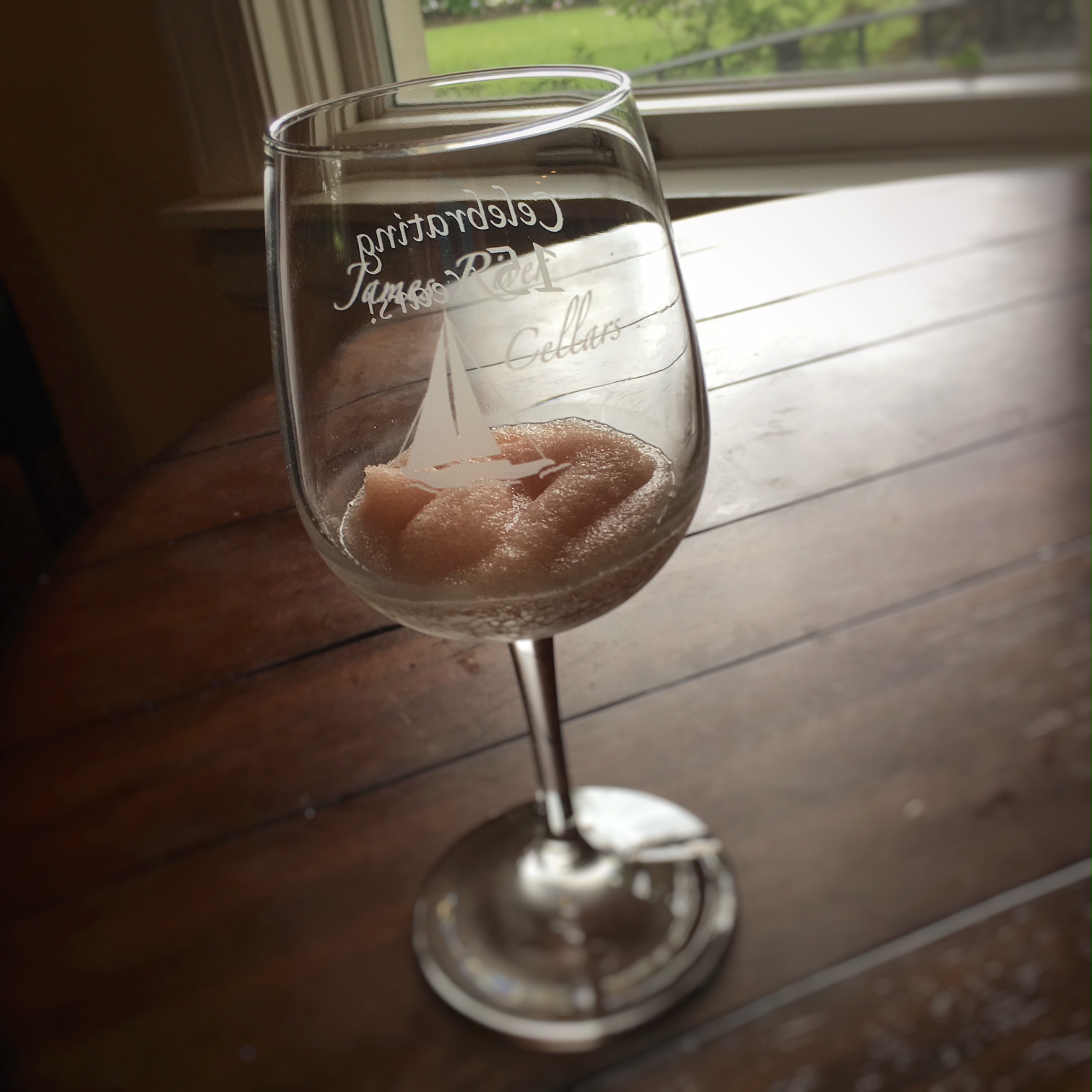 Wine smoothie. To me, it kind of tasted how it looks — but many people love it.
Though I still think the Katié is a brilliant idea.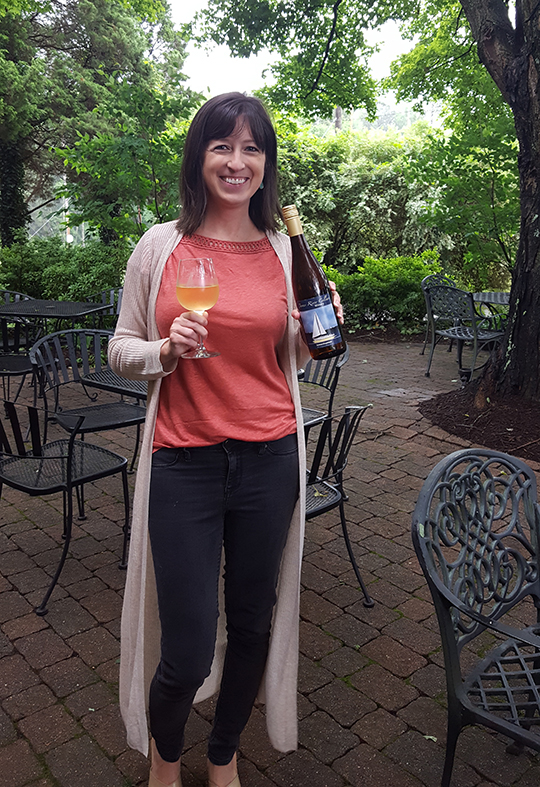 Good to Know:
They have a hotel! So if you partake in as much wine as I did, do yourself a favor and book one of the gorgeous European-inspired rooms. (Really, they're lovely.)
There is also a tavern and a cafe.
The 7-wine tasting & tour with 3-course dinner ($80 pp, not including dinner beverages), looks intriguing. Sign me up!