Boutique Hotel Spotlight: Aia Mattonata – Siena, Italy

"That olive tree is over 200 years old," Elisabetta smiled proudly at Mario, urging him to tell the story.
Eyes shining with reminiscence, it was at that moment when stoic, business-like Mario Olivo loosened his metaphorical tie. Formality melted from his features and his body visibly relaxed. "This tree had been on my family's property for a long time," he smiled, sinking into a tale he's told at least a hundred times. "When my father passed away, the tree had a son."
"Wait — you lost me," I laughed. "The tree had a son?"
"That's right. When olive trees age, they become frail and send up new shoots as a way to protect themselves from the wind. The oldest parent trees are often surrounded by children. And this tree had its son right after my father died…"
His voice faded off, in its depths a mixture of pride and sadness. But where Mario finished, Elisabetta, his partner in both business and life, picked right up. "We knew we had to move the tree with us when we bought this property," she said. "The tree is a symbol — father and son. We couldn't leave it behind."
*****
I'd arrived at the Aia Mattonata Relais the previous afternoon, much later than I'd intended after losing my way through the winding streets of Siena in order to seek out the cathedral and its infamous inlaid marble floors. I was frazzled and out-of-sorts, slightly perturbed at the cost of the cab ride from my Airbnb apartment north of the city to this secluded hotel in its far southern hills, and still physically exhausted from the elation of the previous day's Vespa ride through the Tuscan countryside (full story coming soon).
Mario showed me to my room, where I promptly collapsed on the bed to enjoy a proper Italian siesta.
The loud ring of the room phone startled me awake. "I'm sorry to disturb you, but I just thought you might want to see the sunset," Mario said on the other end of the line. There was a slight note of urgency in his soft spoken voice. "It's really beautiful tonight."
How had I slept so long?!
By the time I hastily put on my pants and grabbed my camera, I'd missed every Tuscan tourist's dream — Golden Hour (or more like Golden Minute) — when the setting sun bathes the rolling hills and the hotel's stunning view of Siena in a warm, etherial light.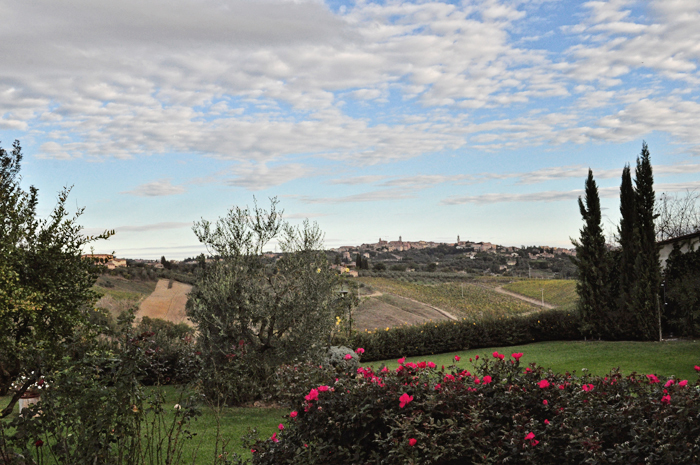 This was the closest I got, but I'd just missed the best light.
Unfortunately, I only had one night to stay at Trip Advisor's #1 hotel in Siena, and I wanted to beat my head against a wall for sleeping through such a magical moment.
Mario and Elisabetta offered to call me a cab into a nearby village for dinner, but I was still feeling bedraggled and opted instead for the complimentary snacks laid out in the dining room and bottle of wine waiting in my room.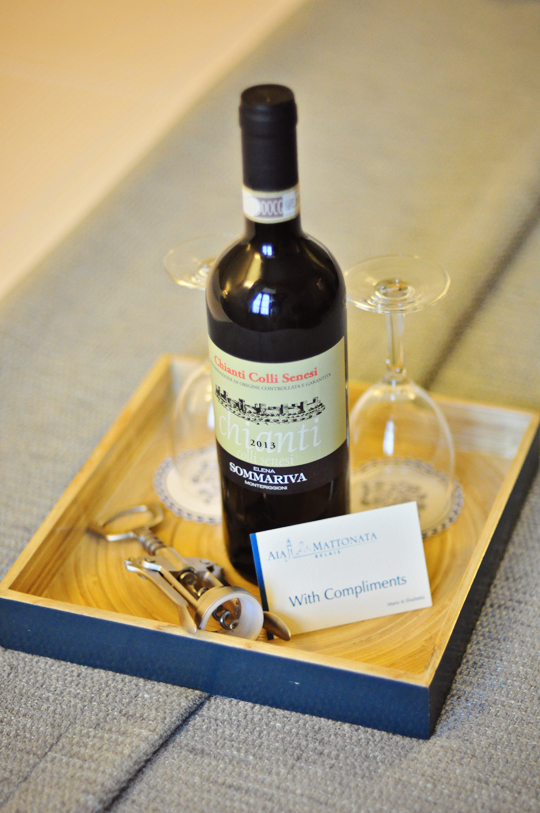 I was afraid I'd made a terrible first impression and was distracted by the fact that the train employees were on strike, so I still wasn't sure how I'd be getting to my apartment in Florence the next day.
But it turned out Elisabetta and Mario know just the cure for "travel frazzle," and it's evidenced in the soothing details of their carefully curated surroundings.
I made my way to the hotel's cozy lobby, which is more like a living room with conversational furniture, a fireplace, and an assortment of board games and reading material, where an American couple joined me for an evening glass of wine in the inviting space. I went to bed early and slept amazingly well, awaking with a renewed vigor and refreshingly clear head.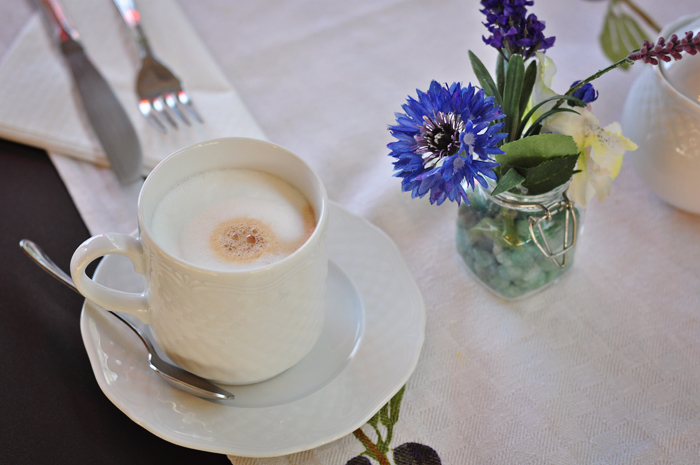 I enjoyed breakfast in the heated attached enclosure that's open for al fresco style dining in the summer. Absorbing a fresh cup of cappuccino and the view of the gardens, it felt as though just a single night in this beautiful hotel had given me a fresh start to my trip.
The Hotel
The Aia Mattonata feels more like a house than a hotel.
In fact, it used to be a house which had grown derelict from neglect, until former city-dwelling finance specialists Elisabetta and Mario bought it and the property next door with the intention of residing in the other house while using this one as a rental property. But after spending hundreds of hours meticulously renovating — selecting hand-painted antique furniture for every room, hiring a muralist to add soft touches to the walls, adding a pool, extensive landscaping, and their beloved family olive tree, they couldn't bear the thought of renting the home for weeks or months at a time with so little control over the happenings inside.
Instead, they turned it into a boutique hotel with concierge and spa services, saltwater swimming pool, and extensive breakfast buffet. The work is exhausting and much more than they'd initially intended, but the love and care they've put into the place is evident in the immaculate attention to detail.
The Room
Elisabetta and Mario had wanted to give me an upstairs room with a view, but the timing didn't work out with other booked guests and they apologized while offering me their downstairs room.

Yep. They apologized for giving me this stunning room with hand-painted furnishings, gorgeous natural light, and THE BIGGEST SHOWER IN ALL OF ITALY.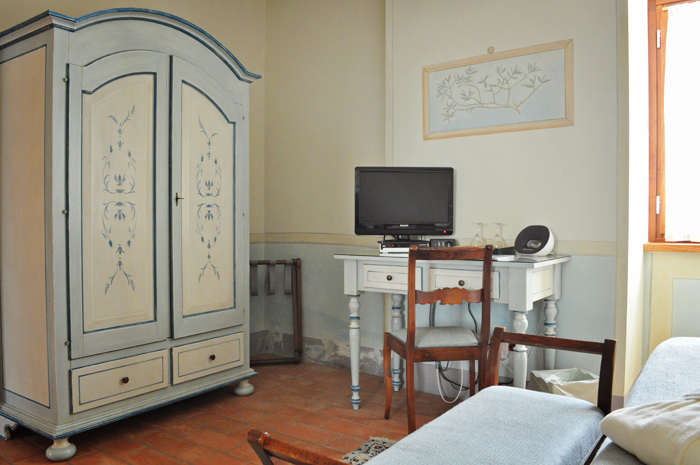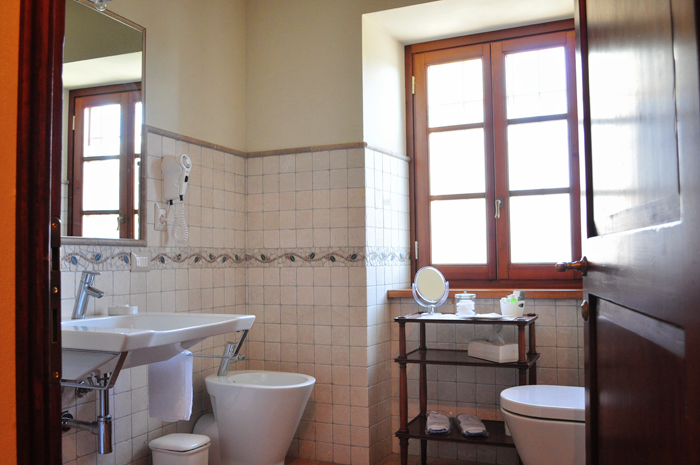 My room was handicap accessible, which means my bathroom was huge, and the gargantuan shower is pretty much unheard-of in this part of the world.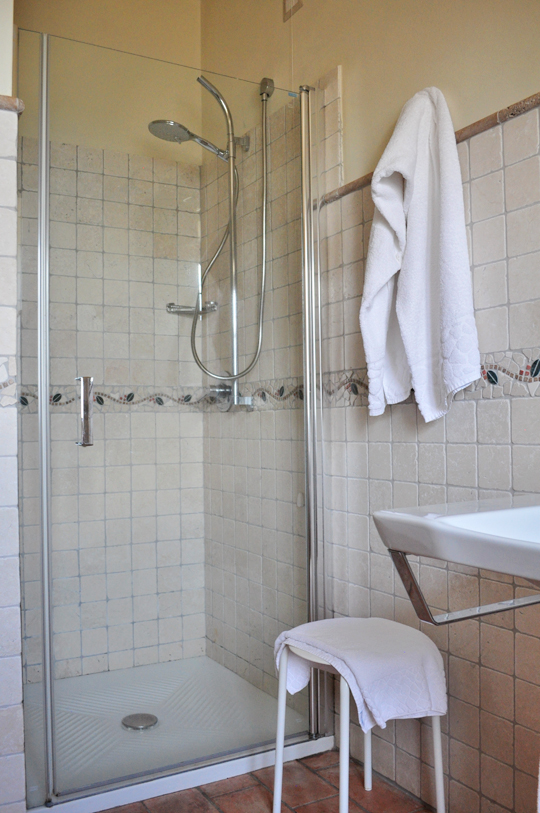 No detail was overlooked.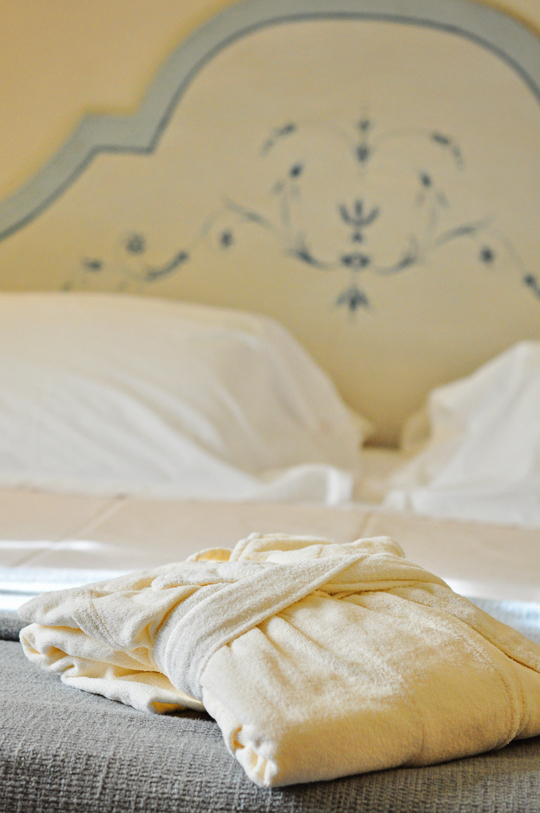 Be sure to visit their website for MUCH better photos of the rooms and the property — it really is even prettier than I was able to capture.
Perhaps the best detail of all is the mural above the doorway to the kitchen: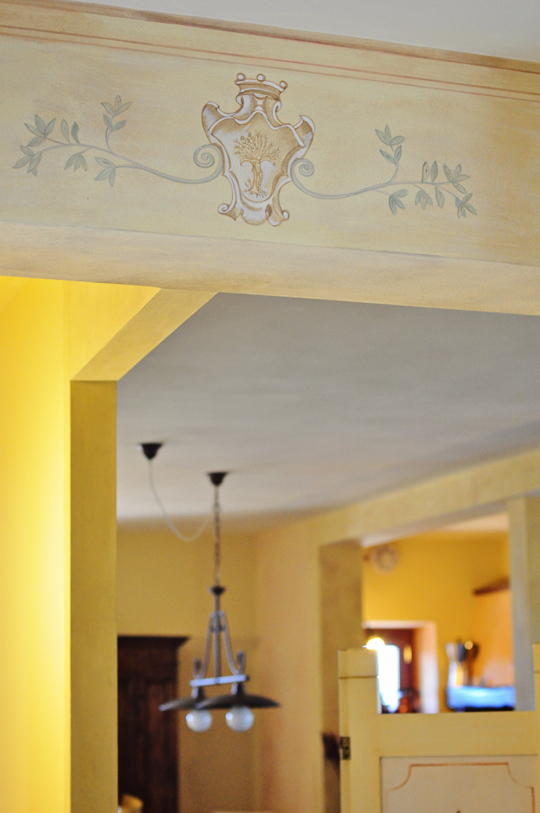 When Elisabetta was working on designs with her muralist, they decided to create a family crest, of sorts, and were immediately struck with inspiration. It seemed obvious. An olive tree would be the perfect symbol to represent their passion and their business — both for Mario's surname, Olivo, which is Italian for "olive tree," and for their magnificent transplanted parent tree.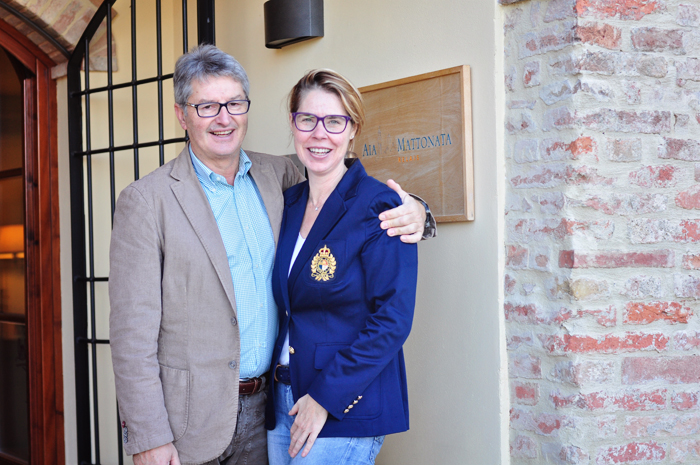 "The work is hard," Elisabetta confided. "Much harder than we'd expected, with little time off. And when we do have a break, all we want to do is stay at home to relax and unwind."
And yet they keep going — pouring everything they have into this business they've built.
Maybe it's a love for the renovation. Maybe a passion for the people who stay. Maybe, even, a little push from Mario's father if you believe in that sort of thing. But wherever it comes from, the inspiration has helped Mario and Elisabetta build something special — a place where I'd like to return with Justin one summer to relax by the pool, read a book in the garden, and finally — finally — catch the sunset at Golden Hour.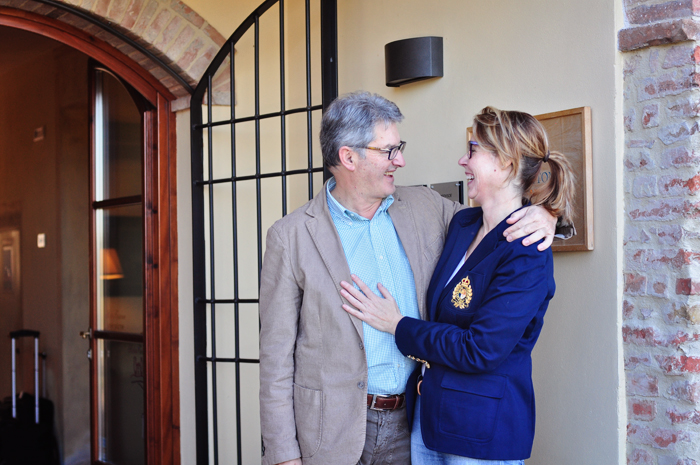 Need to Know:
Aia Mattonata Relais
Strada del Ceraiolo, 1 53100 Siena
+39 0577 392073
info@aiamattonata.it
Good to Know:
This hotel is not within walking distance to the city of Siena. I would highly recommend getting a rental vehicle to stay here, but trust me when I say that I would go back and do that in a heartbeat. Mario and Elisabetta know all of the best restaurants and sights in surrounding Tuscany, so next time I would rent a car to take advantage of their intimate knowledge of the area.
They are very up-to-speed with technology: decent wi-fi, electronic room keys, and fantastic communication.
Not all rooms have a view of the beautiful rolling hills, but each room is large, unique, and beautiful in itself — a rarity when it comes to small hotels in Europe!
Disclosure: The Aia Mattonata Relais invited me to stay in exchange for writing a review. Rest assured that all opinions, as always, are completely my own.