Boutique Hotel Spotlight: Oakhurst Inn – Charlottesville, Virginia.

When it comes to front doors, there are entrances, and then there are entrances. My home for example, which was built in 1957, just has an entrance. It's a cave-like recessed spiderweb and mildew collector replete with foreboding mid-century door and sad little overhead light that, rather than Welcome home! instead cries, Don't look at me! in embarrassment. The porch beneath has been draped — nay, superglued — in a dashing kelly green Astroturf, and the old metal mailbox hangs rusted in shame.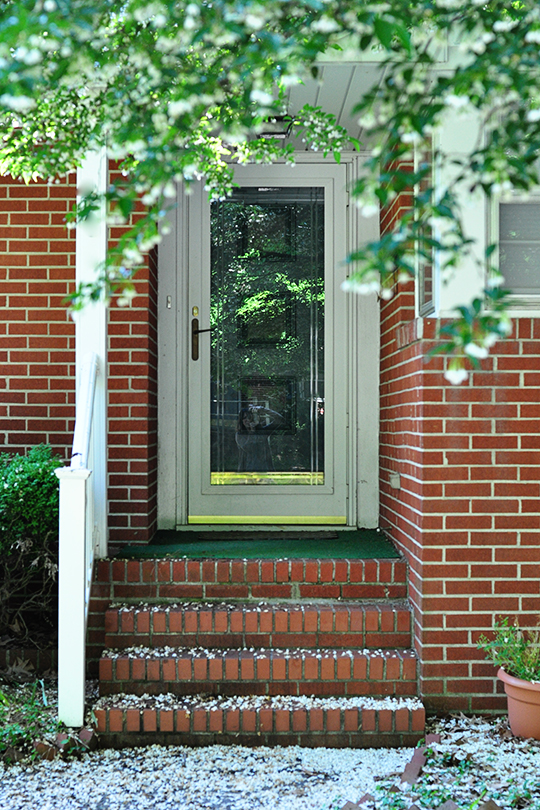 I don't even know where to begin.
Two weekends ago, I found inspiration at the Oakhurst Inn in Charlottesville, Virginia. I've made it a goal of mine to explore more of this stunningly diverse and historically rich state while Justin and I are stationed here. So when Lacy, one-half of one of the three husband-wife teams who run it, invited me to the Oakhurst for a visit, I couldn't turn her down. Charlottesville, first of all, is a picturesque town near the Blueridge Mountains and home to The University of Virginia, as well as former U.S. presidents Thomas Jefferson and James Monroe. Jefferson's nearby home, Monticello, draws nearly half a million visitors per year and is a UNESCO World Heritage site. The surrounding mountains are dotted with award-winning vineyards, farms, and orchards producing some of Virginia's finest wines, cheeses, and ciders. Proud foodies rejoice — if farm-to-table hasn't yet become too trendy for your taste buds, Charlottesville is the place to partake.
What I learned upon pulling up in front of the Oakhurst Inn after a smooth, 2 1/2 hour drive up I-64 is that an entrance need not be grandiose to be an entrance. Often all it takes is a little more pizzaz and a little less Astroturf.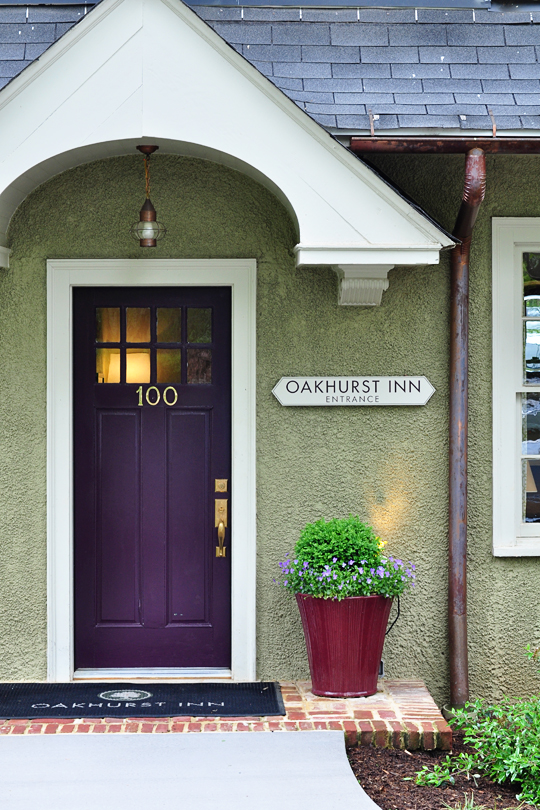 I can't tell you all the ways I want this to be my front door. That, m'dears, is an entrance.
From the red bucket planter and moss-green stucco to the brass and plum front entrance accented by the copper lantern and downspout patina, I was ready to move in.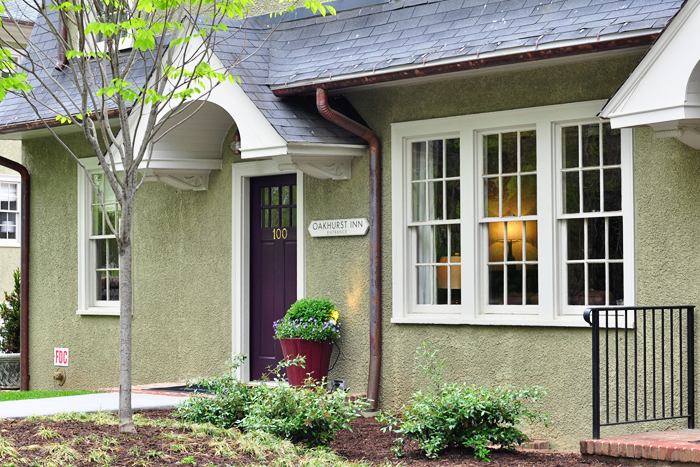 I'm thinking plumb might be the new red. You can quote me on that.
The care that has gone into this property's restoration is evident.
Located in a historic neighborhood across the street from the university, the diverse beauty of the surrounding homes and pedestrian-friendly walkways make this place feel more like a private home than an inn. In fact, the main building, Oakhurst House 100, was originally constructed in the 1920s. The owner occupied the first and lower levels, while the far right entrance accesses the upstairs and was used for boarding medical students who worked at the UVA hospital.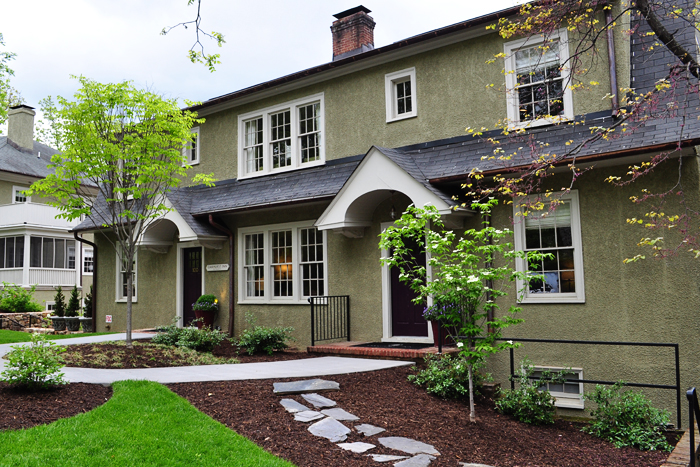 The building next door (slightly pictured above), Oakhurst House 102, was built by 101's daughter as additional boarding space for med students. Little is known about the history of Oakhurst House 104 and Cafe, but I can tell you they're appropriately storybook-worthy as well: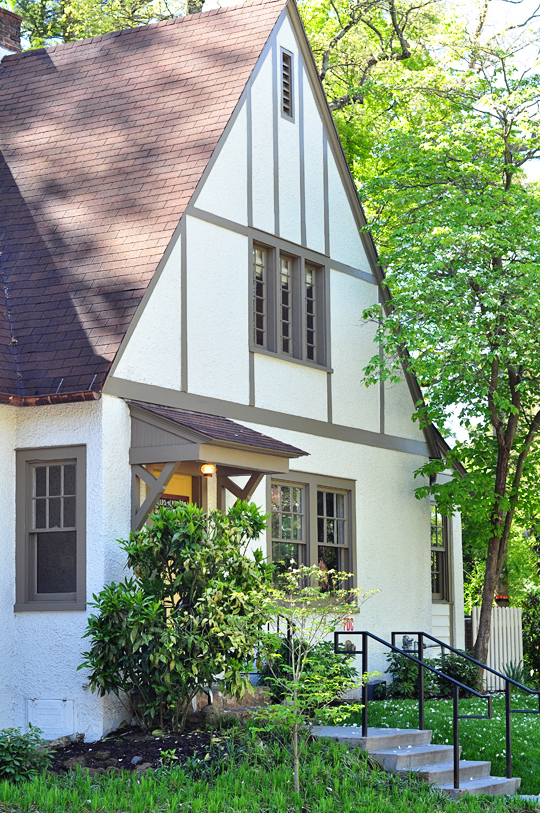 The property's owner, Bill Chapman, spent over seven years designing, renovating, and restoring the historic homes with Kenny Ball Designs. With 8 years experience as Chef de Cuisine at a popular downtown restaurant, it only made sense that Bill's wife, Jeanette Peabody, become Executive Chef at the Oakhurst's cafe. Upon walking through the carefully appointed common areas, it's obvious that it was important to them to create warm, contemporary spaces that paid homage to the property's academic history.
Lacy and her husband Justin met the General Manager Phillip St. Ours and his wife Hannah while house-hunting in Charlottesville. Justin and Lacy were just moving to the area and, upon hearing about the renovation project from their new friends, had no idea their lives — and livelihoods — were about to change. Lacy and Justin decided to join the couples in their daring endeavor, and the result? A truly family-run operation. The care they take to maintain a "home away from home" kind of vibe is clearly felt — right down to the complimentary homemade ginger cookies from the cafe as part of the turn-down service!
Upstairs Common Area, Oakhurst House 100
Downstairs Common Area, Oakhurst House 102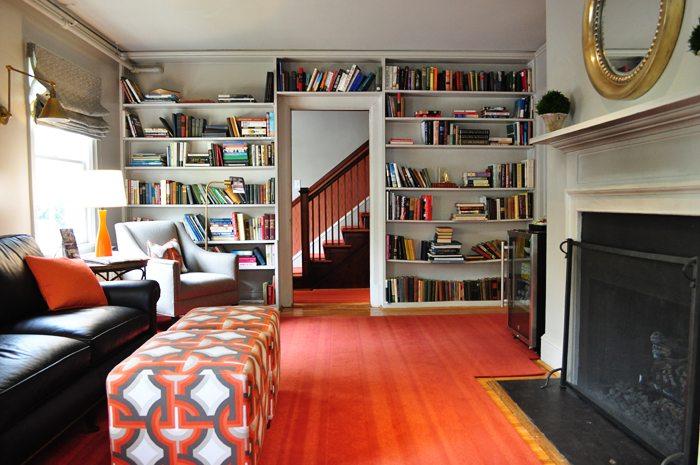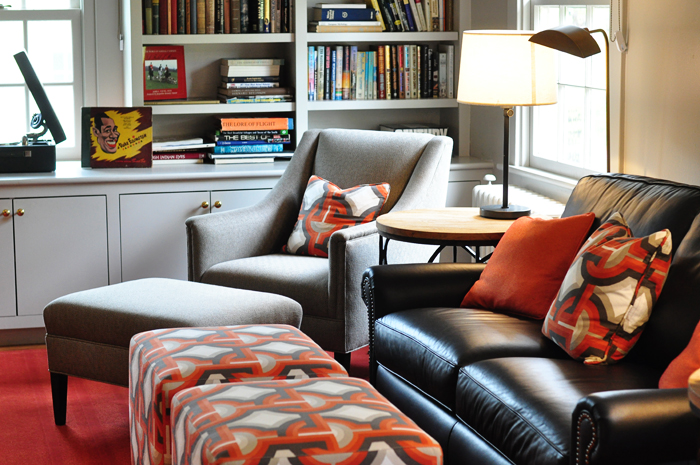 All of these rugs were custom-made by native Charlottesvillian? That doesn't sound right. Charlottesvillionian? Charlottesvillinite? They were made by Peter Meade.
Most boutique hotels only have the space for one tiny common room. If you've stayed in one, you know. Sometimes you're feeling snippy with your spouse because he didn't power wash the front steps, or maybe he's feeling a bit gassy from the roadside diner tacos you told him not to eat, and you just want to stretch out somewhere other than your room without feeling as though you have to be social with other guests. And sometimes these common spaces have already been "claimed" by a particularly comfortable guest who's marked his territory by spreading out his belongings and is napping barefoot on the sofa.
Fortunately the Oakhurst buildings are thoughtfully rife with naturally and lamp-lit places to curl up in front of a fire and read a good book. While we were there, I noticed I could've set up camp in any one of them without feeling like I was imposing on someone else's claimed territory. Better still? The mini fridges filled with complementary waters topped with espresso machines dotted throughout the buildings.
Room 8
But let me get to our suite. Yes, Room 8 — which also happens to be my favorite number — is a suite filled with one more flat screen and far nicer furniture than we have in our home. (We only have one television and most of our furniture came from Craigslist. Or Target. Or military friends who felt sorry for us when we first got married.)
The bed with built-in side tables was custom-made by local craftsman Tim Fisher, and I wanted to steal that chunky black phone with the fake rotary dial and take it home and wrap myself in the curly cord while talking to my BFF like I did when I was fourteen. Because that's normal. #smartphonesarethedevil
Considering we'd just escaped from our home and the weekend celebrations of the recent CNU graduates, I was a little nervous to see just how close the inn — and particularly our room — was to the VSU campus. And then enter the most brilliant amenity I've ever seen placed in a hotel room (next to fuzzy robes and a complimentary bottle of wine, of course) — a white noise machine.
Now.
I can't tell you whether it was noisy outside our room at night or not, because the white noise blocked all. Add to that a comfy mattress and serene surroundings, and we both slept beautifully.
The Cafe
Just down the sidewalk from the two main buildings is the Oakhurst's Cafe and Coffehouse. On the drive up to C-ville, I was using Devil's Spawn (aka. my smart phone) to assess where we might want to have breakfast the next morning. To my surprise, with all of the quaint little choices in the picturesque downtown area, my off-the-path Inn's very own cafe is rated #1 of all of the coffee places in town. Sold.
And the brunch menu was decidedly impressive.
I ordered the housemade coconut almond granola with local yogurt and brandy-poached pears: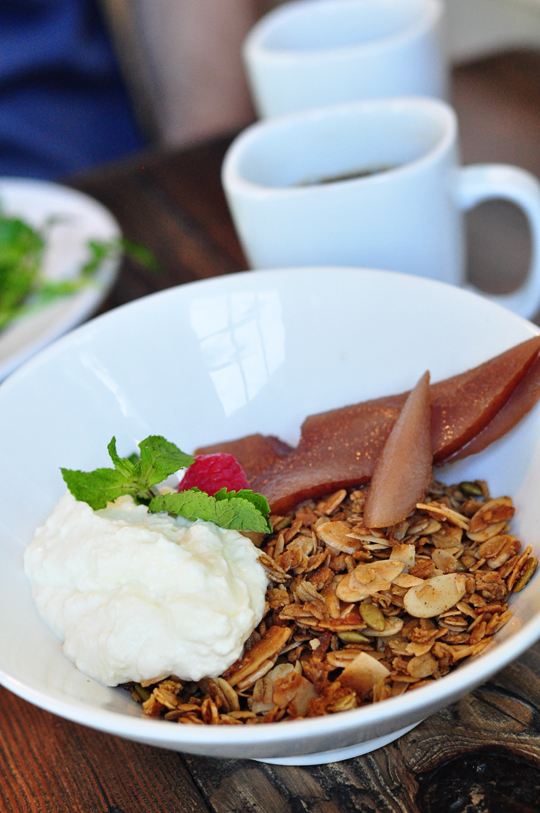 Plus a bacon chive scone for good measure (it was bigger than my face):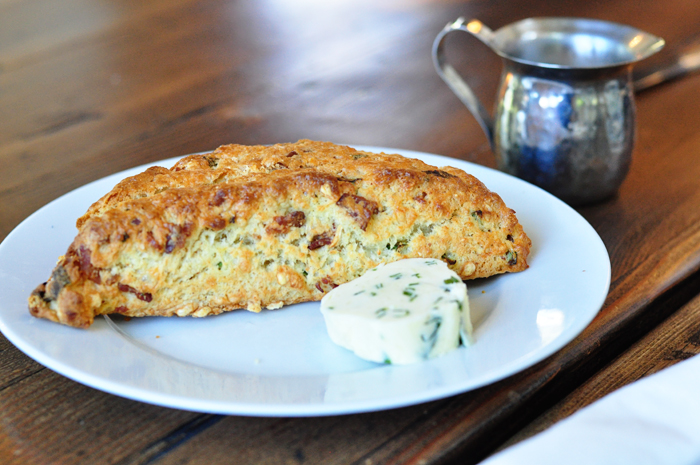 And Justin ordered the eggs meurette, with Poached in Burgundy wine, sautéed shiitake mushrooms, asparagus, applewood bacon, and crusty crostini. Plus some greens so he wouldn't feel bad about himself.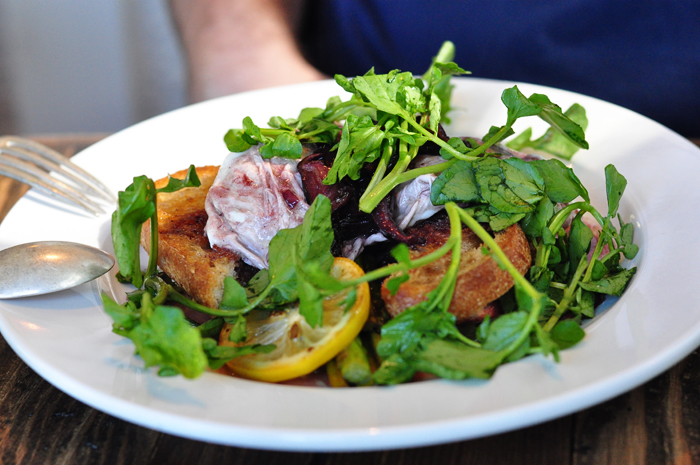 When I saw the glistening golden yolk soak the crostini and grilled asparagus, I demanded that we switch breakfasts in exchange for the promise of future sexual favors.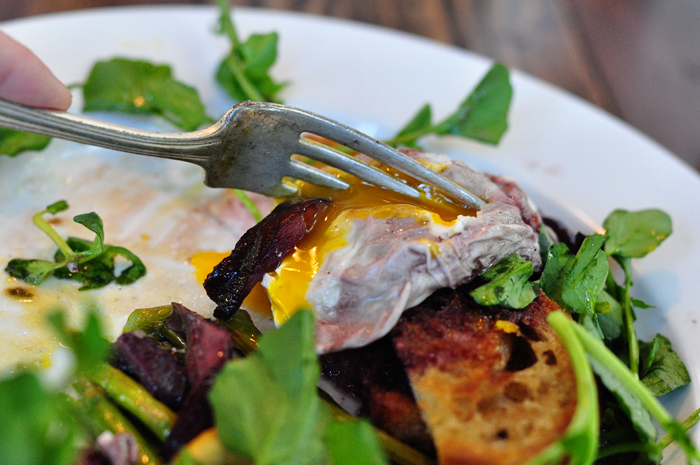 Just kidding. I wanted to see if you were still paying attention. But we did switch plates because Justin was diggin' the granola while I could think of nothing other than that Burgundy wine poached egg.
We split the scone.
You know, to save calories.
The Oakhurst does offer wine, cider, and beer tours, but we opted to check out just one winery and explore Monticello. Oh, and at Lacy's recommendation, we had one of the best meals of our life at an imitation speakeasy in downtown Charlottesville.
But that, m'dears, is for another post.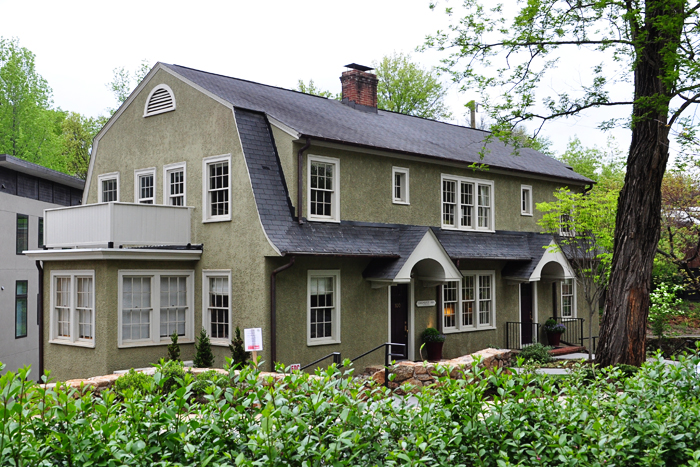 Need to Know:
Oakhurst Inn
100 Oakhurst Circle
Charlottesville, VA 22903
434-872-0100
info@oakhurstinn.com
Good to Know:
I strongly suggest you leave the "Do Not Disturb" sign OFF of your door when you leave for the day, so you can return to a room that's been treated with the inn's exceptional turn-down service. Our bed looked ready to jump right in, and we were left lovely glass bottles of filtered water and two homemade cookies from the cafe.
The main downtown area of Charlottesville is a bit far but walkable if you're wearing comfy shoes. But there is also a FREE trolley service as well. Justin and I took that late at night and would recommend just grabbing a cab or an Uber ride instead because it's much more direct, but for daytime jaunts around town, the trolly is perfect. I'm told there's a free trolley app available with timetables and stops.
Because of limited public parking near the university and in the historic district, The Oakhurst Inn offers free valet parking. Just call down to the front desk 15 minutes or so before you're ready to leave, and they'll have your car waiting right outside the front door.
Disclosure: The Oakhurst Inn invited me to stay in exchange for writing a review. Rest assured that all opinions, as always, are completely my own.