My Perfect Road Trip Bag and A Giveaway!
I'm not sure if you know this about me, but I'm not really a joiner.
Like, I enjoy the company of humans and socializing with like-minded people (or open, un-like-minded people) over unprocessed nibblies and the warm buzz of alcohol, but when someone tries to add an element of organization to the gathering, I get all sweaty and uncomfortable.
It probably stems from my super awkward childhood and the fact that team sports were never my strong suit.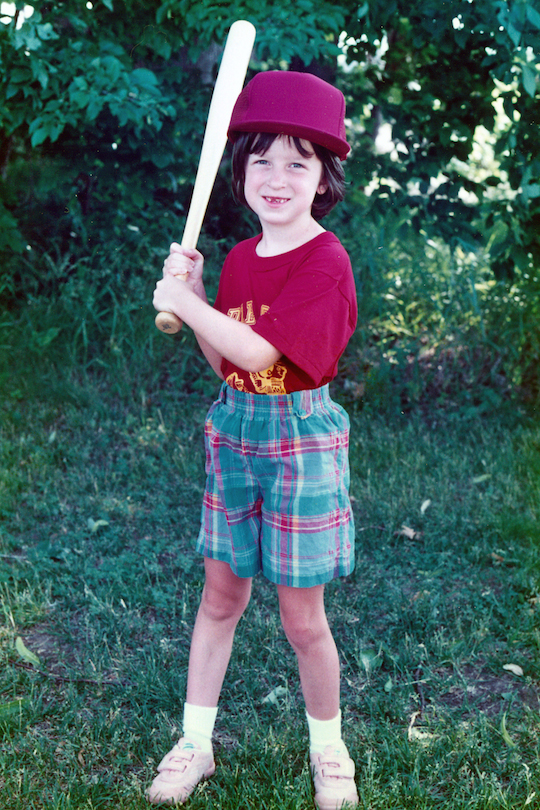 But the beauty of the online world is that the friends I make can't tell whether I'm wearing my shirt tucked into my plaid knee-length shorts, and they've never once asked for my tee-ball batting average. They're pretty great. So when some blogging friends asked if I wanted to join a Blog Hop, of course I was like,
"What the deuce is a blog hop?"
So then, because they're really nice and not judgmental, they explained it to me.
A Blog Hop is an event where bloggers get together to write content associated with a specific theme – in our case, "My Perfect Roadtrip Bag" – and YOU, the readers, get to move from one blog to another reading our posts and entering to win our giveaways. The caveat is that you don't actually have to read our posts to enter the giveaways, but we're working on the honor system here.
What's great about this is that by visiting these other blogs and entering the giveaway on their pages, you can increase your chance of winning. PLUS, you have the chance to discover some really great blogs. (Because I wouldn't send you there if I didn't love them myself.)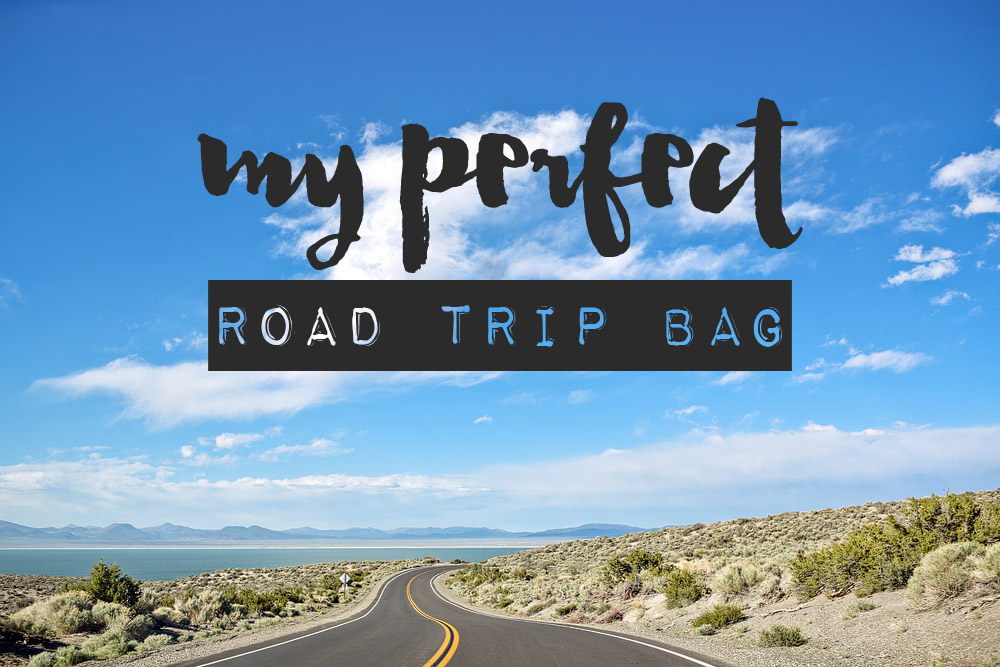 My Perfect Road Trip Bag
I love a good road trip. The Tracker and I have driven over 180,000 miles across this amazing country together, and for the past 13 years, we've bonded over mixed CDs of 90's pop, rages against teenaged Dodge Neon drivers, and a mutual hatred of I-95.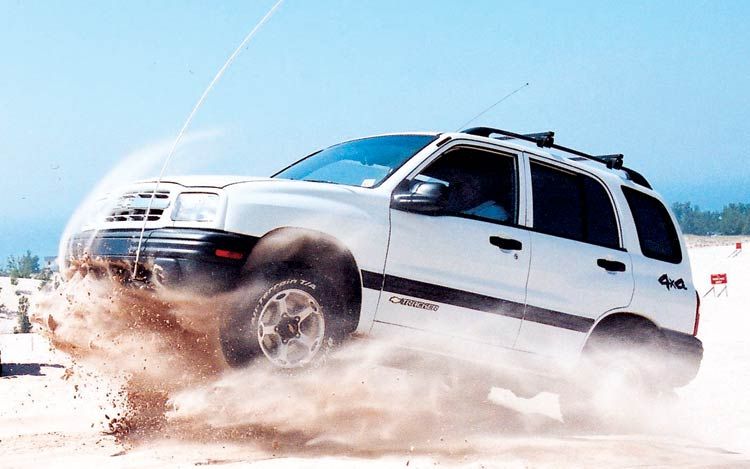 We've moved my sister from Miami to Chicago, we've cruised the Pacific Coast Highway, and we've even driven through a giant Redwood tree.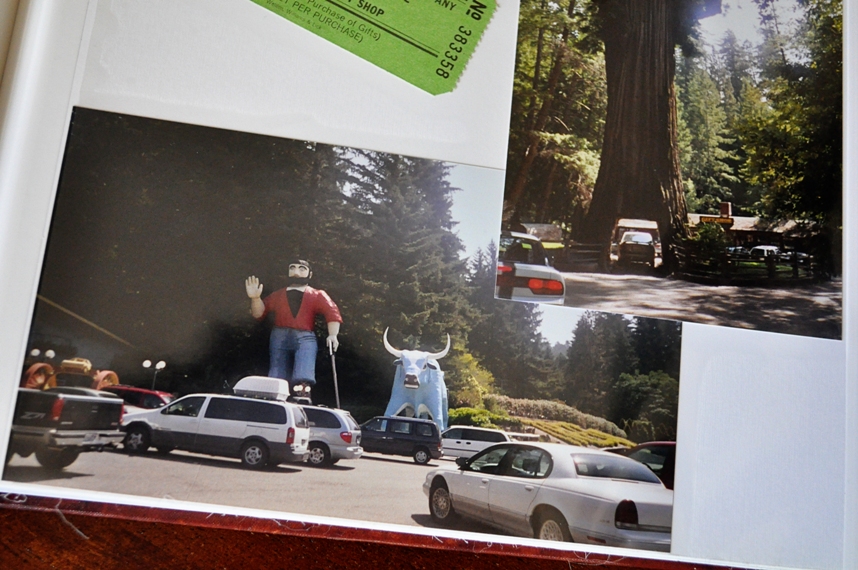 Ever since making the 13 hour solo trek back and forth from my first college to home and back multiple times across the plains of Iowa and Indiana and always — always — christening the trip by belting "Omaha" by The Counting Crows through the factory sound system, I learned that cruising the road was a taste of true freedom.
Since then, I've become somewhat of an expert on truly enjoying the ride.
So what's in my perfect road trip bag?
1) Music. Of course. You can't rely solely on the radio — unless you've sprung for the satellite — to sustain your specific needs. When your eyelids begin to droop or you find your mind wandering back to the days when you thought plaid shorts were cool, you have to be able to reach for the Billy or the Michael or the Elton to pull you out of your funk. For me, these prime choices are best served up a la CDs I made for myself in the 90's.
2) Re-usable water bottle. My water bottle is essentially my security blanket — especially on a road trip. I prefer this kind because it doesn't have a straw that gets all gunked up and the lid pops open easily with one hand so I can keep the other on the wheel.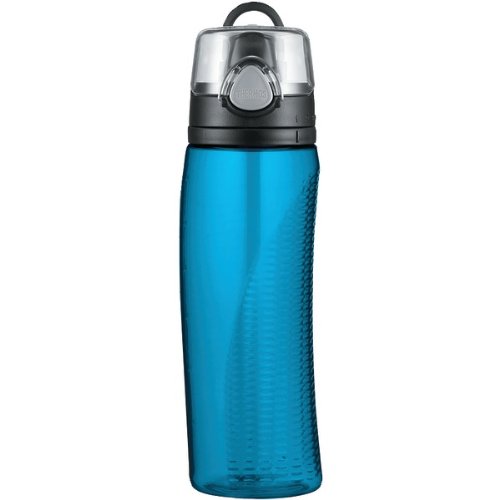 3) The BEST tip for making it through an extra long road trip is audiobooks. I was never a book-on-tape kind of gal, much preferring the feel and smell of real paper and reading at my own pace in my own character voices. But it turns out it's not a great idea to try reading while you're driving, and when music just isn't cutting it to keep your mind focused on the drive, a book on tape is the perfect way to pique your interest and occupy your mind on long stretches of highway.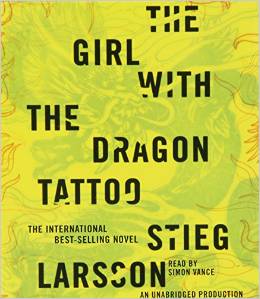 I really enjoyed listening to The Girl With The Dragon Tattoo this way.
4) Trail mix. Rarely do I ever set off on the road without a bag of trail mix. And not some exorbitantly priced little store-bought package of salty grease nuts, either. I find it's best to grab a gallon sized ziplock bag and fill it with 1/3 roasted peanuts, 1/3 raisins, and a whole crapload of M&Ms. Justin likes to get fancy by adding assorted cashews, dried apricots, and maybe even some macadamias, but I prefer to keep it simple with the basic salty-chewy-sweet trifecta.
5) Finally, every good road trip needs a navigator, and every good navigator needs a neck pillow so he can sleep while you're busy getting lost. The J Pillow is REVOLUTIONARY, guys.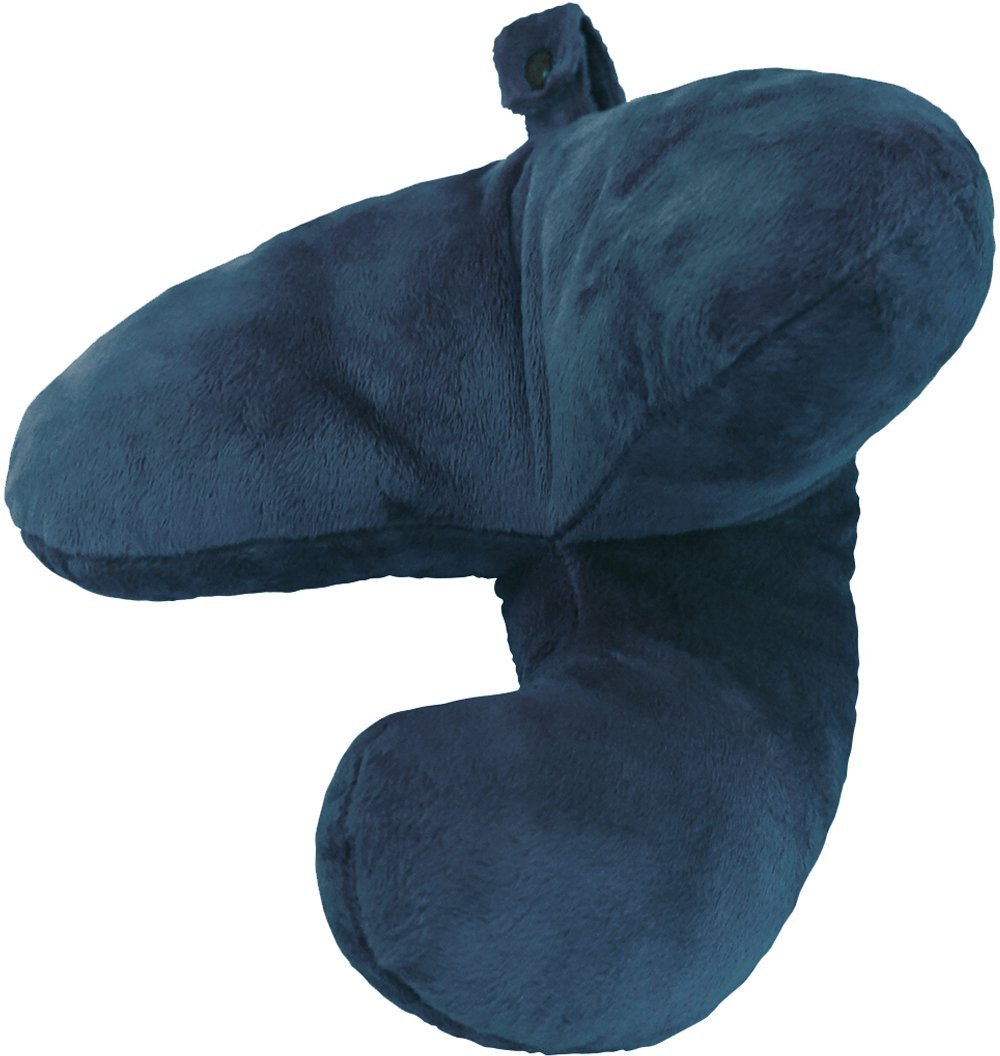 Yes, it looks like a giant penis more than it looks like the letter J. But my friend Alaina brought one of these bad boys along on our trip to Italy, and the shape is genius. There's something quite comforting about nestling your head between the two… um… branches of the J (*cough*nesticles*cough*). But in all seriousness, it's the best neck pillow I've tried.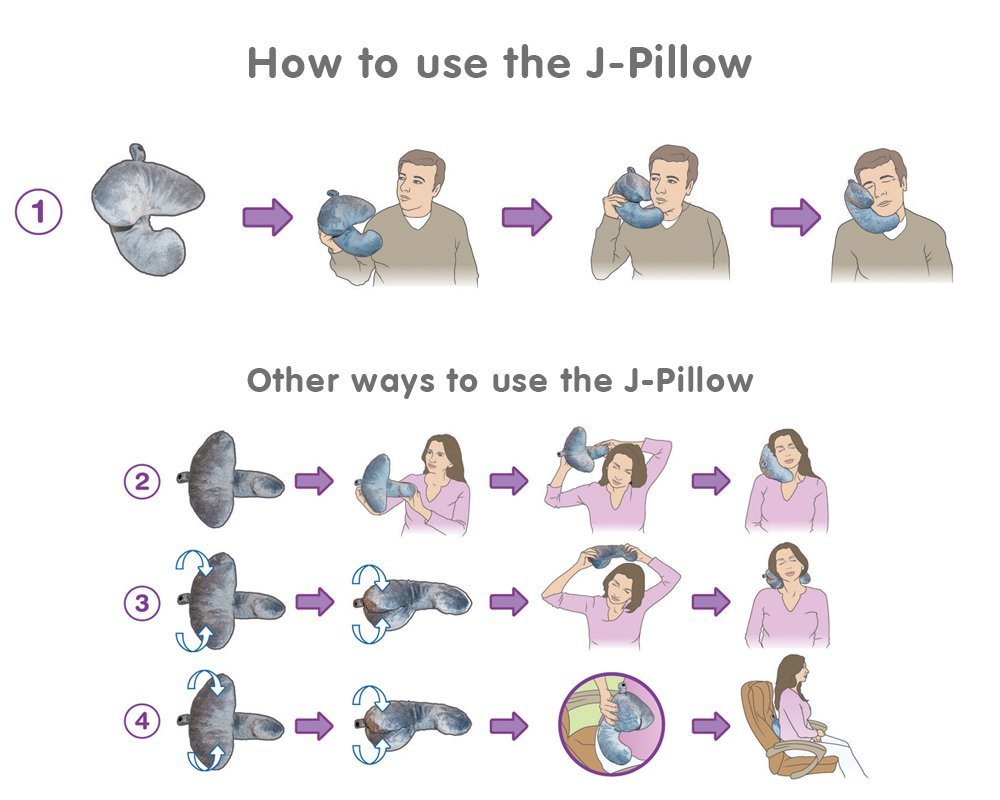 And if you can look at any of these pictures without laughing, you're my hero.
BONUS: Technology & Entertainment
Now. I'm an old-fashioned maps and CDs kind of girl, but some people find that technology can make their road trips even smoother. And while sticking a tablet in front of your kids can provide hours of peaceful road trip entertainment, sometimes a good, old-fashioned family car game is still a fun way to pass the hours. (My little sister and I used to entertain each other on road trips by building impenetrable barriers between our seats to stake territorial claim, but that's only something I only talk about in therapy.)
FM Wireless Transmitter — If you happen to drive a 1999 Chevy Tracker and haven't upgraded the stereo, you might find one of these puppies extremely useful on a road trip. Just hook it up, and you'll be able to listen to tunes and make calls from your smart phone — all through your vehicle's sound system. This one happens to have a USB charger as well.
If you don't want or need all the bells and whistles of an FM transmitter, then a USB car charger might be exactly what you need to keep all of those other gadgets charged.
Wanting to rest your eyes from the glare of an electronic screen and interact with the people around you? Good, old-fashioned road trip games are the answer. Try this Trip Box of Questions by Melissa and Doug with the kiddos or my personal favorite, Mad Libs on the Road. (It was published the same year the Tracker was built, so you know it's quality.)
The Giveaways
The Rules:
We're giving away two prize packs: a Kindle Fire HD 6 + a Travelon backpack, and a Kindle Fire HD 6 + a Travelon crossbody bag. Travelon bags are perfect for travel because they're designed to be anti-theft and have places for everything you take while on the road. Note that the bags come in other colors than the ones shown below.
For the prize #1 you must leave at least one comment on one of the participating blogs to enter. Additional entries via commenting on other blogs in the hop are available to you. This means each person is eligible for 8 entries (because there are 8 participating bloggers). **The links to the blogs are in the Rafflecopter widget below! Just click "Leave a blog post comment" to get the link for each blog. Or you can visit them all via these links:
For the prize #2 you must "follow" at least one blogger on Instagram. Additional entries via "following" the other bloggers in the hop are available to you. This means each person is eligible for 8 entries (because there are 8 participating bloggers).
There will be one unique winner for the grand prize and one unique winner for the second prize. The giveaway runs trough March 8, 11:59 p.m. PST. The winners will be announced after two weeks. Enter using the entry forms below. Your email is used for login purposes only–it will not be made public and or result in spam.
YES, YOU ARE ENCOURAGED TO ENTER BOTH GIVEAWAYS!
PRIZES ARE ONLY ELIGIBLE TO SHIP TO THE U.S. AND CANADA.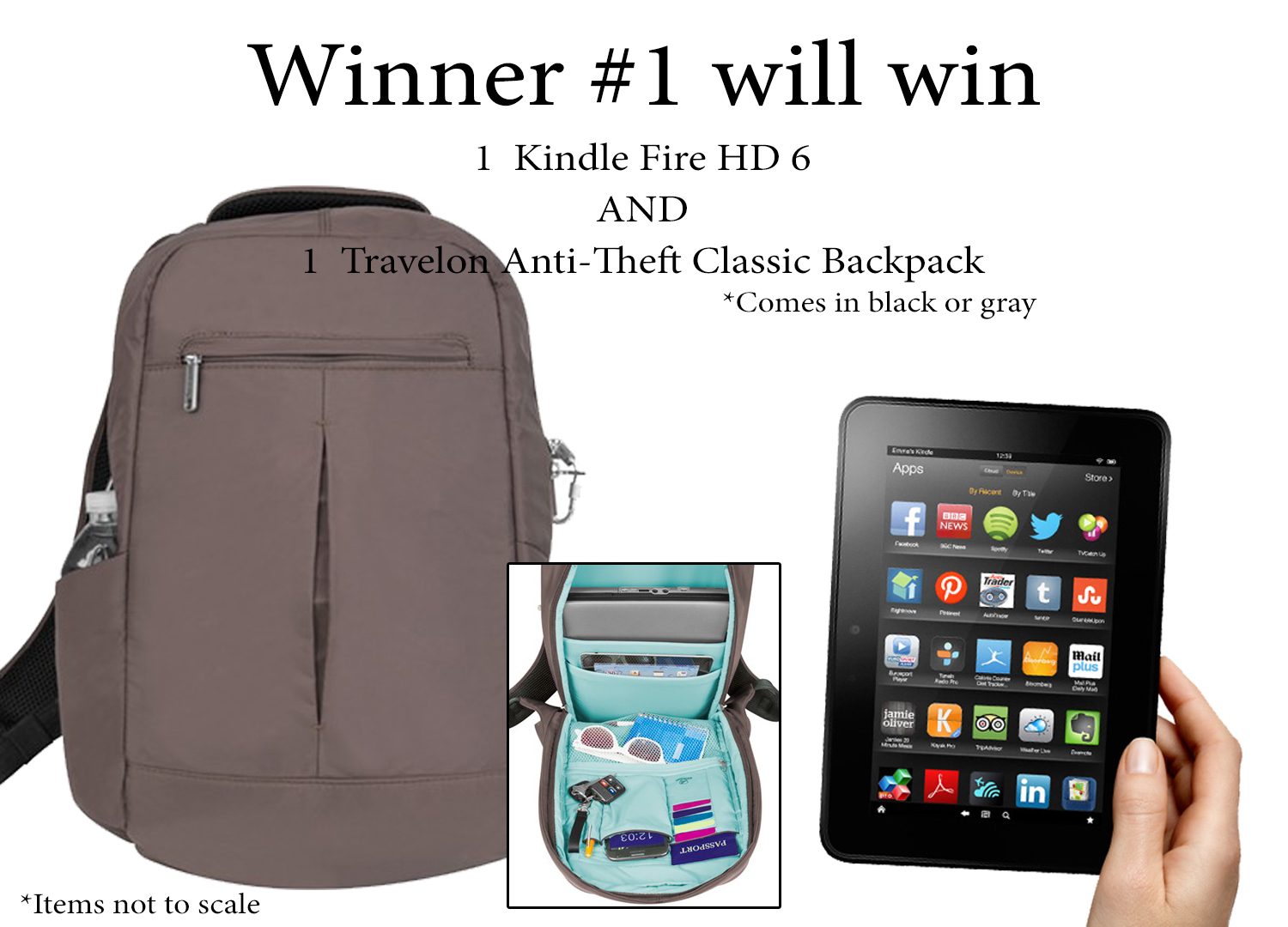 (1) Kindle Fire [Fire HD 6, 6″ HD Display, Wi-Fi, 8 GB, Black] AND
(1) Travelon Anti-Theft Classic Backpack This backpack features a locking main compartment and a zippered front pocket that fits an iPad® mini. The main compartment includes two padded pockets to protect your laptop (up to 15.4") and iPad® or tablet. The wall organizer stores 5 credit cards and a passport. A zippered mesh pocket is also included. The RFID blocking technology prevents identity theft by stopping readers from picking up personal data from your ID, credit cards, and passport. The back side includes a zippered pocket to store your smartphone and other small objects. The back and straps are padded for extra comfort. There is one water bottle pocket on the side.
The links to the blogs are in the Rafflecopter widget below! Just click "Leave a blog post comment" to get the link for each blog.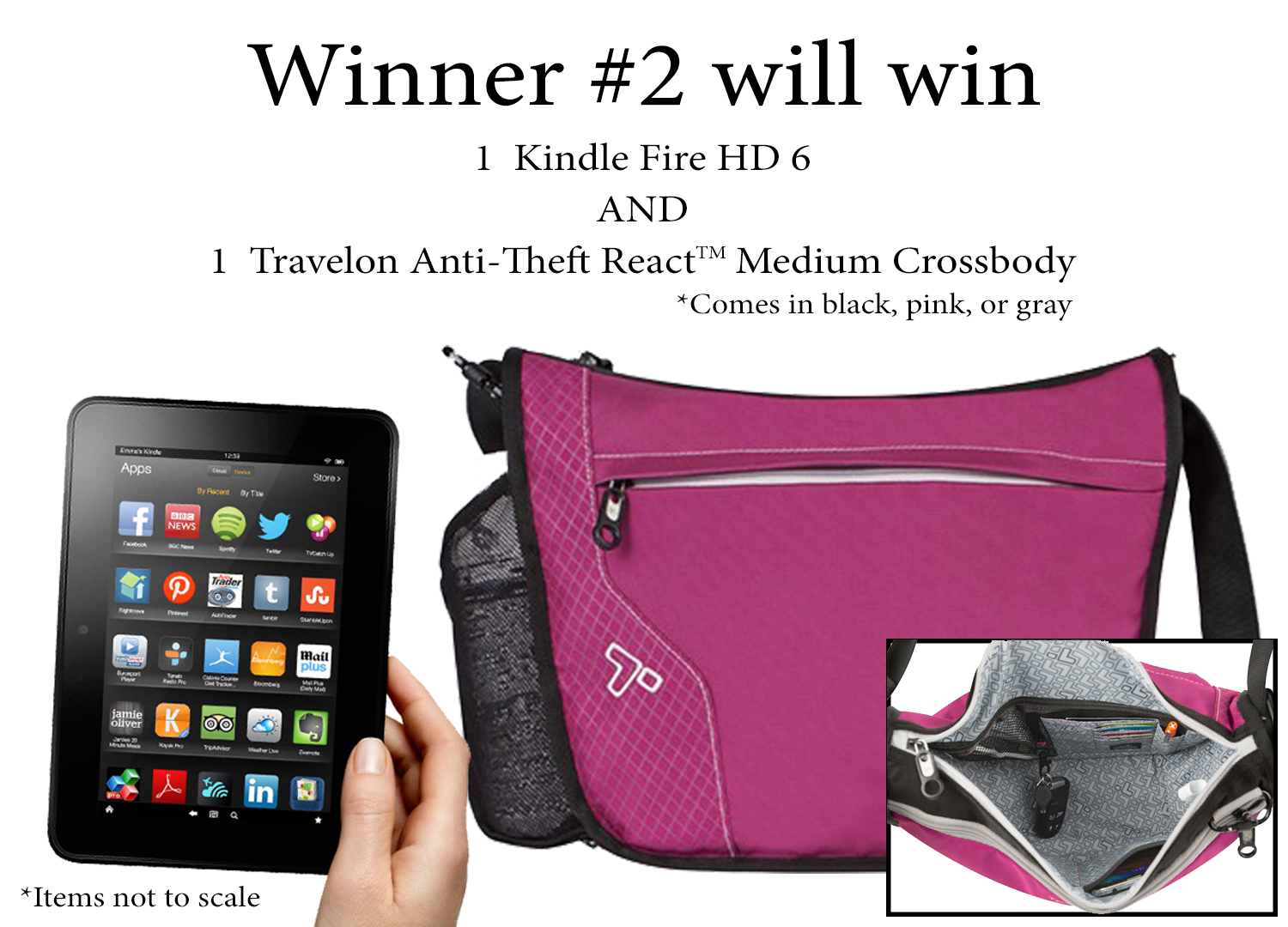 (1) Kindle Fire [Fire HD 6, 6″ HD Display, Wi-Fi, 8 GB, Black] AND (1)Travelon Anti-Theft React™ Medium Crossbody Bag.  Built with slash-proof construction and an adjustable, cut-proof shoulder strap that can secure to a post or chair, this bag contains locking compartments, RFID blocking card and passport slots, a rear zip pocket, and a mesh expansion water bottle holder. The main compartment is big enough for an iPad or tablet, and it includes a tethered key clip with LED light. a Rafflecopter giveaway
Thank you for participating in the "My Perfect Roadtrip Bag" Bloghop! I hope you check out my freinds' blogs — you might just be inclined to add them to your list of sites to read while you're supposed to be working.
You're welcome.