When You Give A House A Mirror: A Quick Update.
It all started with a mirror.
A $30 thrift store mirror, in fact, which I haggled down to $25. It was very large with a clean beveled edge and a gorgeous burled wood frame reminiscent of the 1950s, the era in which this house was built, and while I'm not typically a mid-century modern kind of gal, I lugged the thing to the back of my Tracker because, hey. A steal's a steal.
You can't get half the quality for double the price at Target these days, so into my car it went.
It weighs approximately 547 pounds.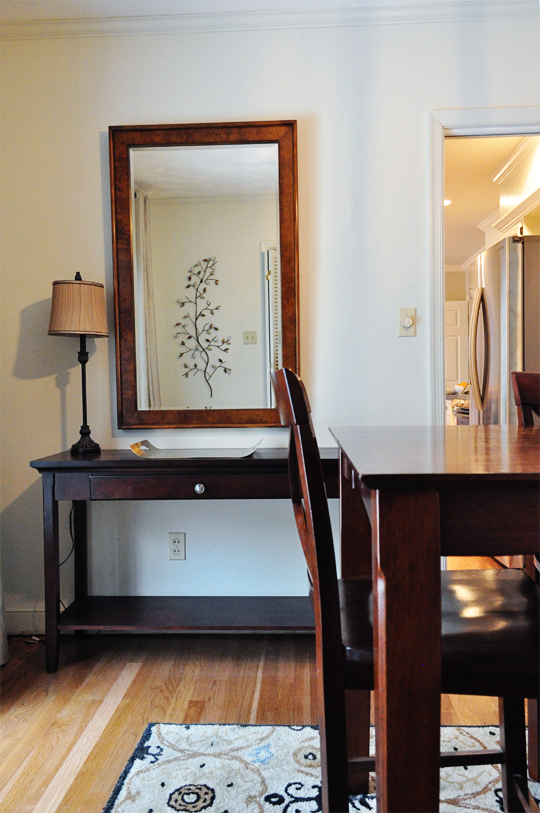 When you give a house a mirror, it's going to want some curtains.
I've wanted a mirror near the garage entry for as long as we've lived here. Our house is very long, with our bedroom on one end and the (would-be) laundry room on the opposite end, and countless is the number of times I'd be on my way out the door, only to run back across the length of our ranch for a last-minute mirror check and winter hat adjustment.
Sometimes it's really hard being a woman.
In the below photo, taken after we ripped up the mint green carpet but before we finished the floors, I'm standing in the front living room near the fireplace, facing the dining room. The kitchen is through the doorway on the right, and the (would-be) laundry room is through the doorway on the left.
I hung the mirror in that spot to the left of the kitchen doorway, but just like that mouse with his cookie, after that it needed more.
Since we're saving up to install washer/dryer hookups in our laundry room and finishing up some projects in the kitchen, we're very much in work-with-what-you-have mode around here these days.
So that's exactly what I did: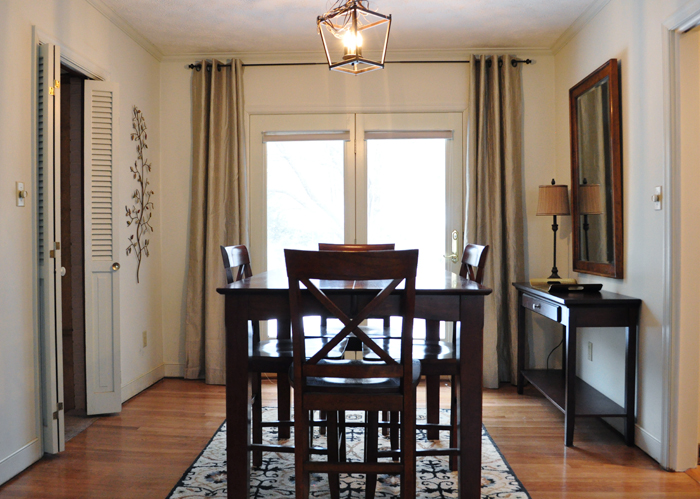 In a completely unplanned post-thrift shopping afternoon frenzy, I went nuts on this room. The rug is from our old kitchen, the console table and lamp were in the entryway, the curtains were in our old master bedroom, the light fixture has been sitting around here for 8-9 months (though I'm not convinced it will stay in the dining room, hence the extra wire), and the gold tray was a clearance Target find from a couple of years ago.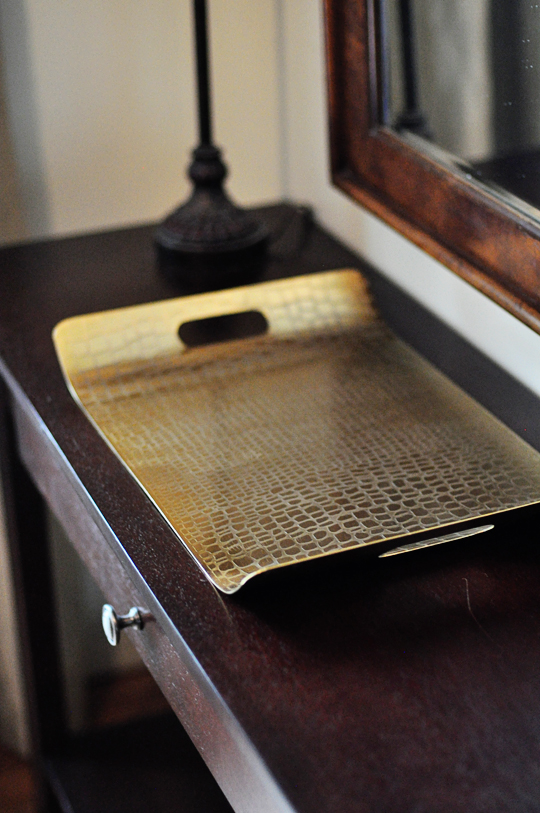 Now.
I know we need to talk about the branch.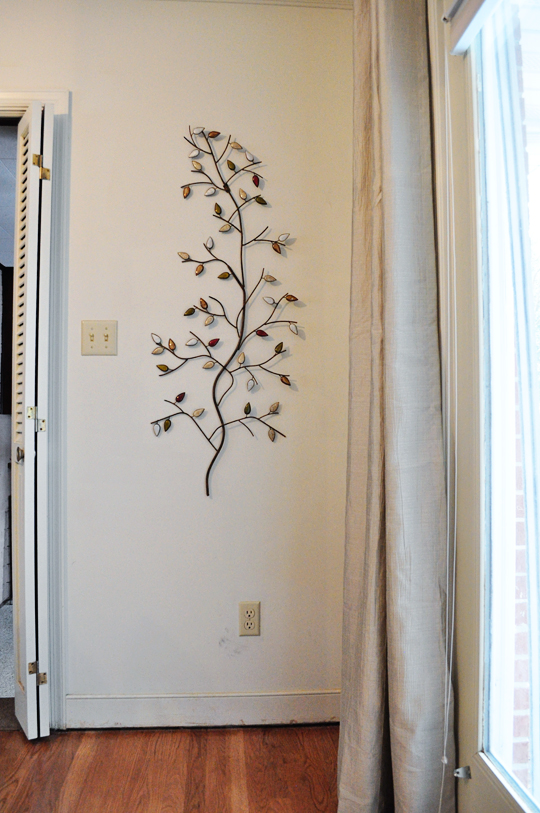 I bought it 6 or 7 years ago from Kirkland Home and never hung it anywhere.
Up close, I really liked its earthy colors.
But from far away, I realized it was very reminiscent of some gold leaf branch decorations that were super popular when my mom was my age. In fact, she and my grandmother each have one, still hanging in their homes I believe, and it was too much of a throwback for me to handle.
But the wall to the right of the laundry room doorway needed something, because after I hung the mirror, a blank wall was reflected back at me every time I entered the house.
Now, there's a tree branch: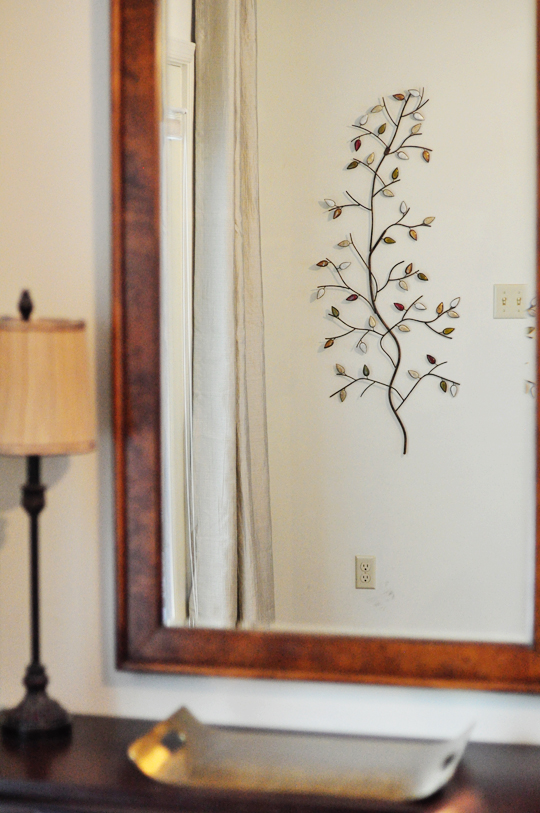 It's weird how a bunch of items I've had tucked away from our old house can come together to create a whole new look.
My friend Alaina said it reminds me of her grandmother's house.
Which, okay. Ideally, my house would reflect the colorful, cozy craftsman style of a well-read-yet-hip 30-something couple, this was ALMOST FREE.
And that's all that really matters right now.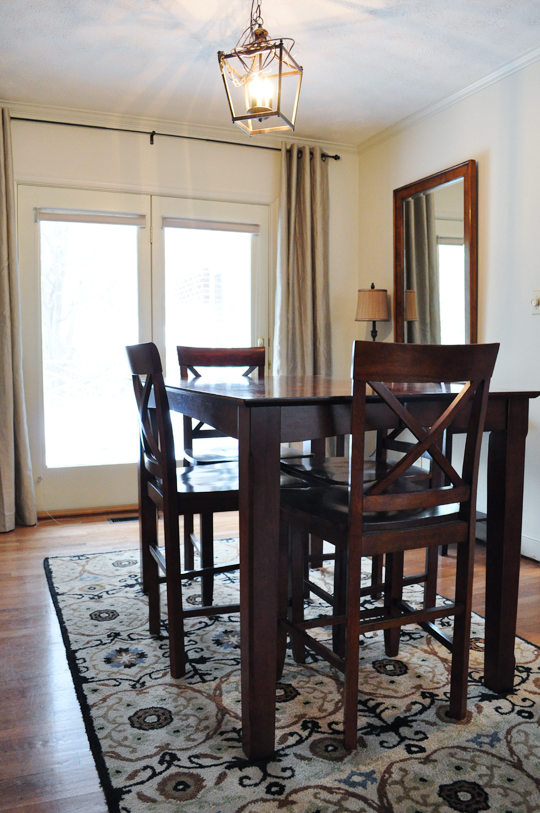 Since we moved in just over a year ago, this space has gone from this:
To this: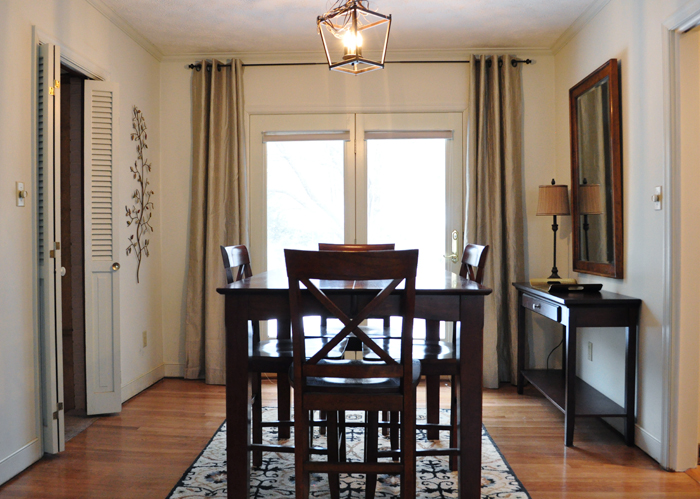 And while it may not be our personal style, when it comes to getting the house ready for re-sale, I think we're on the right track.
I'm really excited to show you are final kitchen projects, which are in the works, our makeshift sunroom dry bar, and I've finally painted my bathroom. At this rate, we might actually meet our goal of getting the house re-sale ready by the end of the year!
Dining Room To-Do:
Paint — The walls are filthy and a muted mint green with matching crown and baseboards. I'll paint the trim white and pick a neutral for the walls, which should really help pull everything together.
Shoe Molding — This room still needs shoe molding to cover the gap between the baseboards and the hardwoods.
Rug — Investing in a lighter, brighter rug might make the room look less grandma. We'll see if I can find something that doesn't break the bank.
What do you think? Is it at least an improvement? Let me know if you find any killer rug deals or the perfect affordable light fixture.