To WIT.
The city appeared newer than I'd expected.
Sodden and gray in its refusal to quit winter, I thought most of Boston's buildings might be brick and colonial — not sleek and concrete. But modern monstrosities dwarf the stunted historicals as towering testaments to the industrial age. And somehow, interestingly, it works.
Clearly, I hadn't done any research before I visited. I'd love to use my time spent on the planning committee for the Women in Travel Summit (WITS '15), my jobs, our house updates, my novel, as an excuse for ill preparedness, but the truth is that I simply don't enjoy preliminaries. I'm pretty sure this is funny because most Women in Travel, at least the ones I've run across, love the research aspect of planning a trip. They enjoy sifting through the internet to find the best restaurants; lurking the forums to hunt the best deals; flipping through guidebooks to seek the best lodging. But not me. Apparently I'm an industry anomaly. Not that I'm really in the industry.
Or am I?
Step 1: Pose.
Never before had the phrase, "fake it 'till you make it" rung true with me until I sought out membership in the travel-loving community. As homeowners with a couple of mutts, a taste for comfort, and a career that could actually send one of us (the prettier one) to prison if we tried to live anywhere other than where the military tells us, we simply can't afford to travel all of the time. Nor would we want to. Especially not Justin.
So I made up my own rules. I decided that to be a Woman in Travel, I simply have to:
1. Enjoy travel, and
2. Claim, therefore, that I'm a Woman in Travel.
That's it.
While I don't desire travel 100% (or even 50%) of the time, a general curiosity about the world is not easily suppressed, and so a commitment to seeing whatever bits I can while I'm well and able enough to see them is a personal priority. Not the top priority, but… like… pretty high up there. For perspective, it ranks higher than replacing my '99 Chevy Tracker with something sleek and shiny (or even old and dirty), but lower than my need to buy the good cheese.
I always splurge on the good cheese.
In other words, I'm not willing to eat Ramen seven days a week to make regular travel happen, but I will forego that new spring wardrobe and continue wearing my workout shorts that are literally falling apart.
Feel me?
To wit: The first step in becoming something is telling yourself (and anyone else) that you already are.
Step 2: Join.
Once I established that I am, per my guidelines above, a Woman in Travel, I decided to dip my toes in a bit further. After realizing I don't have to travel all of the time to be a Woman in Travel, it occurred to me that I could still make more of an effort to touch base with my peers (aka. other people who enjoy travel as much as I do). I've mentioned before that being comfortable joining groups is not one of my strengths, so I started slowly.
First, I adopted mentors like Karen Herbst, who was among the first to teach me that it's possible to be domestic without becoming domesticated. This is a big deal for me. (Upon further research, it turns out mentors should actually be aware that they're mentors — otherwise I'm just a mild stalker. Noted.)
Second, I started joining travel writing groups on Facebook, even daring to join the conversations occasionally. Also a big deal for me. It literally took me over 30 years to realize that I don't need to learn everything for myself. Peer groups exist to share information — I just never knew they'd be willing to share information with me. I even invested monetarily, for the first significant time ever, in actual travel blogging instruction and support. While Domestiphobia isn't specifically a travel blog, I'm drawn to the travel writing community, and this one seemed the most approachable. I thought, I can hang with those kids.
It turns out, at first, I couldn't.
When I was in D.C. a couple of months ago for work, I decided to crash my very first travel blogger event — a bar meetup hosted by Travel Massive, celebrating the fact that some of the world's most influential travel bloggers had been invited to the White House to discuss the future of study abroad programs and tourism. No small thing. But I hadn't prepared to network, neglected to bring any business cards, and basically acted like a deer in the headlights when meeting the likes of Audrey Bergner, Matthew Karsten, David Lee, and Caz and Craig.
No one knew who I was before I went, which was okay. But not okay was the fact that no one knew who I was after I left.
To wit: If you bother to join something, really join it.
Step 3: Commit.
For someone whose longest relationship-by-choice is with her car, second-longest with her husband, and third-longest with her blog, the commitment step is really the hardest. To truly become an active member of the travel writing industry, I had to ask myself:
How much do I want this?
Is it worth putting in hours of unpaid work?
Is it worth the potential humiliation of unacceptance?
Will I always wish I'd gotten involved?
Yes, I thought. What else am I doing?
I started working as a virtual assistant for a prominent, nomadic, travel blogging couple who are just hella impressive when it comes to their influence and endeavors in the online travel and writing industry as a whole. I never would've known they were hiring if I hadn't joined Travel Blog Success (so that's already paid for itself), and working for them, along with my other client, only highlights why I love the variety and challenges that come with virtual assisting. It solidified the perfection in my current choice of career path, and it's also given me more credibility as an active member of the travel writing community.
This was great, but I wanted to add to my professional credentials and improve my networking abilities. Since I had set the bar so low in D.C., I figured that wouldn't be difficult to do. When I heard about the Women in Travel Summit planned by the Wanderful Travel Network (Go Girl Travel at the time), I immediately (not the next day, not in a week, but immediately) threw all my chips in the pile and applied to become a member of the planning committee. Because involving myself professionally in my new chosen community, even on a volunteer basis, is something I finally realized grown-ups do.
Seriously. I've been waiting for an invitation from everyone for my entire adult life, and why? Children wish and grownups do. That's the biggest advantage of adulting. The second? Wining versus whining. The former is so much better.
For months I dedicated my Sunday evenings to Skyping with a group of strangers whose passion for travel, skills in conference planning, and commitment to making the event a success was downright infectious. I didn't actually meet any of them until I arrived in Boston last week, but it felt like we'd known each other for years.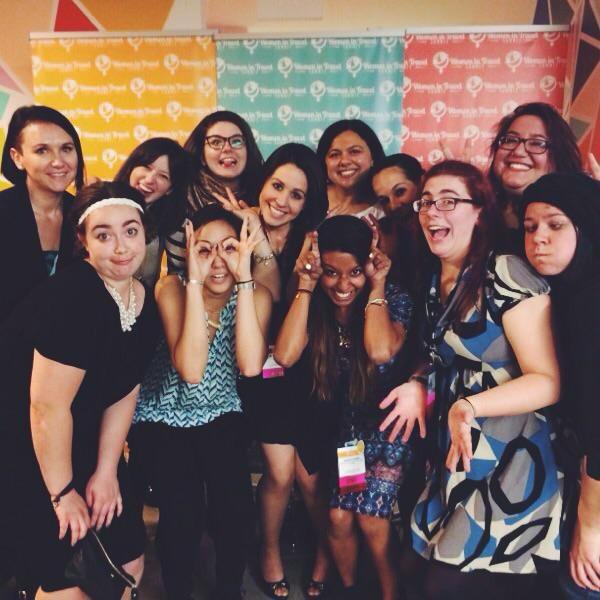 These were my people. (Unfortunately a couple are missing from this shot, but I'm in the back row, second from the left.)
I also finally had the opportunity to network properly, despite my conference planning exhaustion, and met some of my absolute favorite travel bloggers.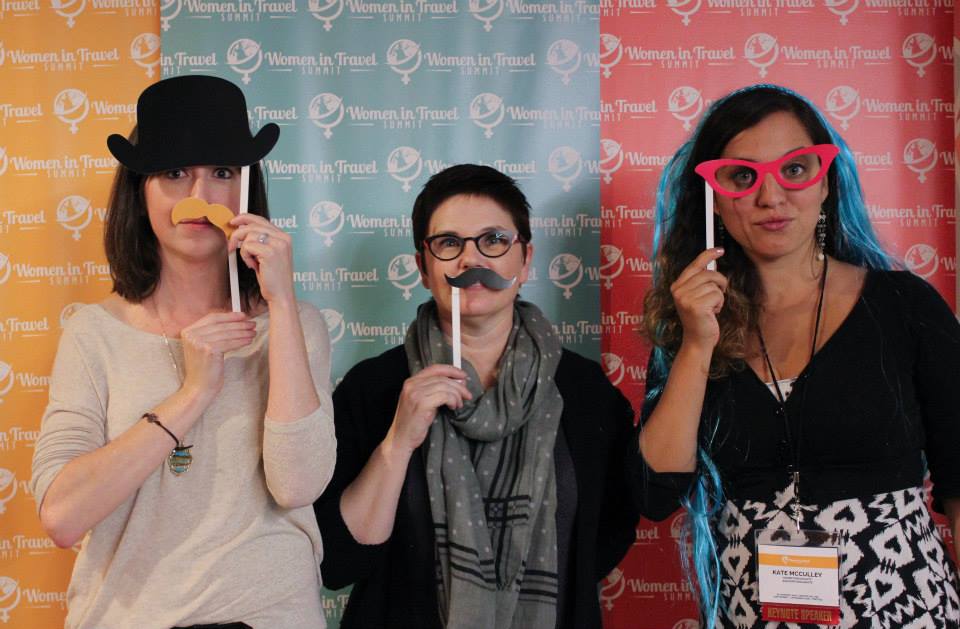 Me with two of my favorite travel bloggers, Andi Fisher (Misadventures with Andi) and Kate McCulley (Adventurous Kate).
And even though Andi now knows that I'd forget my head if it weren't attached to my neck and Kate is now aware that I'm just as dorky in person as I am on my blog, I'm totally okay with that because, for the first time ever, I felt like a Woman in Travel. And a sense of wanting to become a part of something and choosing to make it happen.
And make it happen, we did:
From all of our inspirational speakers…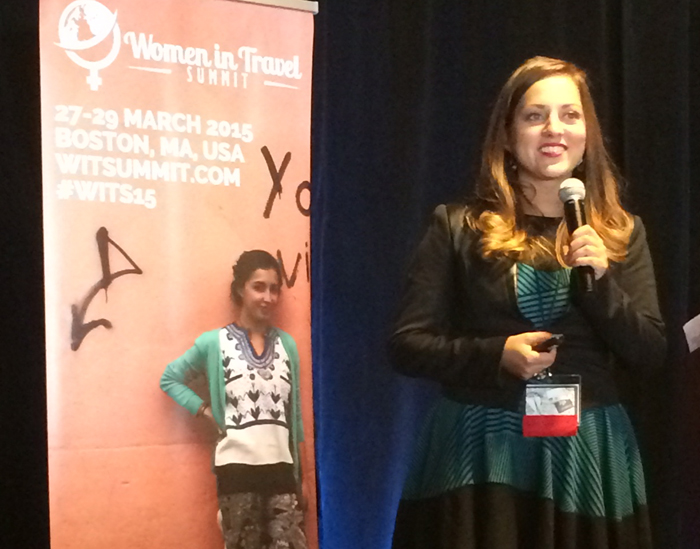 Kate killing it in her talk about gender inequality in the travel blogging industry.
To the amazing sponsors like Liquid Art House…
…and Squeeze Pod…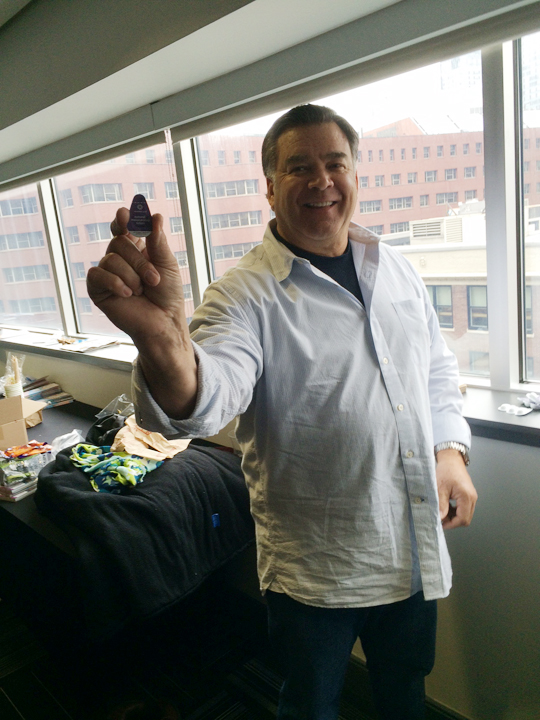 To our fantastic hosts at the Revere Hotel…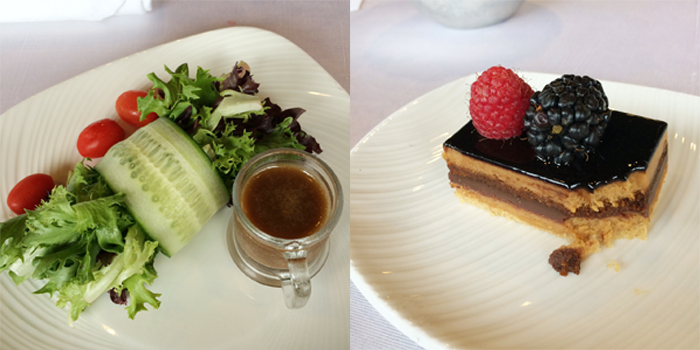 And even the magician that the city of Irvine, California used to help them win the Destination Contest (anyone up for heading to Cali with me for WITS '16?)…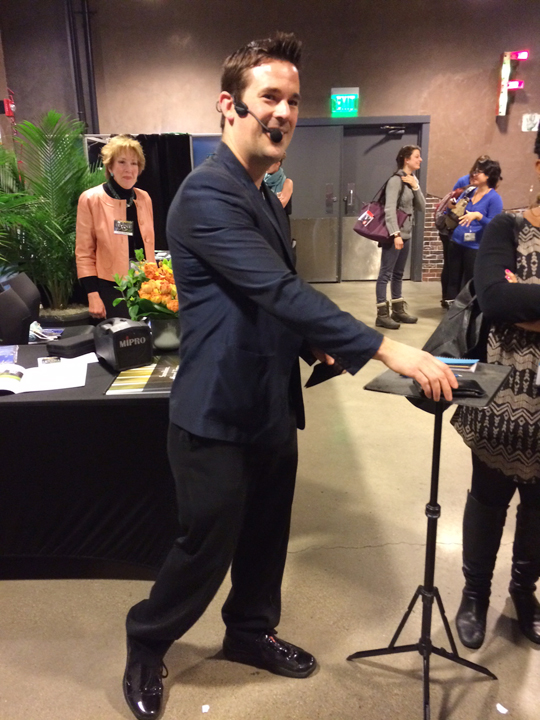 We most definitely made it happen.
The Women in Travel Summit was the perfect first professional foray for my entrance into the travel industry. I met writers, entrepreneurs, and travel enthusiasts whose insights and teachings will have a lasting effect on the decisions I make from here on out. Most important, I learned how to embrace me. How to better understand who I am and how I'd like to present myself.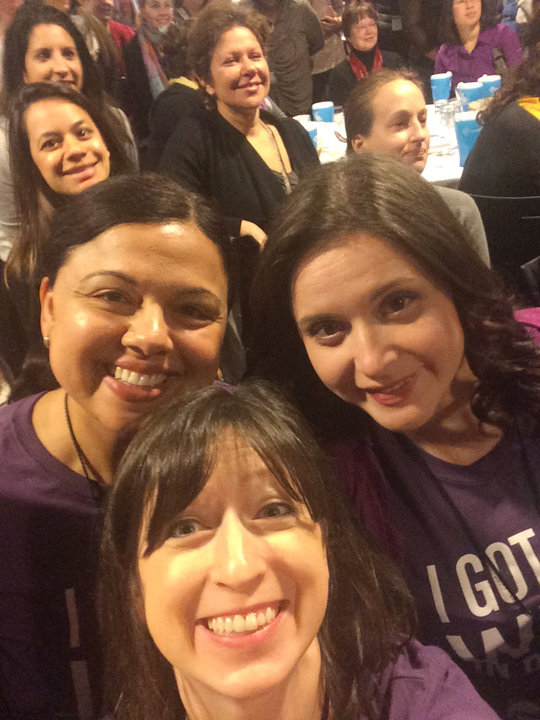 (I would not like to present myself via selfies. I am just not good at selfies.)
Before I left, I was terrified of handing out the business cards I'd ordered specifically for the event. No one will get it, I thought. The cards are dumb. I'M dumb.
After waiting until the very end of the conference to chat for a bit with the representative of a tourism destination I'd really like to work with, I realized it was the moment of truth. Nervously, I handed one to her. I fidgeted.
She just read it, laughed, and said, "I want you there."
It turns out life doesn't usually send you an invitation to become the things you want. You have to make them happen.
To wit: Decide what to be and go be it.*
And also, mostly, to WIT.
(*I stole that from Avett Brothers lyrics)