Ding Dong The Mural's Dead. And Memorialized On My Mantel.
Oh, hi. It's me. Remember? I'm the girl who sometimes blogs around these parts.
Lately though, instead I've been:
I've been managing that last one by yoga-ing, painting walls, and basically listing to "The Air That I Breathe" by the Hollies on repeat.
I don't know why, but it helps. (There's a message there, and it's not just about getting naked with someone.)
Not to make excuses, but it turns out living in coastal Virginia leaves me with a lot less free time than I had while living in central North Carolina. Don't get me wrong — North Carolina is a beautiful state with plenty to do. (Still, one of my most memorable getaways is Justin's and my trip to Asheville where one set of strangers secretly bought our dinner and another taught us to swing dance.) It's just that we didn't live in the most exciting part of it.
But here in Virginia, right on the water, we have so many options — from Virginia Beach to Williamsburg and even the northern Virginia vineyards and D.C., a slew of entertainment is just a short walk or drive away. We know it, and our friends and family know it. So far in our two years living here we've had more overnight guests than seven years in NC. And this is good for 2 reasons:
We really like having visitors, and
It motivates us to update this house much more quickly than our last.
The most noticeable difference is in our front living room.
Let it be known for the record that I'm not a fan of having two separate rooms meant for "living." (We also have a 4 season sun room, where we spend the majority of our time.) Aside from the time I used it to paint our kitchen cabinets for two months, it's mostly been a source of neglect and embarrassment — especially since it's pretty much the only part of our home that's immediately visible to anyone who walks in the front door.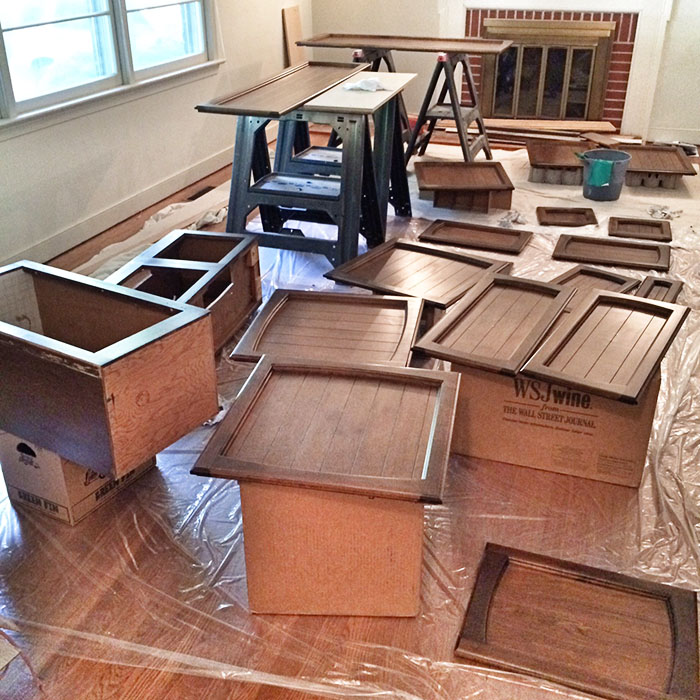 Also immediately visible upon entering was this stunning wall mural: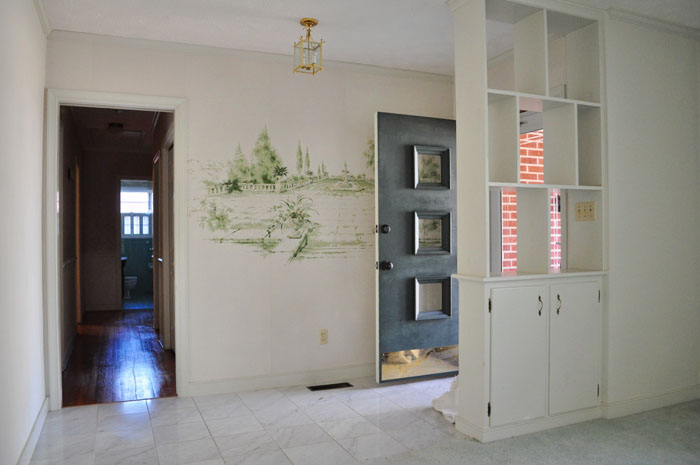 Which wasn't even a mural, but wallpaper designed to look like a mural. My friend Angie and I were able to rip it off in about 45 seconds, which is the BEST luck I've ever had with wallpaper. Usually it takes days of work, and orbital sander, and lots of patching.
Don't mess with an Aussie and her knife.
We learned the previous owners likely placed it there to cover this giant crack in the wall, which we'd already surmised was there since it was actually visible beneath the paper, but still. It wasn't fun to look at.
Then, while I toiled away at a novel I would eventually break up with due to creative differences, Justin spent weeks patching the cracked and holy plaster throughout the large room, installing shoe molding around the baseboards (there was a gap from when we ripped out the carpet), painting the trim and built-in room divider, and priming the walls.
It was tedious and thankless work, but eventually the MINT GREEN WAS GONE! We then turned up the music on a rainy Saturday and set about painting. It took two full gallons and several hours, but eventually we triumphed.
Before (with the previous owners' things):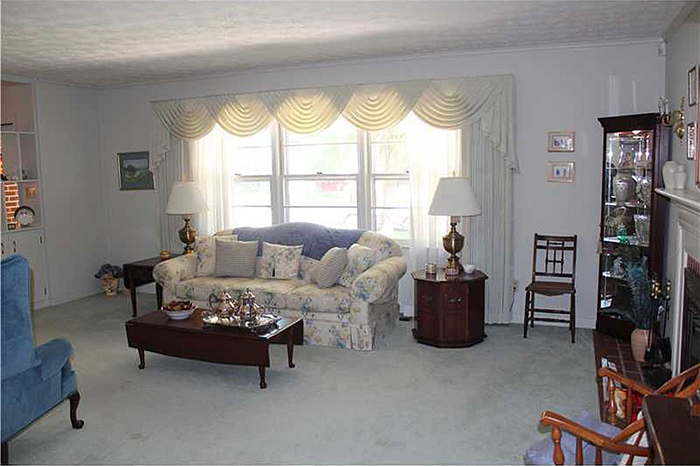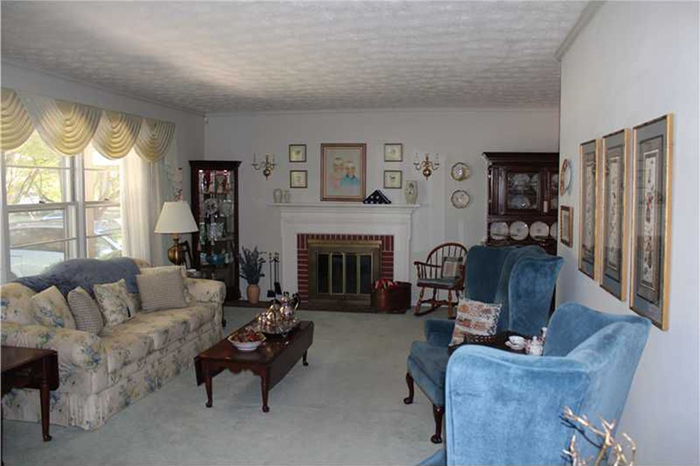 Mint green carpet, walls, curtains, and trim. Mint green EVERYWHERE.
After (with our hodgepodge of stuff we didn't know what else to do with):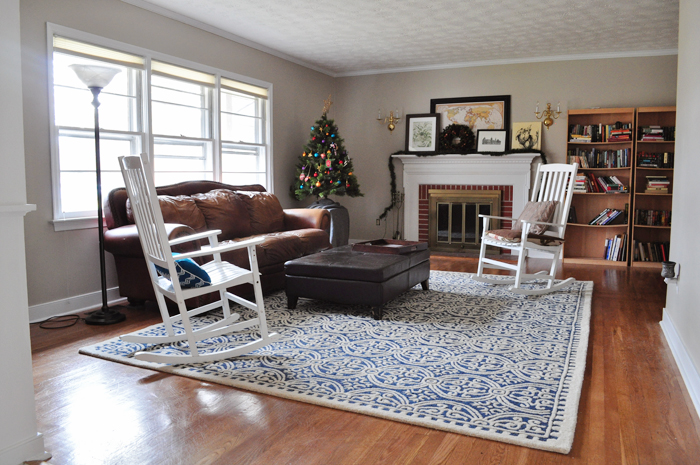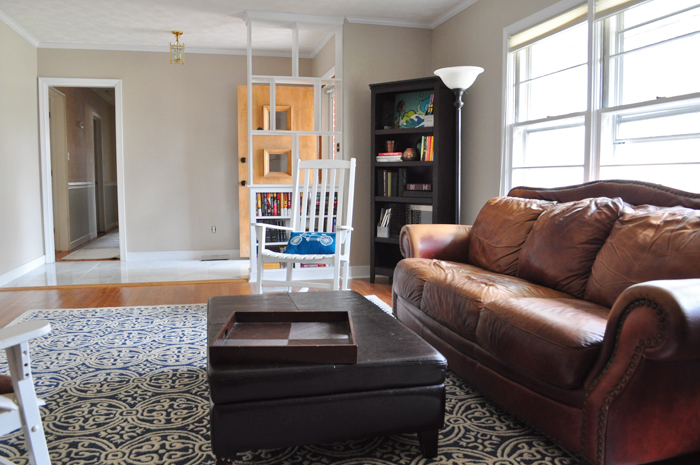 A few things:
Yes, those are outdoor rocking chairs. But until we figure out more seating, inside they'll stay.
The mantle isn't staying like this. Once I actually get brave enough to hang art on our freshly painted walls, this will be less crowded.
We still need to replace the light fixtures, add switchplate and outlet covers, and install some window hardware, but at least this is no longer embarrassing when people walk in.
The rug is from Overstock and the paint color is Glidden's Sand White (which we had mixed at Ace to a brand we like better).
We left our large Christmas tree in the attic of the place we lived in Georgia 9 years ago and haven't had room for a big one since. Now that we do have room, I'm too cheap to buy one. Besides, this one makes me think of Charlie Brown.
Justin also stripped the forest green front door. I love the natural color and think I will condition it, even though he wasn't able to get 100% of the green out of the grain. We'll have to paint the part that faces inside, however, to cover up screws and scratches. Any suggestions?
I turned the built-in cabinet into a bookshelf to hide all of our embarrassing series (think Star Wars and Twilight), but many of the books are too tall and I don't love how it looks. I'll have to re-think this.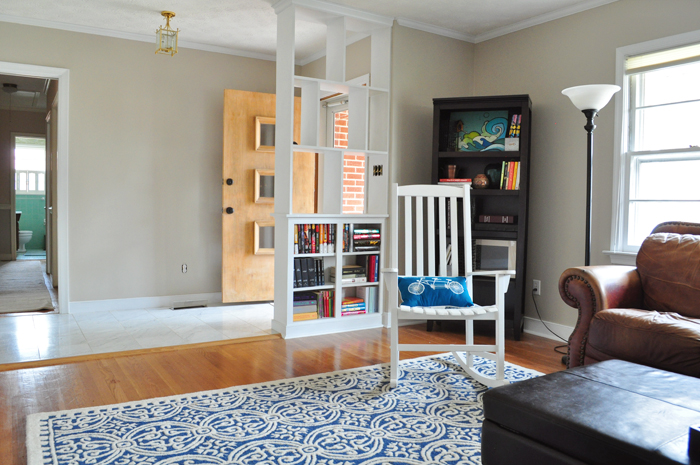 I'm not going to lie.
As nice as the entryway is beginning to look, a small, twisted part of my soul actually misses that crazy mural.
So to cope, I might have saved a scrap.
And I might have framed it.
Fortunately, it goes really well with the ugly wreath and garland I bought back in 2003.
Listen, guys. It's my house and I'll do what I want.
And sometimes, all I need is the air that I breathe, a scrap of wall mural, a Charlie Brown Christmas Tree, and to love you.