I Like Puffy Tacos And I Cannot Lie.
Look.
I don't only eat fancy food.
My dining out life doesn't consist solely of Potato Encrusted Alaskan Halibut with Cauliflower-Almond "Risotto"; rabbit sausage with black truffle macaroni and arugula pesto; or fancy avocado salads enjoyed al fresco. And while it's true that my favorite food is probably a hot dog (don't judge), I sometimes prefer the kind of questionable origin grilled backyard-style with a ribbony swirl of ketchup and mustard rather than a dolled up 100% beef frank topped with North Carolina barbecue and homemade coleslaw; one smothered with  bacon-balsamic marmalade, pineapple-ginger chutney, caramelized onions, and French brie cheese with alternating dunks in saffron aioli and raspberry crunch mustard; or, the best, the "Weiner Wellington" — an insanely delicious rib eye steak brat with mushroom duxelle and grainy Dijon cream wrapped in puff pastry and drizzled with Bordelaise. Otherwise known to me as "heaven wrapped in fluffy clouds dipped in gravy."
Sometimes, simple is what I crave. Back to basics. Like those rustic, cheesy tacos made by that Mexican expat in Costa Rica. Or the steaming bowl of jambalaya made by that New Orleans transplant in Fort Lauderdale. The crab cake sandwich at that dive in Tappahannock near the Rappahannock. Or my Oscar Meyer Braunschweiger. Or value priced cow tongue from my local Food Lion.
But not really the tongue.
Just makin' sure you're still with me.
And I hope you are, because if you aren't, you'll miss out on the Puffy Taco Experience.
And no one should miss out on the Puffy Taco Experience.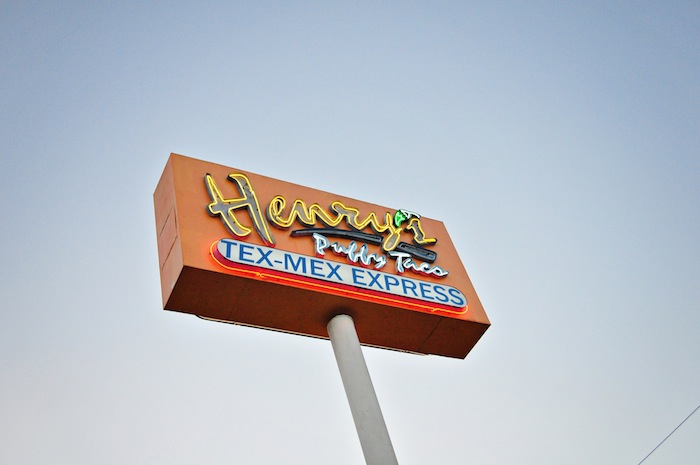 Before I tell you about the Puffy Taco Experience, I want to clear a few things up:
1. Just because I like eating puffy tacos, a fact to which I will likely refer several times throughout this post, that does not mean I'm a lesbian. Not that there is anything wrong with being a lesbian. But. If you're the type of person who snickers every time you see me write, "I like to eat tacos," this disclaimer is for you. Real mature. (And thanks for sharing my sense of humor.)
2. I really do love eating tacos. Just like hot dogs, I love all kinds. From fancified fish tacos I've eaten in Florida to the Beef Chalupa Supreme served at infamous T-Bells across the nation, I like 'em all. And Henry's Puffy Tacos are no exception.
3. Don't judge me for being a bona-fide T-Bell chalupa lover. If you're unfamiliar with the chalupa, imagine a crispy-on-the-outside, doughy-on-the-inside semi-thick shell surrounding the questionable meaty, cheesy, sour creamy filling. Really. It's all about the shell. So don't knock it 'till you've tried it. In fact, does anyone know where I might purchase chalupa shells to use at home? Because I really think I'd like to eat chalupa shells at home.
So during last summer's trip to San Antonio, my local friend Stacy and her husband Victor treated me to some puffy tacos.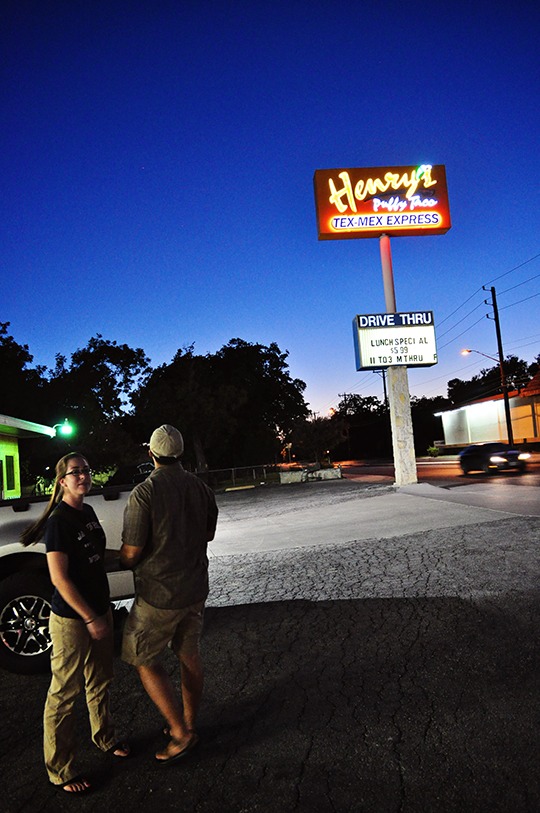 In fact, Victor pretty much told me I wasn't allowed to leave until I'd experienced the taste of one of his favorite childhood memories, and I'll admit — I was a little concerned. Not because I didn't trust Victor's taste, but because sometimes — and this might just be the liverwurst talking — but sometimes, nostalgia has a way of "bending" a flavor so that while it tastes good to you because it brings back all kinds of swirly twirly memories from your youth, it might not actually be so fantastic to someone who didn't grow up with it. And then the newbie is forced to either lie in order to preserve her friend's youthful innocence, or crap all over a fantastic memory.
I wasn't sure which method I'd use on Victor.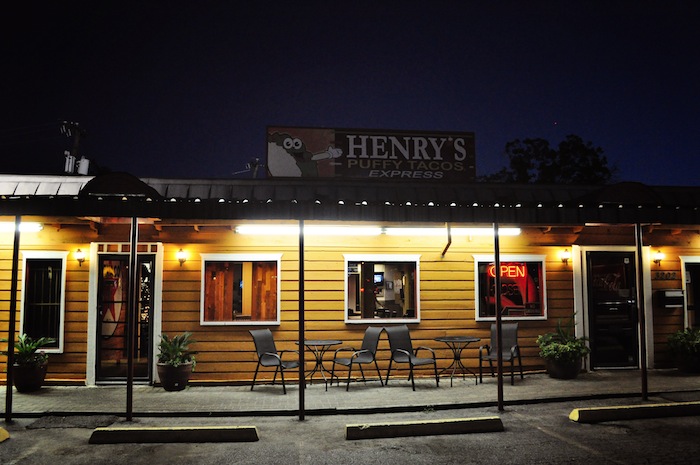 Especially when we pulled up to his old neighborhood joint and told us to stand close so we wouldn't get mugged.
So apparently there are currently two Henry's Puffy Taco locations in San Antonio, and we went to the original. Well. Not really the original, since that one opened over 30 years ago and moved, then moved again, then closed and reopened with a different menu further away, and then opened this one again back near the original with the original menu.
Or something like that.
And Victor maintained that this one, Henry's Puffy Taco Express, which preserves the original simplicity of the puffy taco, is the best.
Fortunately for both of us, I didn't need to lie or stomp all over Victor's childhood memories.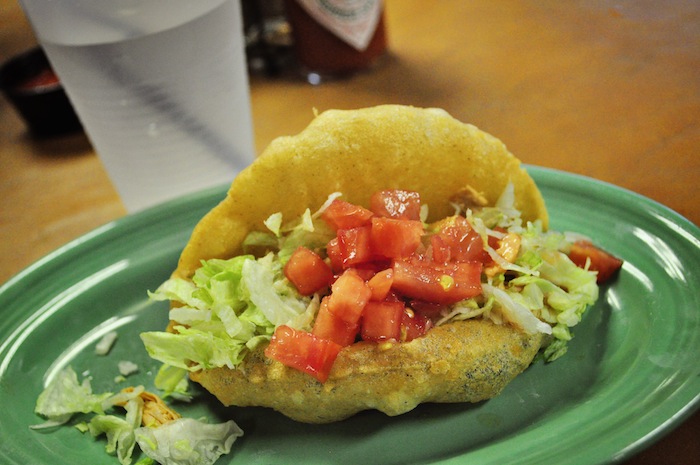 I can't remember for sure what I ordered, but I'm thinking it was the shredded chicken puffy taco, followed shortly thereafter by the guacamole puffy taco. For a mere $1.95 a pop, who cares?
While Stacy and I stuck to ordering our tacos one at a time, Victor went ahead and ordered the 3-taco plate, which came with some beans and rice.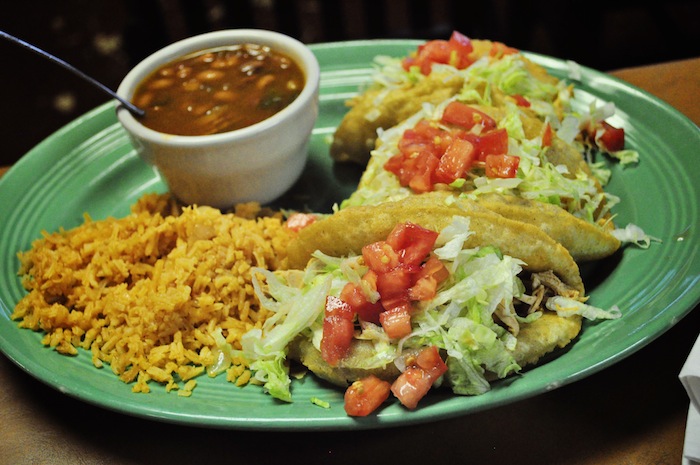 I didn't try those, but here's what I'm thinking: I'm sure they were fine. I'm sure they tasted like beans and rice. But, just like the taco fillings and T-Bell's chalupas, it didn't really matter. Because Henry's Puffy Tacos are all about the shell. The glorious, puffy, shell. I'm not sure how they do it, but it tasted like crispy, fluffy, deep fried air. I could've eaten the plain, for all I cared, but the guacamole made it even better.
The machine-made margaritas weren't too shabby, either.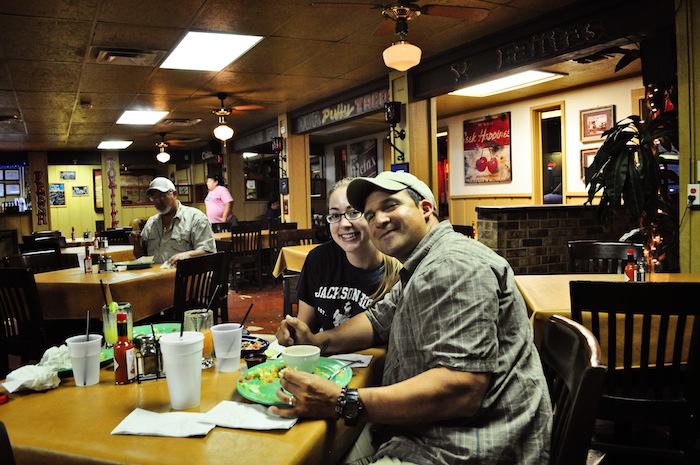 Yet another reason I can't stress enough how important it is to find yourself a local when you travel. Especially when you find yourself in a semi-shady 'hood in Texas. Where everyone — including, if you're lucky, your local — is likely carrying a concealed weapon.
If it weren't for Stacy and Victor, I would never have had a Puffy Taco experience.
And while I may never have known what I was missing, I would have missed it, just the same.
Henry's Puffy Taco Express
3202 Woodlawn
San Antonio, TX 78228