Philadelphia Is Cool Because It Birthed The Declaration of Independence In 1776, The Constitution In 1787, And Will Smith In 1968.
Yesterday, a friend of mine posted this on Facebook: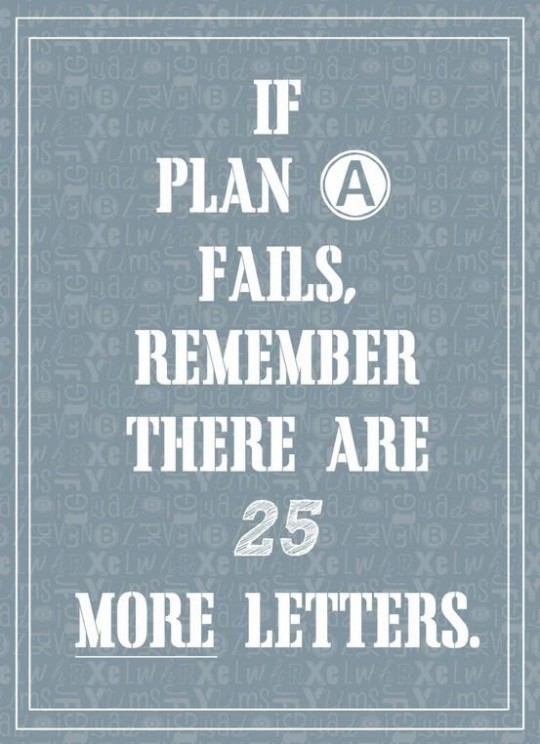 I've seen it before, and I totally get that it's supposed to be inspirational. I do. It's supposed to make us feel like we can try anything and it's okay if we fail, because hey. We can still screw up 24 more times before it becomes a big deal. That's 25 colossal failures before there's any pressure at all to succeed. So don't worry. You have all the time in the world.
Right?
Sorry, no.
If there is one huge lesson I'm learning during this whole job quitting experience, it's that the people who succeed — the people who thrive and are happy and who live the lives we all want to live — do so by singularly focusing on the big goal. And while they realize there might be multiple ways to achieve it, they also realize that you can't walk across a continent by choosing to follow all of the roads at once.
That's physically impossible.
So they know something the rest of us should know, but we don't acknowledge it because that would terrifying:
You have to pick a road and stick it out.
You have to commit.
Because the only way you're ever going to finish that novel is if you sit down and write it. The only way you're going to run that marathon is to train for it. The only way you're going to see Iceland is to buy a ticket. The only way you're going to learn to cook is by getting your ass inside the damn kitchen and dirtying your hands up a bit, because guess what.
At the end of the day. At the end of your time here, the only person responsible for your happiness is you.
It doesn't really matter if you blame someone else or discourage yourself by constantly comparing your accomplishments — or lack, thereof — to others.
There are people in this world who are so sickeningly successful. Who work and play and make us feel like we're doomed to scramble up the sandy mountain slope forever with the gravel collapsing away beneath our feet and cuts on our palms just trying to chase them down because we will never get to that content and serene place in our lives and it's so impossible.
Well.
It is if you're trying to take 26 different roads at once. Or rather, if you don't fully commit to the first road because you're busy wondering what scenery you might miss on the others.
A super long-time reader of Domestiphobia who posts comments under the name NovaBlast (thanks, Eugene!) posted a video of Will Smith-isms on my post about choosing a word to describe our goals for the new year. One thing Mr. Smith says in the video is:
"There's no reason to have a Plan B because it distracts from Plan A."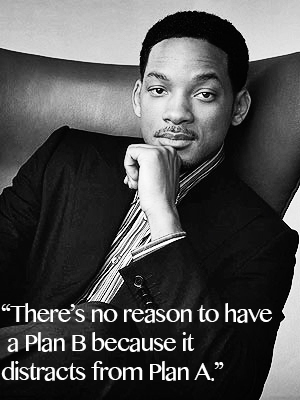 And that, my friends, is the truth.
Safety nets are the reason I'm a 30-year-old writer wannabe and not a 30-year-old writer.
Plans B through Z got in my way, made me feel secure, and the idea that they even existed at all made it easy to meander along A. No rush, my mind said. You're young. There's still time. It'll all work out in the end with no real effort on your part. Here. Have a cookie. Relax. It'll be just like the movies.
But now I know.
That voice lies. That voice wants me to feel safe and secure and content in my laziness.
And that is exactly the right way to never accomplish anything.
Hey.
It's okay to fail.
But fail trying your damnedest.
Fail because you tried, with 100% zest and enthusiasm, to succeed in the best and most direct way you knew how.
Then.
Then, if you have to, come up with a Plan B.
But remember. If something is second choice, it's usually for a reason.
Will Smith — he's so full of wisdom, you know — said something else:
"Being realistic is the most commonly traveled road to mediocrity."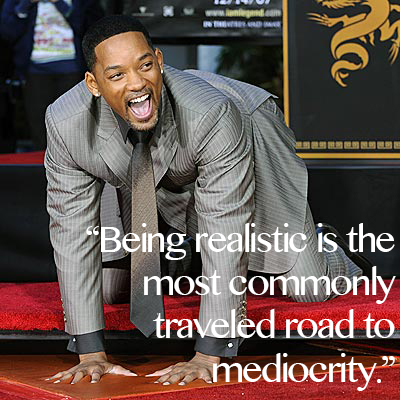 A backup plan is realistic. A backup plan makes it okay for the first plan to not work. That would make it okay for me to not become a writer. For you to waste life doing things you don't really care about.
And I really — really — don't want to see that happen.
What's your Plan A?