Good News: You Can Stop Trying So Hard. It Turns Out The Worst Military Wives Might Just Be The Best Wives.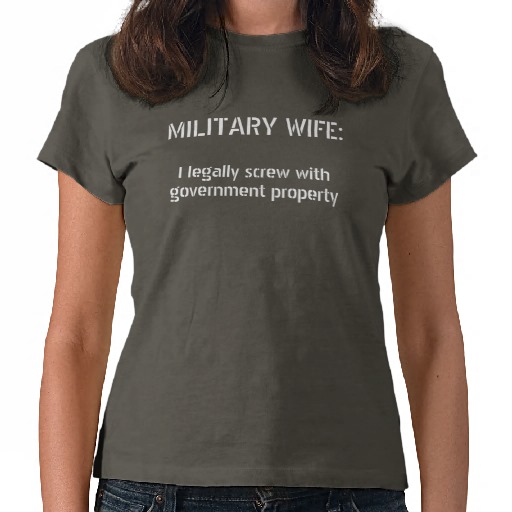 Yesterday I noticed on Facebook that Justin had "liked" a page called "Overly Sensitive Military Wives."
And, like the overly sensitive military wife I am, I pulled out the puppy eyes.
"What's that supposed to mean?" I asked, pointing to the tiny page on my iPhone. The Overly Sensitive Military Wives (OSMW) profile picture depicted a cartoon drawing of a fake-baked bleach blonde (not guilty) in a slutty tank top (guilty) and booty shorts (ugh, guilty) sporting various tattoos branding her a military wife (definitely not guilty, unless you count the celtic butterfly tramp stamp I embarrassingly got when I was 18 which has nothing to do with the military and everything to do with the fact that I was once 18).
She's depicted as an avid shopaholic at the local dives and it's insinuated that she'll start sleeping around the minute her husband deploys.
Huh.
"Because if that's what you want me to be, I can throw some Military Wifey bumper stickers on the Tracker…"
He rolled his eyes.
"I can buy a cute camouflage hat and start wearing your dog tags and pretend that rank actually means something in the real world."
He sighed. "It's funny. Read it."
And you know what?
It kind of is.
In like, a really depressing way.
The page is essentially dedicated to making fun of the stereotypical caricature of military wives depicted on television, in movies, and… uh… many women walking all over this town.
It's true. Quite a few of the wives I've met fit OSMW's definition of women who confuse being married to someone in the military with being in the military themselves. Women who live for unnecessarily involving themselves with the rules and the drama and the acronyms — oh, the acronyms — and who seem to think they wear their husband's rank.
That's right.
I've run into actual, real life military wives who thought they outranked me in life because their husbands outranked mine at work. This, non-military ladies and gentlemen reading this, could be the equivalent of the wife of someone higher in your spouse's company trying to correct your behavioral issues because they might reflect poorly on your spouse.
Not that I have behavioral issues.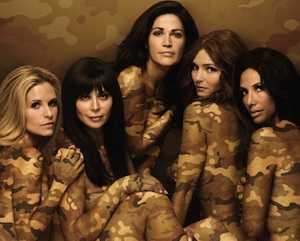 Oh, Jesus.
The thing is, I never involved myself in cliques when I was in high school, and I have no desire to start now. Besides. Self-imposed rank is a sure sign of insecurity, and I have enough on my plate, thankyouverymuch.
OSMW also refers to some of these wives as "Dependopotomus" or "sofa bison," which I guess is a jab at those "lazy," unemployed spouses who stay home and clean or take care of the kids and might put on a little weight because they're cooking and having babies and doing other things generally expected of military wives.
The nerve.
It's a conundrum.
Either they're too involved, or they're not involved enough.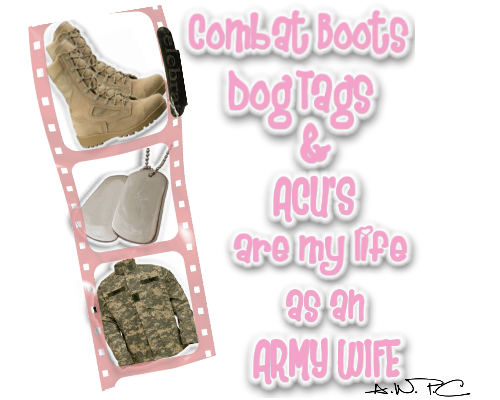 Really? There's no more to it than that?
Apparently, as a military wife, I'm in danger of falling into one (or more) of three categories:
1) A slutty shopaholic who has nothing better to do than sleep around and spend my husband's money;
2) Someone who adopts my husband's career as my own, scolding his troops for letting their hair grow too long and telling their wives they should only work while their husbands are deployed; or
3) An overweight, lifeless couch potato who supports his career by making babies and dinner.
And you know what? OSMW has a point, my friends.
Sure, it's intended to be amusing, but as a military wife who's struggled to keep my identity and independence and through the haze of military politics and dependent expectations, suffered intense loneliness through deployments, and openly admitted what exactly it is that makes me a crappy military spouse, it's downright scary.
And, if you're a military wife, it should be scary to you, too.
It turns out that by refusing to throw myself into all aspects of military life — by not becoming involved with the various spouses' groups, by not regularly shopping on base, by not even knowing the phone number for my husband's Command, and apparently even by making inappropriate jokes with my husband's superiors, I've managed to elude the stereotypes.
(That, or create one all my own: The childless, self-involved, uncontrollable, stubbornly refuses-to-be-dependent dependent.)
In other words, just myself.
So.
Instead of making fun of those who might fall into one of those other three (and arguably less attractive) categories, I find myself compelled to figure out why this happens.
And really, it's easy.
Assuming a military wife loves her husband and got married for the "right" reasons, maybe before she fully understood what actual military life was like, it's understandable that an eventual identity crisis might psychologically stem from, say, the expectation of following your husband around the country or world with no choice in where you live (or where your children might go to school); understanding when your husband has to leave the house in the middle of the night with no questions asked; or being asked to stand up as an emphatically patriotic cheerleader for an institution that ultimately views you as a tool to boost the morale of deployed members and to look good in the public relations photos taken upon their return.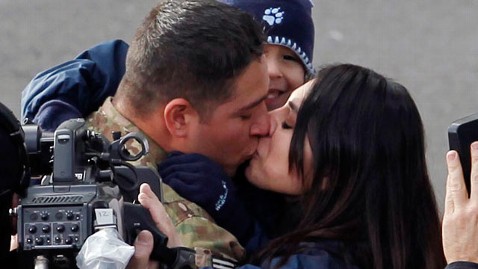 Other than that, the military really has no need for you.
And why should it?
It's your husband's job. Not yours.
And trust me when I tell you that this is the best news for military spouses in the history of ever, so don't get all threatened by it.
It means you're FREE. It means you can pursue that career you've always wanted. You can choose not to have kids. You can have kids and immerse them in cultures all over this country and the world rather than relegating them to military-regulated social structures. You don't have to deny yourself regular freedoms the general population takes for granted because you're worried how it might affect your husband's career.
Okay. Of course you're going to have more struggles than a non-military wife. It just comes with the gig. Establishing a career is not easy when you're moving every 3 years. Making choices that don't generally flow with the typical military lifestyle can leave you lonely at times. And yes, there are certain "frowned-upon" behaviors that could affect the politics of your husband's career — just like most other jobs out there in the real world.
For the most part, I've found that the military doesn't care what I do as a military wife.
Only Justin cares about what I do as his wife.
It turns out these chains are just dust.
It turns out I can find friends — other military spouses, even — who feel the same way. Who know that their husband's jobs, while demanding and difficult and oftentimes dangerous, don't define who they are.
These stereotypes are just crutches. Habits that are easy to fall into when you've lost sight of who it is you really want to be.
It turns out that all of this time while I was worried that I was being a "bad" military wife by selfishly maintaining my own path while still managing to support his, I might — just maybe — have actually been making myself a better wife. A partner. A confident, sexy, independent dependent who's not afraid to share her life with someone who sometimes has to put his job first.
And that, my friends, is the biggest demand of a military spouse.
That, and finding a decent hair dresser every time you move.
The first is overcome by not losing sight of your own identity — by remembering that while you're a wife whose husband is in the military, you don't actually have to be the wife of the military.
And the second?
Well.
That part of yourself, too, you can always grow back.