Watch Ya Self. Show Me What You Workin' With.
Okay. Whether you're associated with military or not (and I know many of you are not), you probably know something about our lifestyle.
What you probably know is that it isn't permanent.
Of course, no one's lifestyle is all that permanent, but in our case, it's a given.
We know from the moment we move into a place that it will likely not be our "forever home," which causes us to weigh the pros and cons of buying versus renting more than most who find themselves moving to a new town and, more often than not, choosing to rent, just so we don't have to deal with the hassle of home sales.
But not Justin and me.
Oh, no.
Apparently, we like pressure.
Apparently, we thought we were a couple of natural little do-it-yourselfers who had all the time in the world to fix up this little ranch of ours. And since we thought we were going to be living here for 4 whole years (it's been almost 6) and that we were buying when prices were at their lowest (they weren't), we figured, hey.
Why not make a place our own while we have the chance?
Well.
I'll tell you why not.
Because Justin and I are the best procrastinators on the entire planet, and even though we were given an extension on the time we thought we had here, it turns out it still wasn't enough.
There is still so much to do.
We still don't know exactly when we're leaving or where we'll be headed, but we do know that we should prepare — not only mentally for the idea of leaving the relationships we've established here, but also physically.
Because when the time comes, this house ain't going to sell itself.
When it's come to some of our earlier remodel projects like the kitchen or the guest bath, we didn't work with a super strict budget because we knew we'd still be here a while, and it was more important to us to enjoy the fruits of our labor than to actually earn our money back. But now, with a few large projects still looming, we've graduated from mentally justifying our overspending. We've grown. We've realized that our house is like a puppy — she should look cute and well cared for in order to sell, but she doesn't need her nails painted or a diamond studded collar.
And with that, I give you our master bathroom: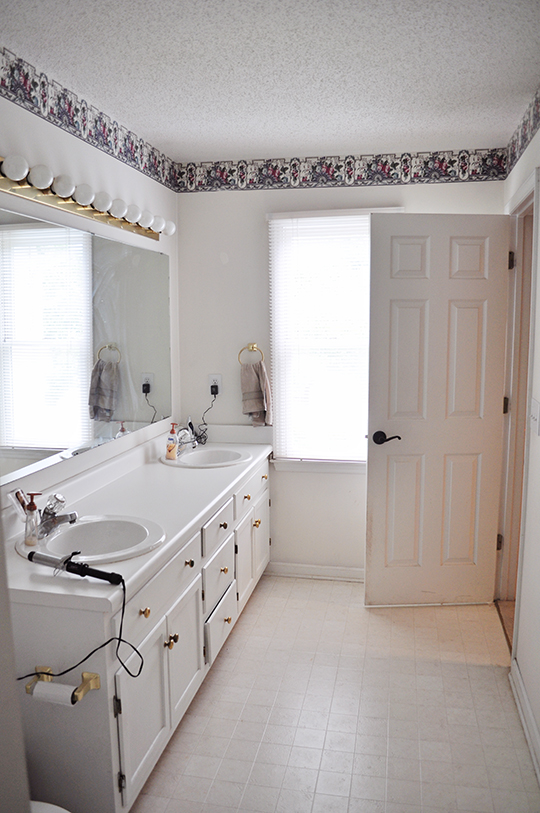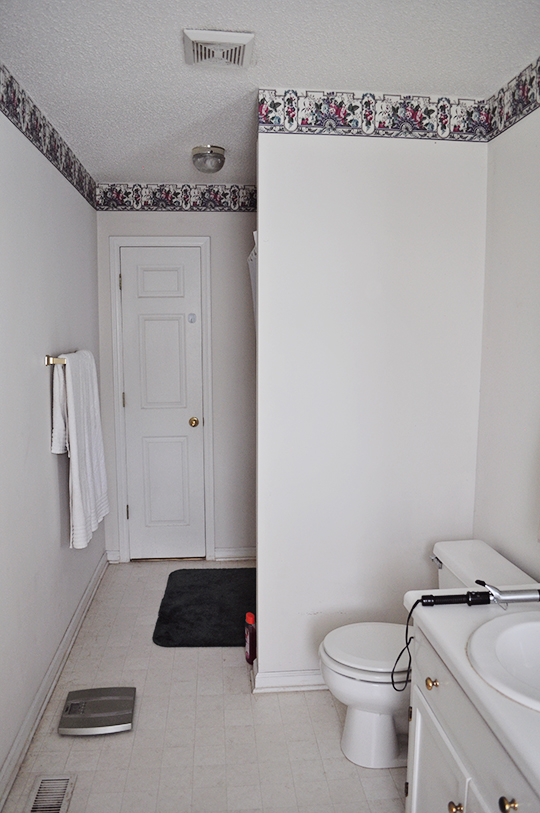 Long and narrow and disgustingly filthy from years of neglectful renters and owners. Popcorn ceiling? Check. Yellowed fiberglass tub? Check. Brass fixtures? Oh, you know it.
Oh, my. My, my, my.
She wasn't horrific.
Just… dated.
And there she stayed for a number of years until one lonely evening I started picking at the wallpaper border while simultaneously trying to find curtains for the master bedroom, drinking copious amounts of wine, and becoming addicted to The Walking Dead.
And with that, a painstaking, molasses-like, 2 year renovation had begun.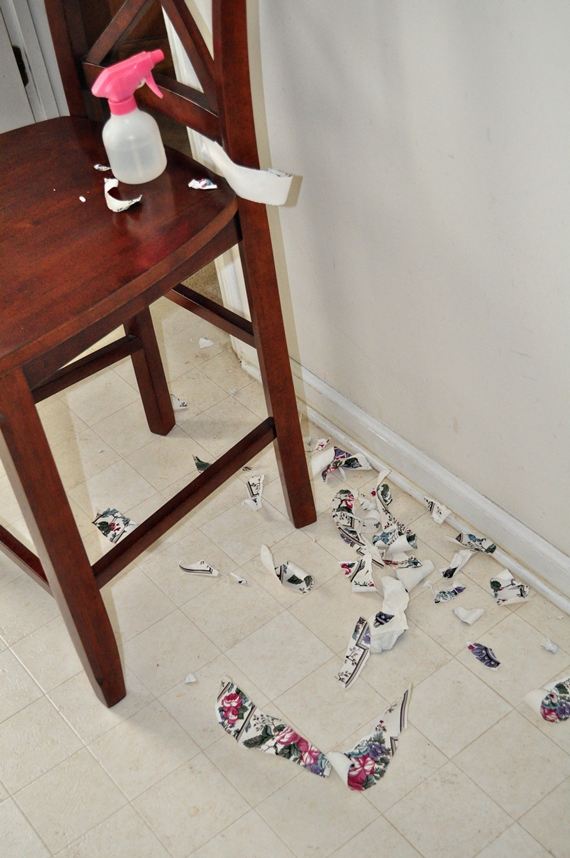 While we would've liked to tile this floor (it's the only linoleum one left in the house), we've accepted the fact that a project like that at this juncture would likely:
a) Cost way more than it's worth when it comes to resale in our price point; and
b) Cost way more than it's worth when it comes to the peace in our marriage.
And if we were staying here longer, we'd likely rip out the tub all together and build a luxurious shower along that back wall, but again. We have to be realistic.
Which is no fun at all.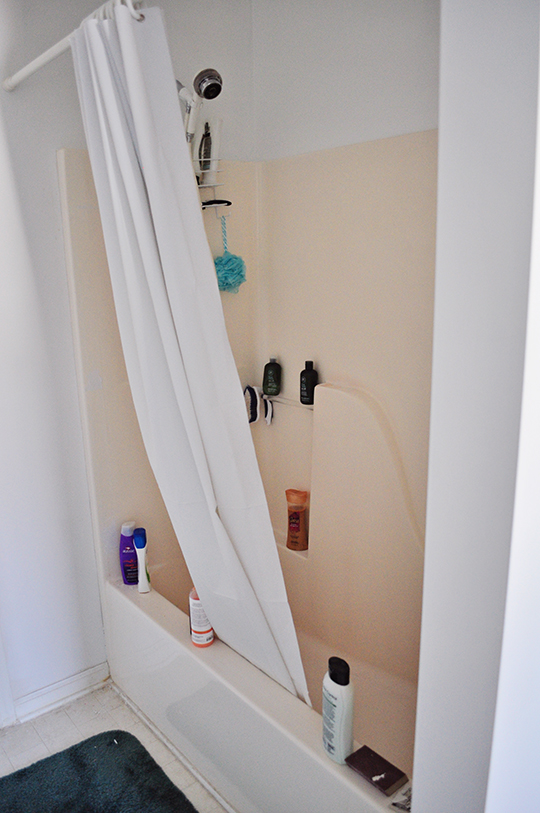 Yellow tub, after Justin repaired the rotting drywall above.
So we've come up with this list of "must-do" items for the bathroom:
Remove the "popcorn" ceiling finish
Repair rotting drywall above tub
Re-finish nasty bathtub
Paint walls and ceiling
Replace brass fixtures
Paint and fix vanity
Replace faucets(?)
Frame mirror(?)
Accessorize
We've already (as in, within the last three years) finished a couple, and if you were following along on Facebook last weekend, you know we've made some progress on the vanity and the tub.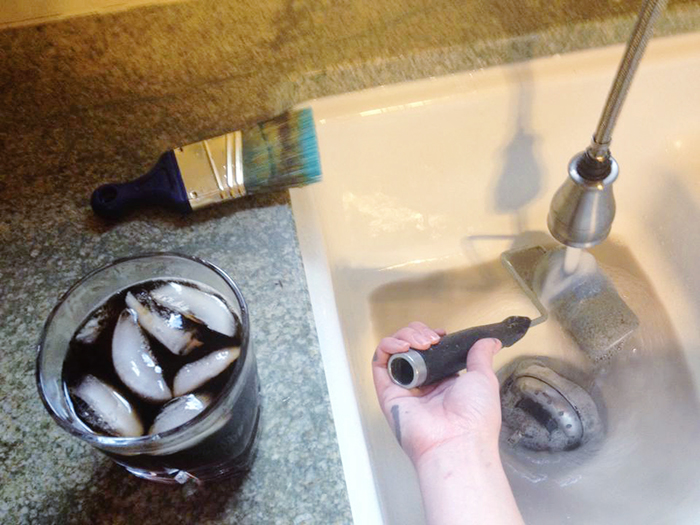 So. If you've been around here a while, you know I have a horrible tendency to start a bunch of projects and then never actually finish them.
But those golden days of laziness and procrastination are over, my friends.
I must have a plan.
And for now, it starts with the bathroom.
How about you? Have you ever had to compromise what you might want from a renovation with what you know is the realistic choice when it comes to re-sale? Do you think we're making the right choices when it comes to our bathroom?