The Ultimate Before-and-After Photos. And Also A Giveaway.
Okay, look.
I'm not going to say that my sister Kelly and I are the best Mother's Day gifters ever, but we're probably pretty close.
At least this year.
See, usually I lean somewhere towards Anne Lamott's camp in thinking that Mother's Day is kind of another one of those obligatory Hallmark holidays where you're forced to buy your mom either kitsch she doesn't need or chocolate-covered-somethings that inevitably make her complain about her weight, so then she feels guilty for eating the chocolate, and I feel guilty for sending it to her, and really maybe they should just re-name it Guilt Day, because essentially that's what we're spending money to feel.
And I mean, I call my mom at least 2-3 times per week. Doesn't that count for decent daughter points? Plus, I'm pretty sure I inadvertently thank her for giving birth to me every time I do something awesome in the world, because that awesomeness directly reflects on the way she raised me.
…right?
Okay.
I guess when I really think about it, it's not too much trouble to send the obligatory card or make the obligatory phone call or order the obligatory 8,000 calorie chocolate covered freakberries (I mean, seriously — have you ever seen bigger strawberries?) and buy into the commercial b.s. that gets forced on us during these fake sentimental holidays because my mother did, after all, push me out of her vagina.
And I hear that's no easy feat.
Plus the berries make her feel good… right before they make her feel like crap.
But this year, since my sister was in town and we had some time to kill and my mother has been asking incessantly for photos of us "kids" for months, we figured we'd give her what she wanted.
And we'd give it in the best way we know how: through mockery and sarcasm.
The lighting was horrific and our patient photographer didn't really know what he was doing with my fancy DSLR (thank you, Justin!), and our prop budget and craft skills were limited-to-nonexistent, but I'm pretty sure these before-and-after photos were our best Mother's Day present to-date: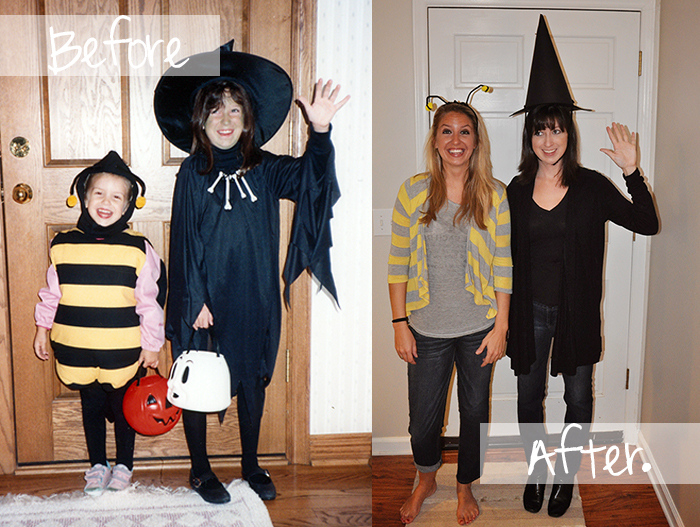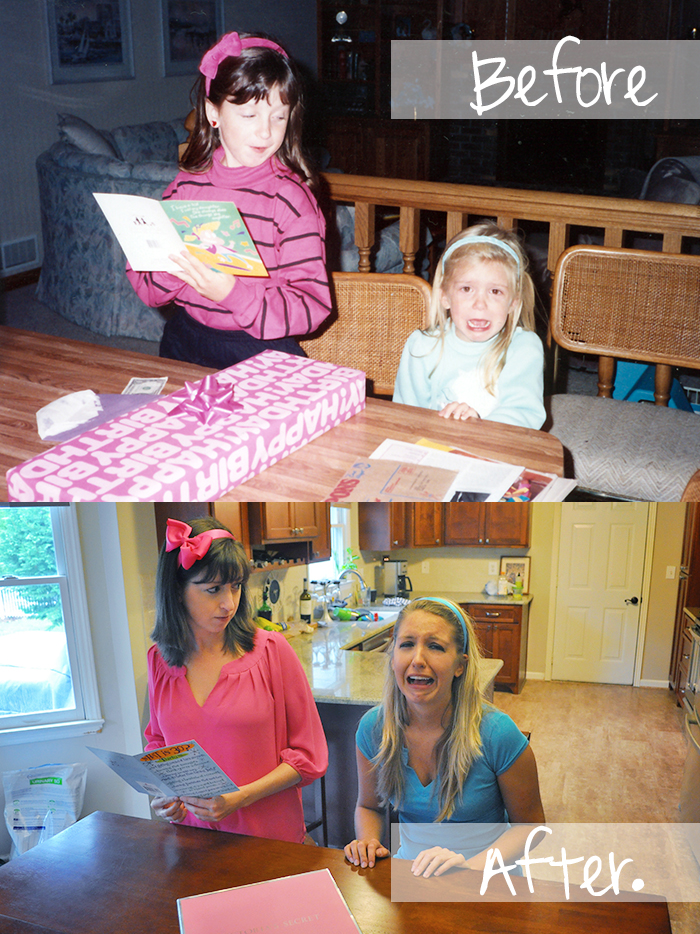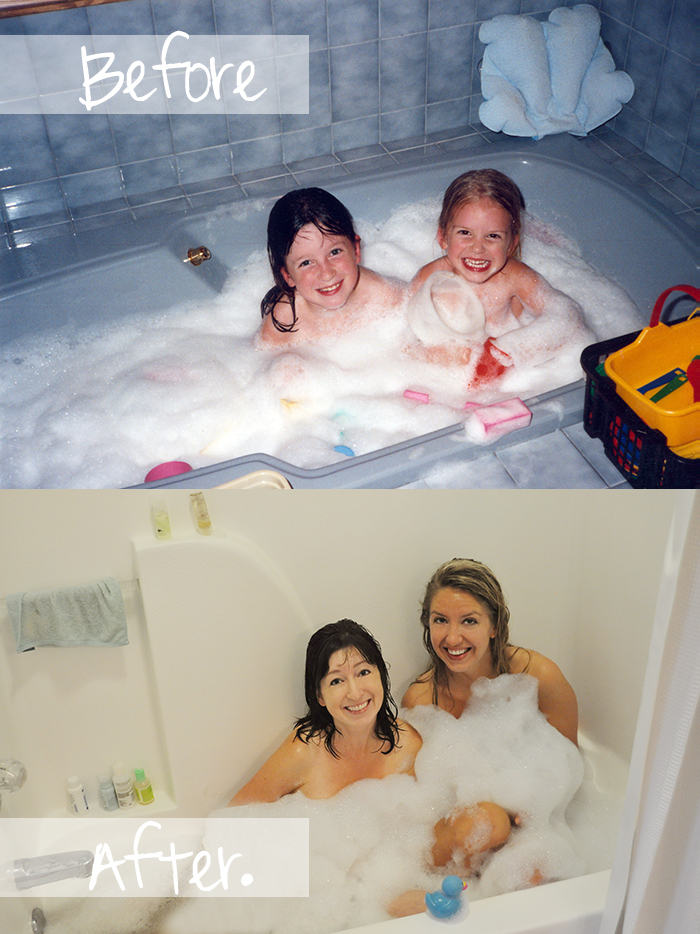 Yep. We did that.
The only thing that could've made it better is if our big brother Joel had been there.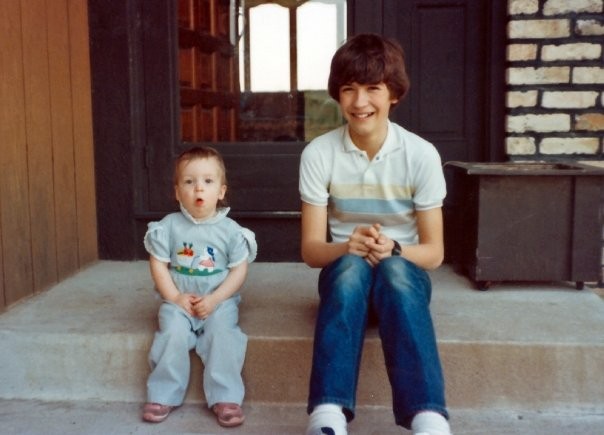 Next year, Joel. Next year.
Don't forget to grow your hair.
——————————————–
Now, a completely unrelated giveaway.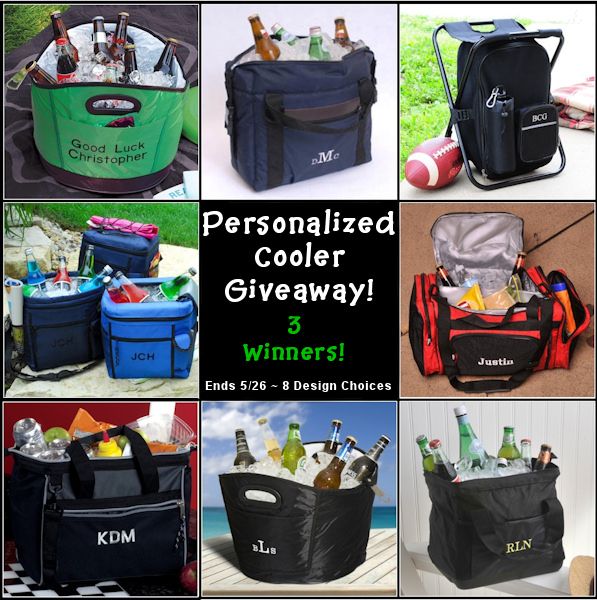 Wedding Favors Unlimited asked me to share this giveaway with you.
No, they're not paying me.
(But if they were, I'd totally take it.)
Because these coolers look seriously cool. They're cool coolers. I'm partial to the red "Justin" one, for obvious reasons, but I also like how it looks like a gym bag. The casual observer will think I'm heading off to the gym for some cardio when I'm really heading off to the beach for some beer bottle free weight lifting. The good news, too, is that if you win the giveaway and choose the "Justin" bag, it won't actually say "Justin" when you get it. It can say… well… whatever you want. They're personalized.
Clockwise from the top left corner, these are the ones the winners get to choose from:
1. Personalized Soft-Sided Party Cooler – Available in black, red or green, this large tote holds up to 12 cans or bottles and collapses for easy storage!
2. Personalized Soft-Sided Drink Cooler – This attractive navy cooler holds a 12 pack on the go, is personalized with a 3 letter monogram and features a shoulder strap for easy carrying!
3. Tail-Gate Backpack Cooler Chair – This 3-in-1 insulated tote is a backpack, cooler and portable seat!  Perfect for camping, hiking or outdoor sport events, the cooler chair comfortably holds up to 250 lbs and can be filled with a case of your favorite beverage. Personalized with 3 initials.
4. Personalized Cooler Duffle – The water-tight insulated center compartment along with the front and side pockets for dry items keeps all the day's snacks close at hand! This great red duffle holds up to 36 cans and is personalized with a first name.
5. Personalized Large Mouth Cooler Bag – The extra-large opening of this cooler makes it easy to cool large bottles and the sturdy handles and hard-molded bottom means it's extra strong. We will embroider the front pocket with up to 5 characters in your choice of thread colors.
6. Personalized Party Tub Cooler – With enough space for a few six-packs, this cooler is a must for any party! The soft-sided cooler tub with large handles is personalized with a three letter monogram.
7. Personalized Zippered Deluxe Cooler Tote – This tote will become an instant favorite! A full case of beverages or your picnic lunch will stay cold while the personalized outer pocket keeps your valuables dry!
8. Stay-Cool Tote with Cell Phone Pocket – Head out to the ballgame or beach with this great cooler available in navy or royal blue.  With a full case of your favorite beverage inside and and your cell phone tucked safely in the outer pocket, you'll be ready for anything!
I don't know about you, but wedding favors have come a long way from a little cellophane bag of mints, knowwhatI'msayin'? Can you imagine having a small ceremony and tucking these under the chairs for each family? I'd have a little card that says, "Hey. We know the ceremony is the boring part, so crack open a beer, sit back, relax, and we'll wake you when it's party time."
Best. Wedding. EVER.
More realistically though, wouldn't they make fantastic gifts for the bridesmaids and groomsmen? Especially the one that turns into a little stool. I'd make each of my bridesmaids carry one around on her back the day of the wedding filled with refreshing mineral water and fresh fruit and moist towelettes. They could only sit when I tell them to sit. And then they could just sit right there on their portable, personalized, bride pampering wedding coolers.
Okay, I think it's time to get married again.
NOTE – You must complete the specified entry task in order to be eligible to win the contest. If you hit the green entry button without completing the task, your entry will be thrown out (disqualified from winning the prize). So, for example, the first "task" is to leave a comment on this post. Leave a comment, then click the +1 next to that task in the Rafflecopter box above. That's IT! You'll be entered. Once you do that, it will offer even more ways to earn more entries into the contest. You only have to do one, but your odds increase if you do more. Good luck!
Here are the rules for the giveaway:
*Enter using any of the Rafflecopter choices available for entry below. Any of the options are acceptable, and entries per person are limited to the number indicated in the contest form. Entries will be reviewed. Duplicate or uncompleted entries will be removed.
* If you have problems using Rafflecopter, be sure you are running the latest version of your web browser and have JavaScript updated.
*Contest is open to all residents of the 48 Contiguous States and only to those 18 or older!
*Winners will be chosen randomly. The winners will receive their choice of Personalized Cooler valued at up to $42 from the 8 options shown above.
*If you are chosen, you will be notified via e-mail. Winners must respond within three days of being contacted. If you do not respond within that period, another winner will be chosen.
*The full list of rules can be found here .
*Sweepstakes ends at midnight EST on May 26th, 2013. The sweepstakes winners will be announced by June 2nd, 2013.