What? It's Not Like This Country Is Big. (Around The U.S. In 30 Days.)
I have a busy month coming up, kids.
It's the kind of busy I enjoy, though — the kind that involves road trips and airplanes and overnight stays in at least five different states other than the one in which I live over the course of five consecutive weeks. And that's not counting the ones I'll be driving through or flying over.
So my life is going to look a little something like this: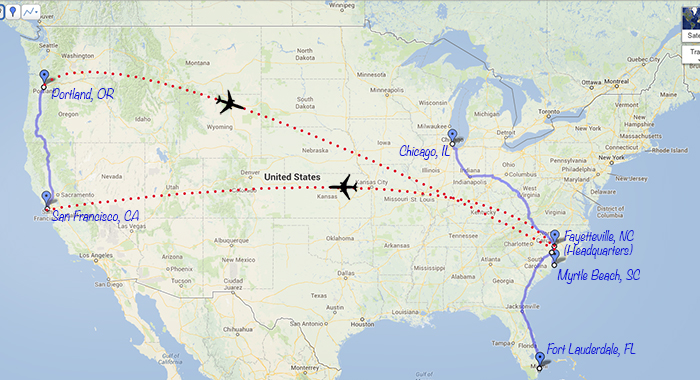 1. Fayetteville, NC

Fort Lauderdale, FL

 Fayetteville, NC
2. Fayetteville, NC

 San Francisco, CA

 Portland, OR

 Fayetteville, NC
3. Fayetteville, NC

 Myrtle Beach, SC

 Fayetteville, NC
4. Fayetteville, NC

 Chicago, IL

 Fayetteville, NC
Of course, it won't all be fun and games.
First, I'll be headed back down to Fort Lauderdale, Florida. (That's waaaay down towards the tip near Miami, for those of you less familiar with the layout of this country's southeasternmost state.) Those of you who've been reading for a while know I head down there quite frequently, since it's the place my baby sister has called home for the past several years.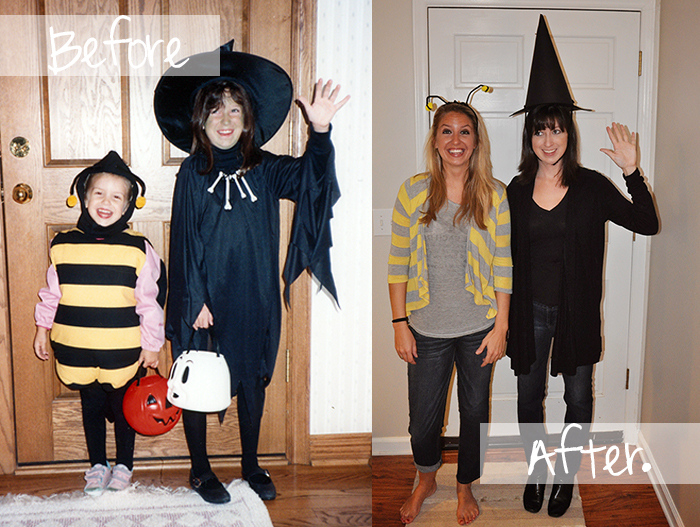 Remember my sister? She's the bee.
Aside from my experience traversing the western plains of Nebraska to the eastern dirt flats of Colorado, or even that time I meandered across the open fields of Montana and the scablands of eastern Washington state, this is, by far, the most boring route I've driven within the borders of this vast, asphalt connected country. It's made even more so by the fact that I've traveled its path on many occasions, yet one of the only distinctive landmarks among the repetitive kaleidoscope of interstate exits is the giant sombrero at the South of the Border theme park and, of course, the approximately 1,527 gaudy billboards that announce its existence across half of two states.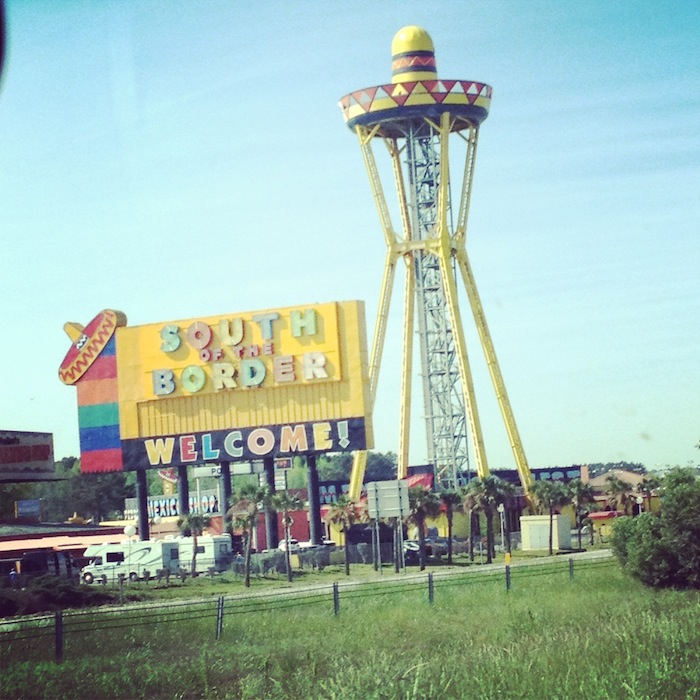 Oh, and sometimes it's fun to stop in Jacksonville.
Boring as it is, this time will be bittersweet. See, Kelly is moving to Chicago for work, and as the older sister of someone who wasn't offered a moving package as part of her promotion, it's become my duty to make sure that she — and her two mutts and most of her worldly possessions — makes it to Chicago intact. This means that it might be the last time I make this trip, the highlight of which will be shoveling the contents of her apartment into her SUV and my Chevy Tracker and hoping we don't have any incidents like the time I broke my boss's flatscreen t.v.
Of course, a straightforward move from the south end of the country to the north would be way too simple, so I apparently felt the need to pepper the trip with actual vacations — a trip to Myrtle Beach with Justin's work people, and a trip to the west coast to visit one of his aunts, his uncle, his sister Becca, and her boyfriend Brad.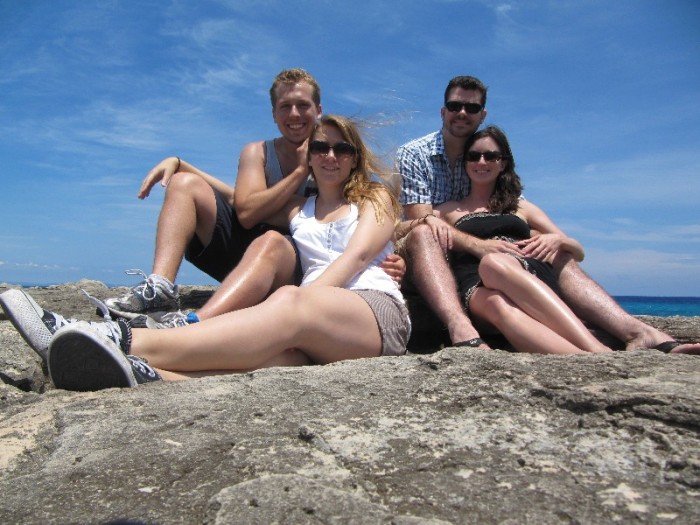 Brad, Becca, Justin and me on the Balearic Island of Formentera, Spain.
THEN it's off to Chicago with a Tracker full of Kelly's clothes, most likely, and a lovely thirteen hour drive each way.
So pretty much what I'm trying to say here is that a) It's very likely I'm going to need a therapeutic massage come mid-August, and b) If there was an award for Best Sister in Existence, I'm pretty sure I'd be in the running.
I'm going to try, of course, to document various aspects of these trips so that you can suffer enjoy them right along with me, but don't be shocked if what you get over the course of the next month is a discombobulated smorgasbord of incoherent ramblings and fuzzy iPhone photos. The best way to keep up with real-time happenings will be via Instagram and my Facebook page. The fun starts in T-minus thirteen days. After I oil and gas up the Tracker, vacuum the mutt hair, and stock up on road snacks, that gives me like… almost no time to organize my CD mixes from the '90s. I might be in trouble.
That said, is anyone familiar with any of these places? We've only been to Myrtle Beach once, and I've never been to Chicago or Portland. It's been ten years since I've been to San Francisco, and the only items on our agenda so far are eating seafood and eating dim sum. (Is anyone surprised that our only plans are food related?) And feel free to tell me — am I completely crazy?