Diners, Drive-Ins, And A Disturbing Reality Check About Celebrity Chef Branding.
So is everyone familiar with that Guy Fieri guy from The Food Network who travels the country visiting diners, drive-ins and dives for his show Diners, Drive-ins, and Dives?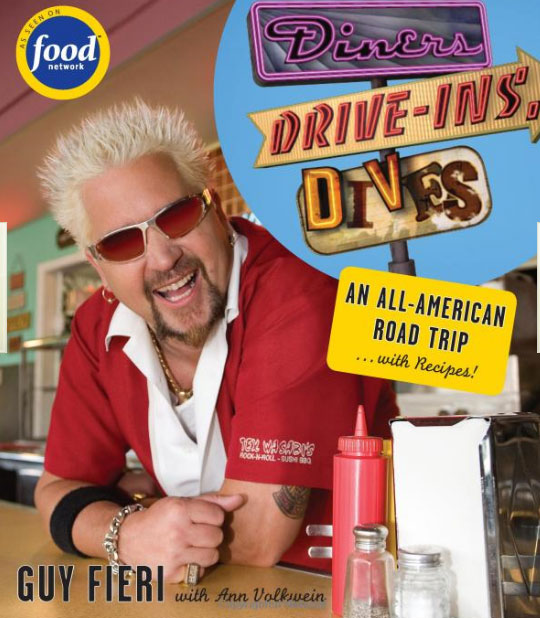 And did you hear about the scathing review about his Times Square restaurant, Guy's American Kitchen & Bar in The New York Times last November? And did you know the review was basically an entire article full of nasty, rhetorical questions asking Guy whether he's even eaten at his own restaurant and if he's aware that the watermelon margarita tastes like "some combination of radiator fluid and formaldehyde?"
Yes. It was that bad.
And look. I'm all about honesty in a restaurant review, but what about integrity? You can say you don't like something without being so mean about it. But. At the same time, I do have to say —
Whether you're familiar or not, Guy really has no business owning a 500+ seat restaurant in the heart of New York City.
He just doesn't.
The Season 2 winner of The Next Food Network Star back in 2006, (that was back when we still had cable,) Guy built his entire brand based on a charismatic, bad-boy next door relatability and his passion for patronizing local eateries peddling their original, undoubtedly greasy, but oh-so-delcious home-cooked wares. His love is for the small-scale establishments. The places a family of four on a road trip to Disney World would have once passed by for their dilapidated awnings, peeling window paint, and limited parking if it weren't for Guy telling everyone that they made the best Cuban sandwiches north of the Mason-Dixon and yes, Cuban sandwiches are totally legal to eat.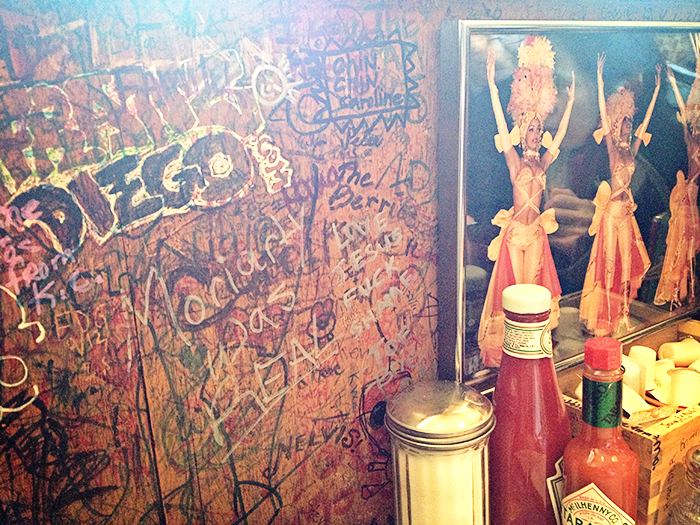 Remember Victor's? Guy told us to eat there.
He made these places approachable. Trendy, even. I would go so far to say that he helped renew America's passion for real food made by real people — not just some bland, generic menu concocted in the conference room of a giant corporation that still believes kale should be used solely as a garnish.
So. Even though he owns several other restaurants — most notably his own chain, Johnny Garlics, in California, Guy's known to the American masses as a defender of the "little guy." A lover of big food in small places. Not someone you'd want to associate with monstrous, expensive tourist traps where you're paying for the name — a la Hard Rock Cafe and other restaurants that probably earn more revenue selling t-shirts than actual food. And while his response to that review was one of defense — that his restaurant was only a couple of months old and that he stands behind his team, I can't help but think that maybe the reviewer just felt betrayed. Like me.
Yep. Call me naive, but I felt betrayed when I learned that guy sells the idea of one thing but makes money from another.
Like when I found out Kermit the Frog was just a puppet with a hand up his butt.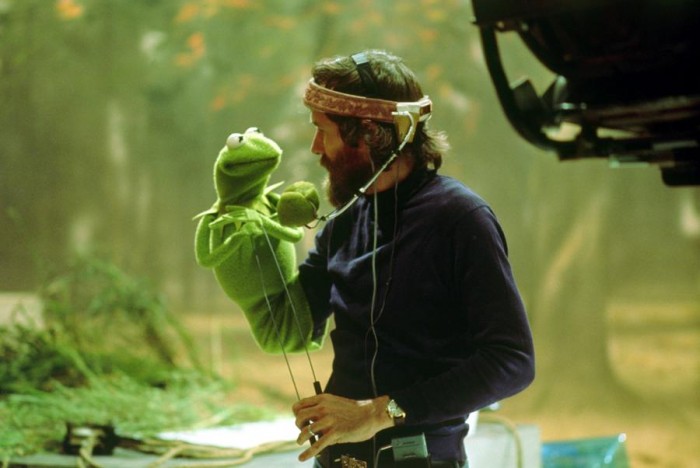 So deceived.
This is exactly why I wouldn't buy cookware from Rachel Ray or hot sauce from Bobby Flay.
The ultimate question we should ask when it comes to the branding of these celebrity chefs is, if they don't eat there/use it/consume it themselves, then why the heck should I?
(UPDATE 4/29/13: I think some of you are misinterpreting this as me saying that I don't like the types of places Guy features on his show. That would be false. What I'm trying to say here is that Guy should practice what he preaches. He has built his celebrity career by saying local dives with home-cooked food are the best. Why, then, doesn't he practice that when opening his own establishments? Why open a giant, processed food factory in one of the biggest touristy spots in NYC?)
I'll be honest. I haven't been thrilled with every place Guy's recommended on his show, but Justin likes to use it as a guide-book of sorts to find places we might enjoy wherever we happen to be traveling, which is how we ended up at Metro Diner on our drive back from Orlando.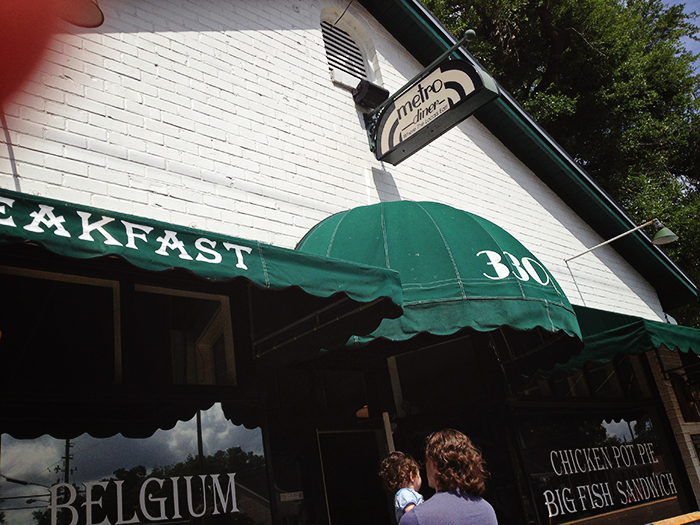 Oh hey, look. It's a really awful iPhone photo of my finger and maybe a restaurant. I blame the fact that I was famished and had been driving for several hours while Justin napped.
Apparently this place has three locations in Jacksonville, Florida, and we were at the place on Hendricks Avenue. It was very tiny, and very packed.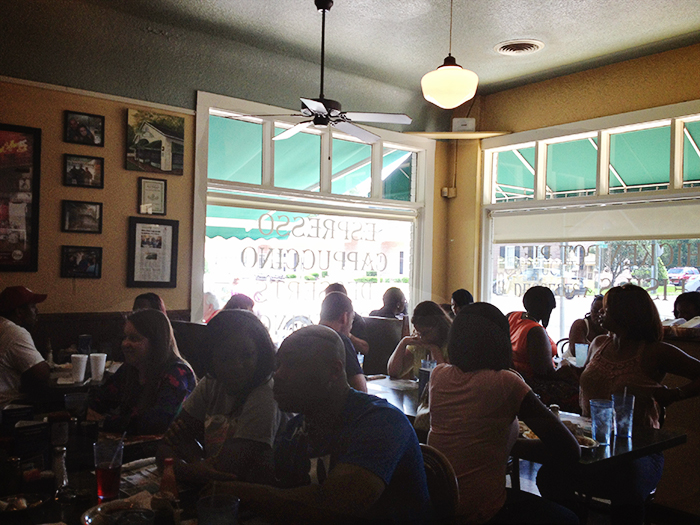 Fortunately it was a gorgeous day outside, so we soaked up the sun while lounging in plastic chairs next to a busy road. The tables on the patio and seats at the bar were first-come, first-served, so we snagged some bar seats when they opened up. Hey — what did I tell you about sitting at the bar when there's an open kitchen? Always — always — do it.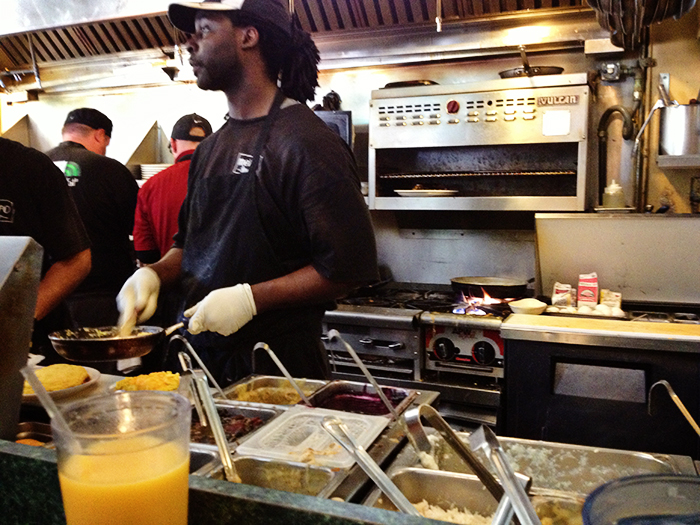 Our view from the bar.
This was a TINY kitchen with seven to ten guys working back there at any given moment. The synchronicity was incredible to watch. Like a dance. One guy would remove a hot skillet from the burner, do a twirl-spin-sidestep with a guy plating side items, then slide his eggs onto a waiting plate while another guy garnished and set it out to be run.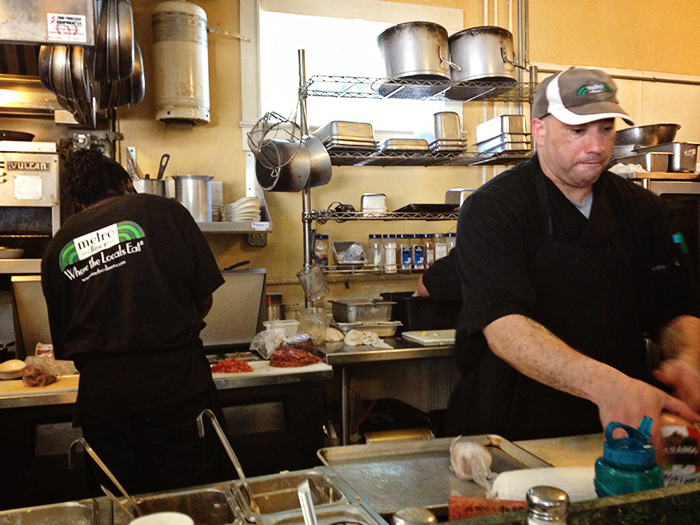 The guy managing everybody, Steve, told me some really interesting statistics and facts about the place that I didn't bother to write down because sometimes I'm a terrible blogger, but it went something like Metro being able to serve an insane number of people in very little time. It was quite impressive.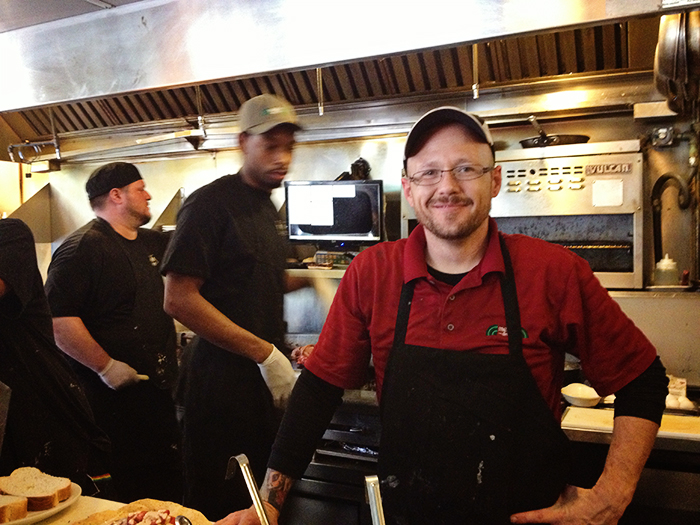 This is Steve.
Steve didn't know what we'd ordered, so he was quite surprised when our server placed the Crab Cake Benedict in front of Justin and the bigger-than-my-head Pittsburgh Sandwich in front of me. "Usually it's the other way around!" he laughed.
Here's why: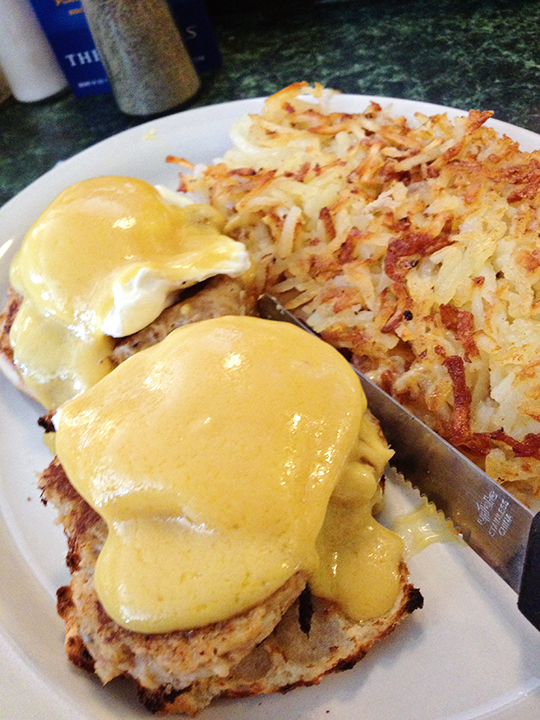 Justin's Crab Cakes Benedict with a side of hash browns. Generous portion size, but reasonable. Nice flavor. Nothing more or less than you would expect from a bustling roadside diner.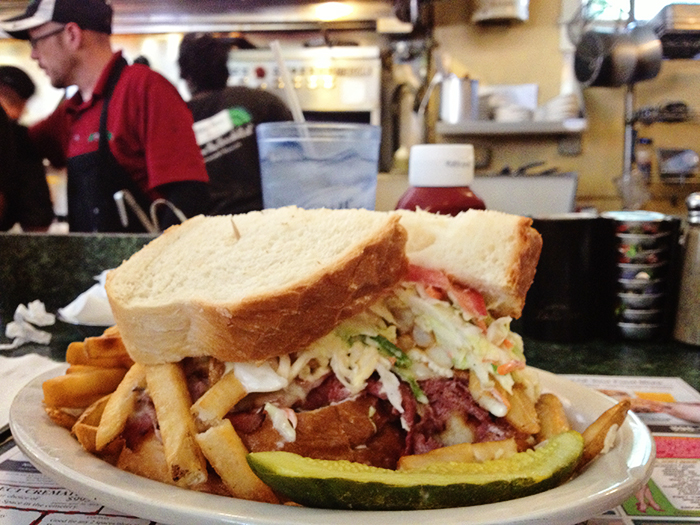 My Pittsburgh Sandwich. Thick Chicago bread, house-smoked pastrami, melted provolone cheese, a fried egg, coleslaw, and french fries all inside the sandwich.
So you wonder why I needed a cleanse last week.
Let's get a closer look, shall we?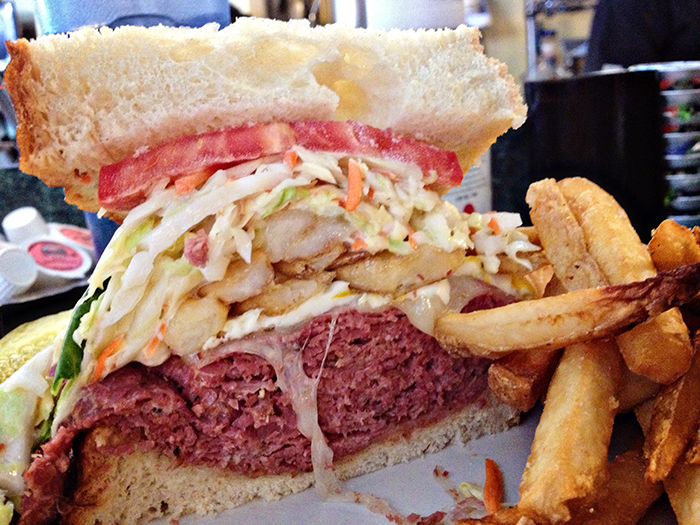 I didn't measure, but I'd venture to guess that this sandwich was seven inches tall, and I'm sure I put on quite the show when I attempted to eat it. I only made it through half, but it was good.
But here's the thing. While the food was decent, the best part about a place like this is always the people. The Steves who take pride in what they do, and the patrons, like our new friend Bill, who come day after day because that's what people like Bill do with diners like this.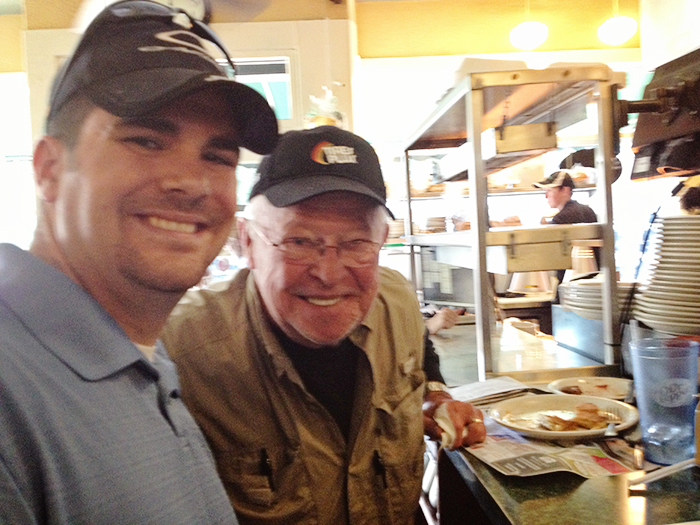 This is Bill (on right). After he retired, Bill started his own courier service to get out of the house. He eats at Metro Diner every day to get a break from his live-in mother-in-law. Not that he'd ever admit it.
So while I can't say I'd return specifically for the food or the wait next time we're in Jacksonville, I'd go back to see Bill. I'd go back to see Steve. I'd go back to see if they're still there because, unlike everything else that's so quick to change in this fast-paced world, Steve's probably still in the kitchen, and Bill's probably still at the counter. After all, there's nothing that captures that old-school nostalgia of personal service in less complicated times like a tiny, sidestreet diner.
And that, Guy Fieri, is why your place in Times Square just won't do.
It just won't do at all.
Metro Diner
3302 Hendricks Ave
Jacksonville, FL 32207