Dining In Eataly: When Hopping The Atlantic Is Just Too Far.
The market was abustle. Handscratched chalkboard signs advertised the Italian offerte speciali — anything from raw grouper to oysters, fresh cheeses, and sardines. Baskets paunched full of every fungi imaginable, others $55 per pound and picked clean, while street carts spilled over with splashy peppers and peaches and produce galore. From the rafters hung bulging bags of garlic bulbs and cured meats, and for a moment I was transported back to that market in Spain, where burly butchers with bloodied aprons weighed out their wares, buckets of briny olives stretched as far as the eye could see, and the air smelled like green and salt and rot and flowers.
But this wasn't Spain, I knew clearly, as I perched at a polished marble slab counter, sipping pinot grigio at 11:00 a.m. and watching chefs in crisp white aprons slice deli meats with machines. The air smelled like money.
And it wasn't Italy, either.
It was Eataly, Chef Mario Batali's Italian grocery/restaurant/specialty food supplier/school/brewery in River North, Chicago's most highly concentrated neighborhood of restaurants, and just a block from where we stayed at The James Hotel.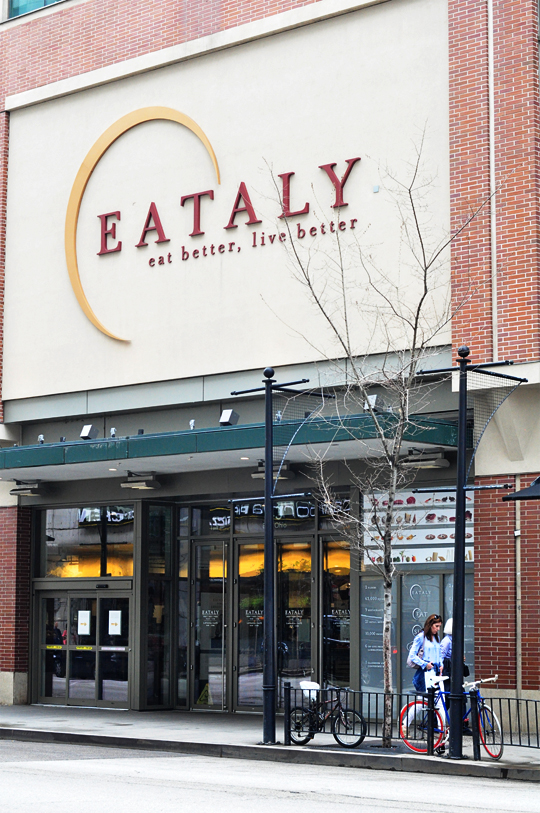 From the moment I saw the tagline, "Eat better, live better," I knew Chef Mario and I would be on the same page. At least, if by "better" he meant "abundantly."
And I'm pretty sure he did.
With two stories and over 63,000 square feet of real estate, navigating Eataly's maze of 23 eateries and specialized markets can be a bit overwhelming.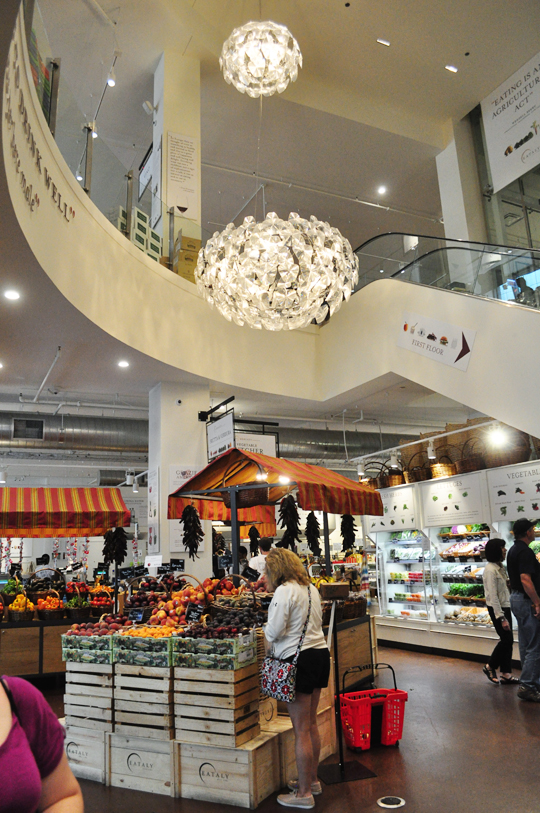 But Justin and I were most definitely game to try. The main level opened straight into the produce market, where ripe fruits and vegetables perched precariously atop stacked wine crates and street carts with bunches of chili peppers dangling from the awnings — a wholly rustic street market vibe, juxtaposed surprisingly well with the cleanly lit wall of mushrooms and greens, sleek glass railings, and contemporary crystal chandeliers.
It was a street market for the wealthy, slightly OCD, American upper-crust.
And I was entranced.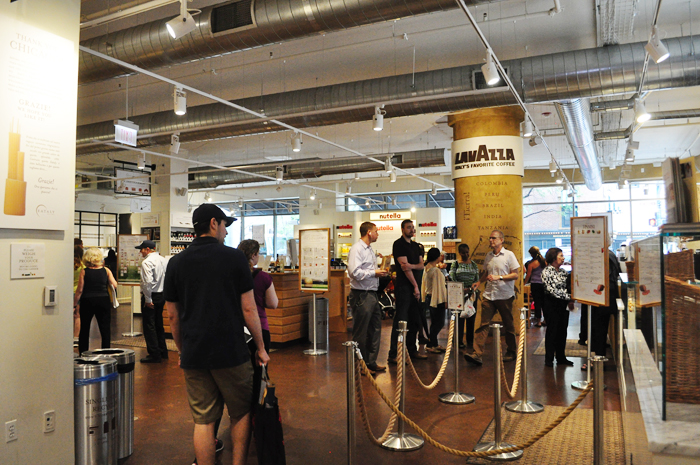 If you find yourself stepping inside Eataly for the first time, I recommend taking a few minutes to orient yourself. The vast, open layout is chaotic at best, with only pillars and rope barriers suggesting any semblance of direction. If you feel so inclined, head directly upstairs first to grab a glass of wine — it's easier to calmly navigate the crowds with a buzz.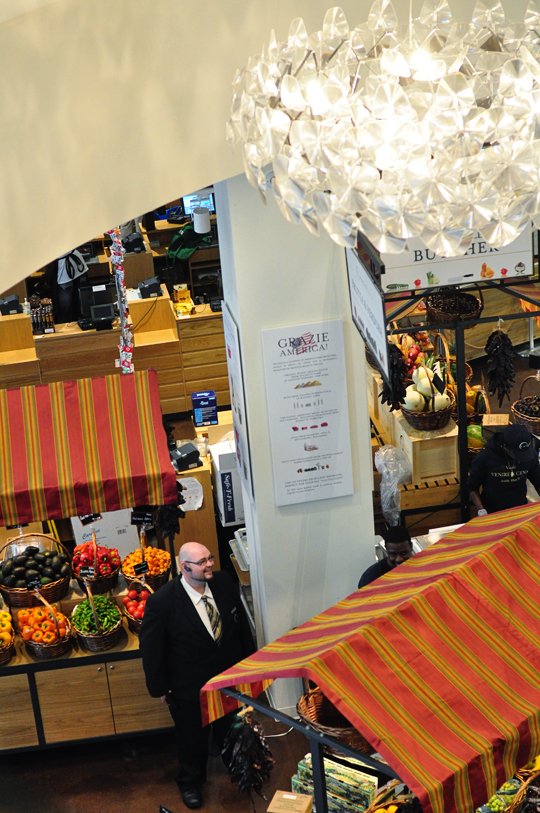 While it's obvious why this place would be an attraction for tourists, I knew if I lived or worked anywhere near a grocer where I could procure chanterelles and something called "sea beans," I'd most definitely be returning.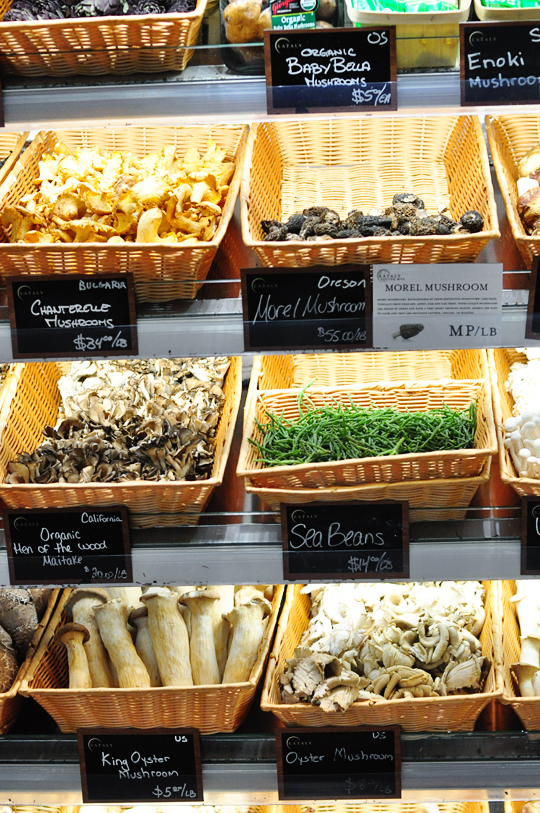 Tourists be damned.
Not to mention it'd be an incredible place to drop by and grab lunch. On the first floor alone was an impressive selection of targeted cafes, each one specializing in a different cuisine — coffee, pastries, paninis, gelato, and even a Nutella bar.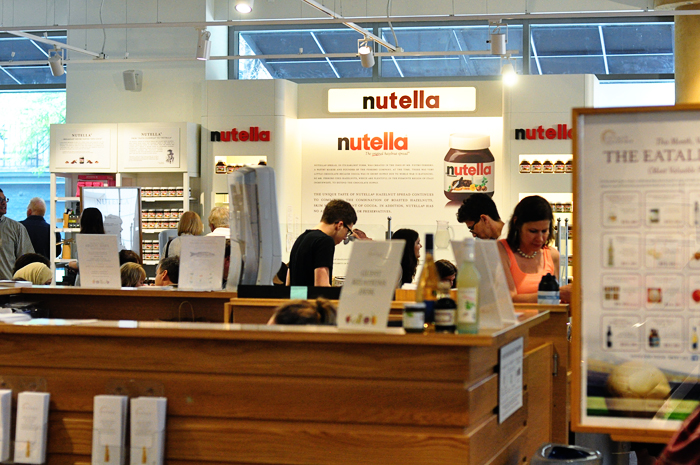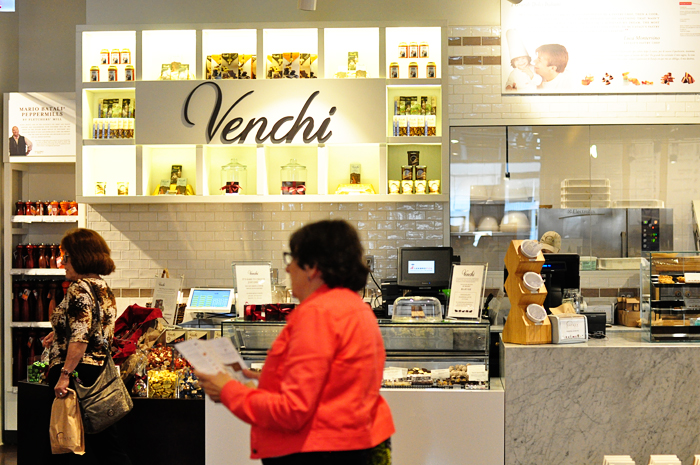 Both upstairs and down, Eataly has sections of local and imported products and dry-goods — sauces, oils, preserves, dried pastas and rice.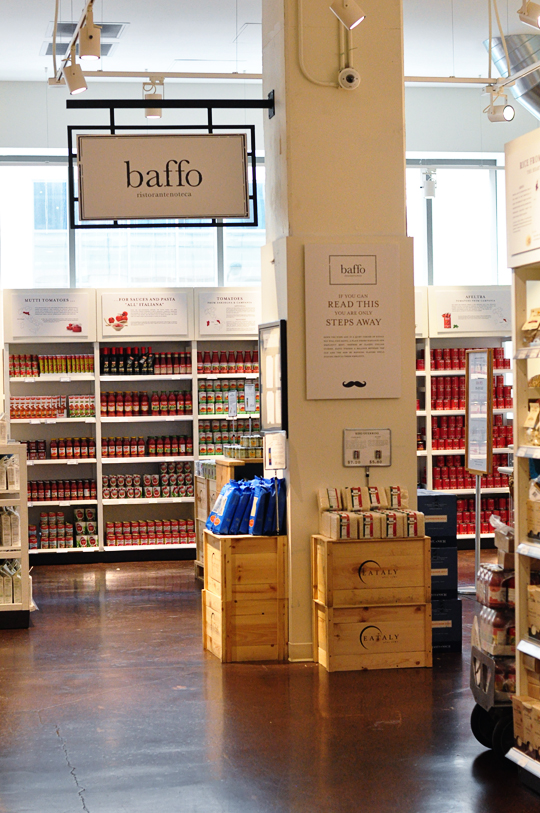 There's even a dairy section — I loved the way the sign listed the creameries from where the products were sourced, if you are the type who's inclined to do a bit of research on best practices.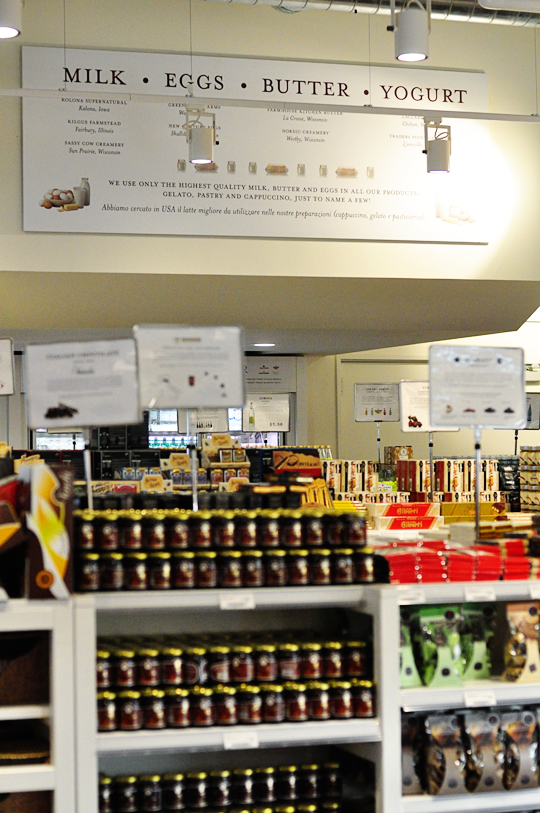 Upstairs, the expanse opens up considerably and the focus seems more on fresh food counters (meats, cheeses, and bread), sit-down dining, and still more dry groceries.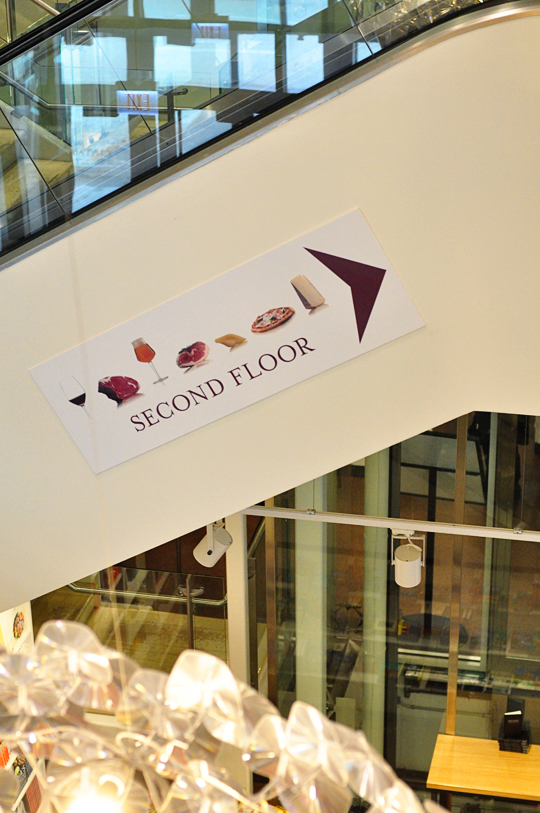 This is also where you can find the wine selection and artisanal beers from Italy and the midwestern U.S. — some even brewed in-house at Birreria, Eataly's brew pub.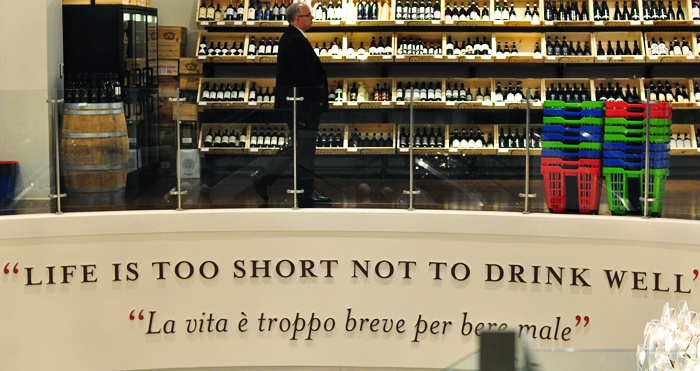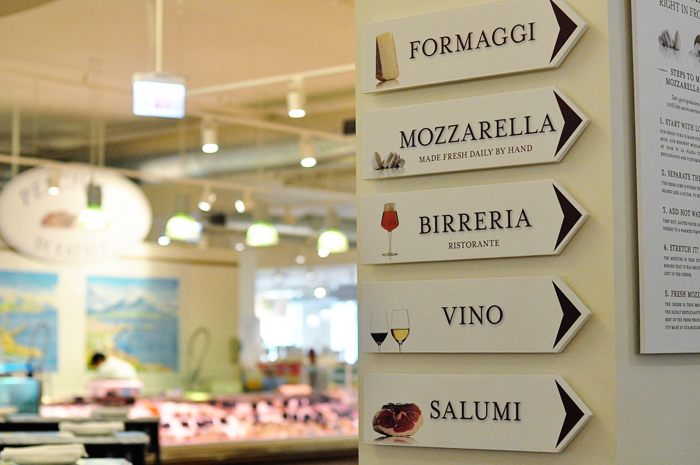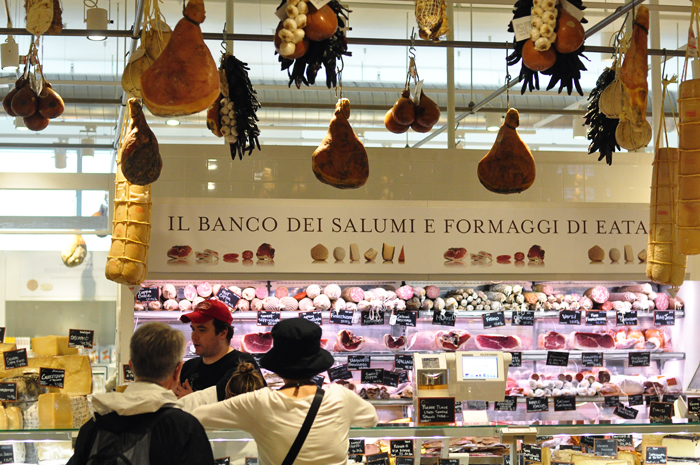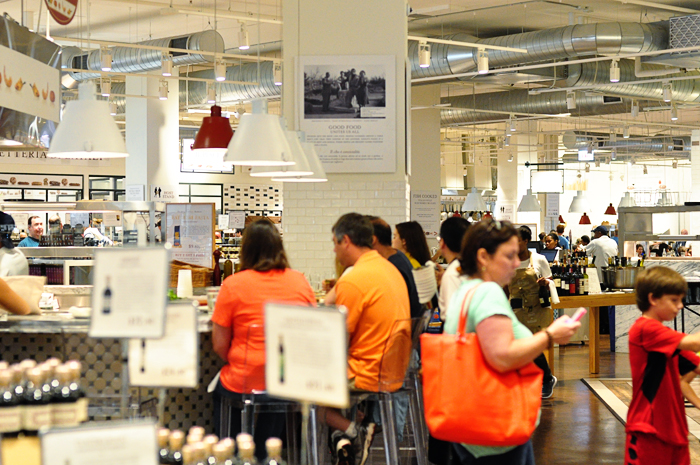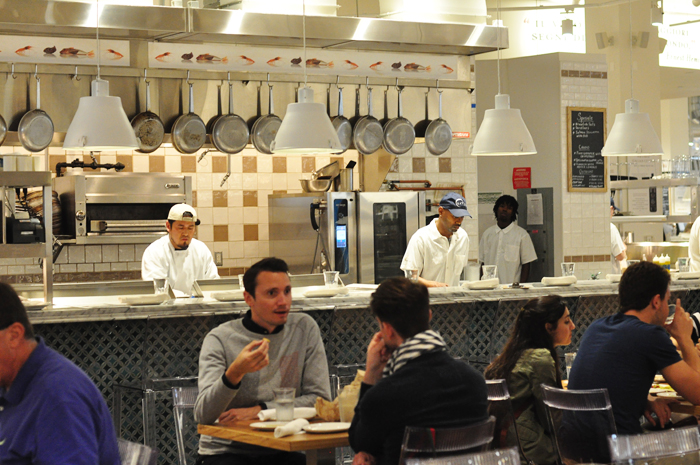 For a time Justin and I lost each other while he perused the expanse of olive oils and seasonings, and I let loose a considerable amount of drool over the fresh pasta bar.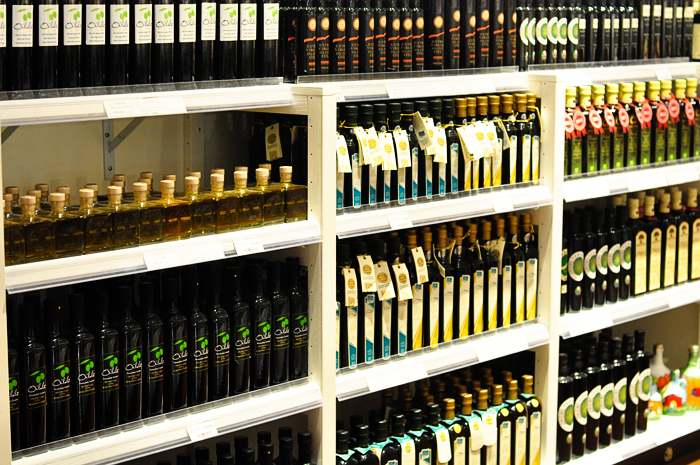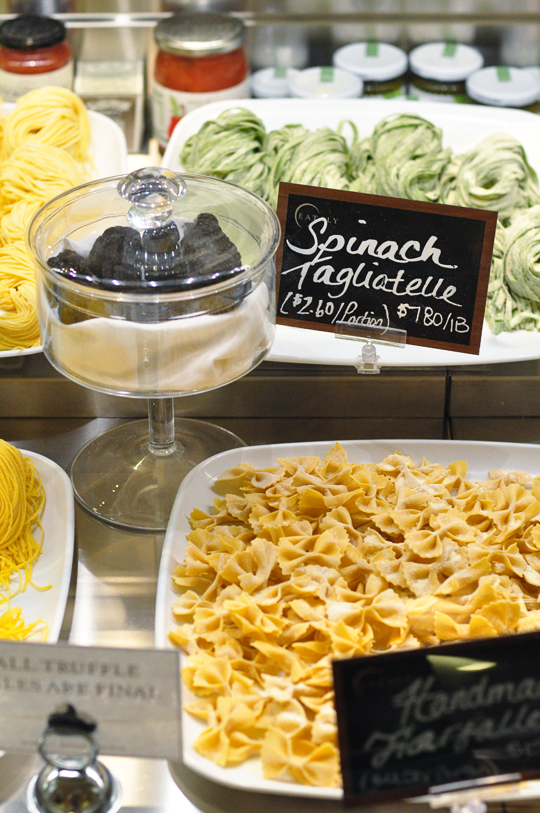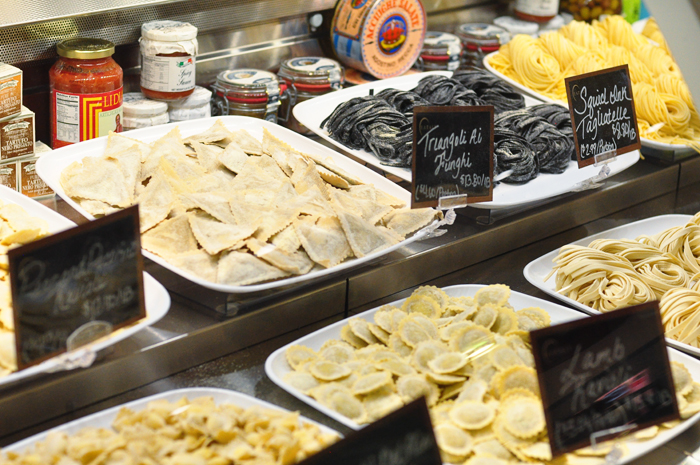 Aside from the plethora of sit-down establishments, the central portion of the second floor is dedicated to the "Piazza," or "square."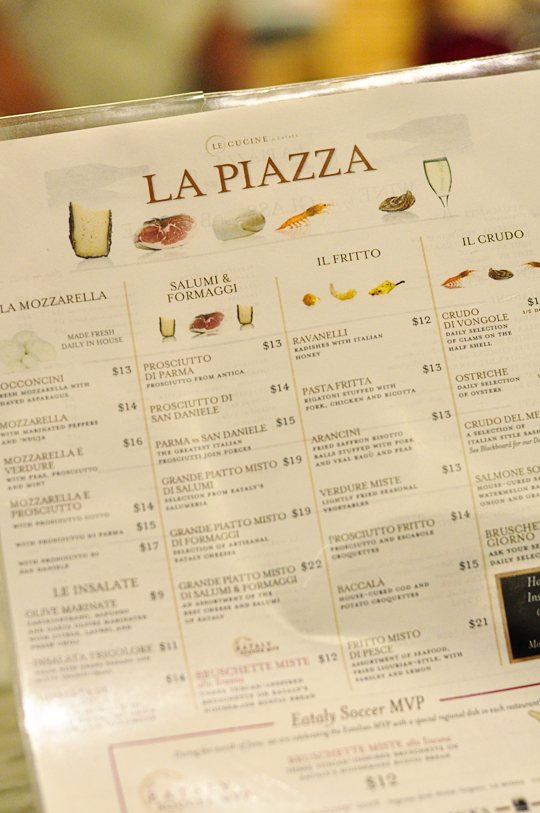 Upon questioning the friendly staff, we learned that the Piazza was actually a conglomeration of four different kitchens with a single shared menu — La Mozzarella, Il Crudo, I Salumi & Formaggi and Il Fritto (The Mozzarella, The Raw, The Cold Cuts & Cheese, and The Fried), as well as a central wine bar. The Piazza offers sit-down counter space at each of the kitchens, as well as a central area with standing tables.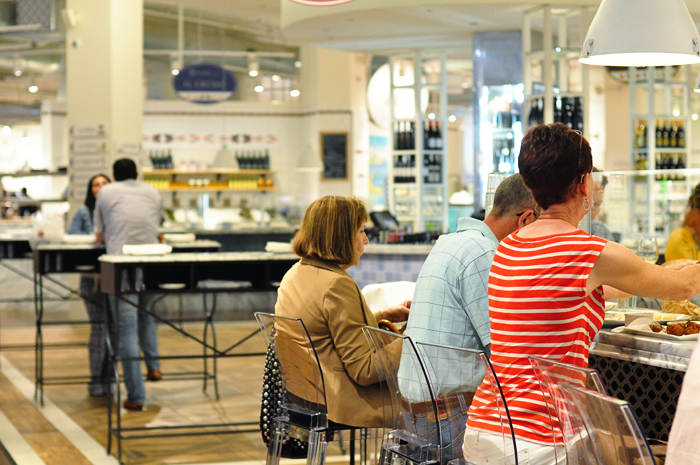 Simply perch yourself at a stool or a standing table, and a server will be along to serve you from any of the four Piazza kitchens.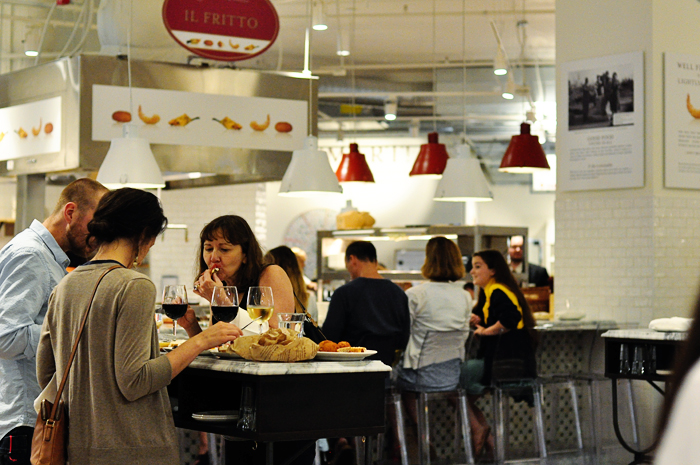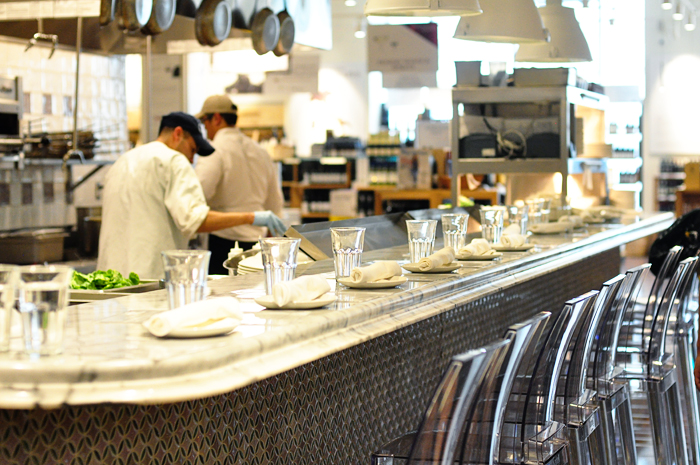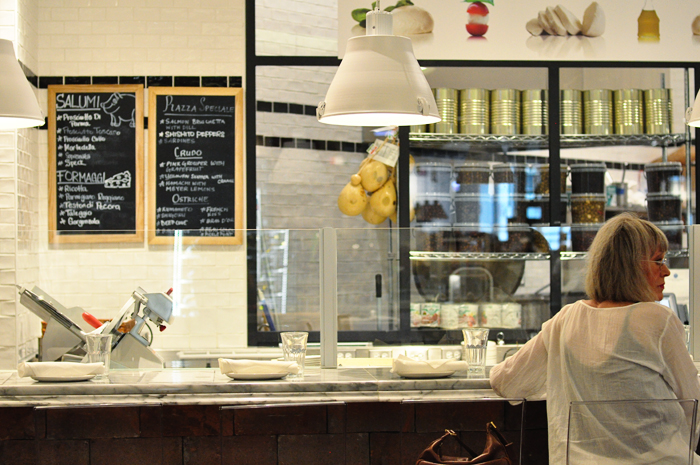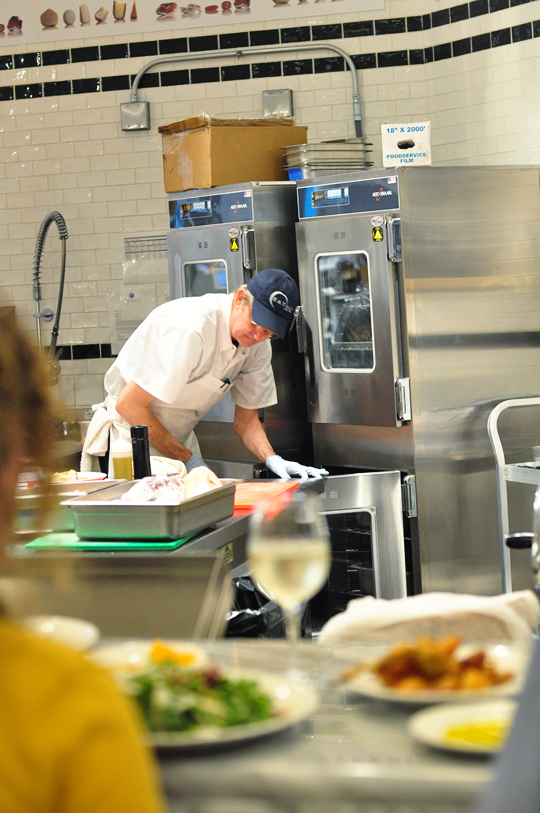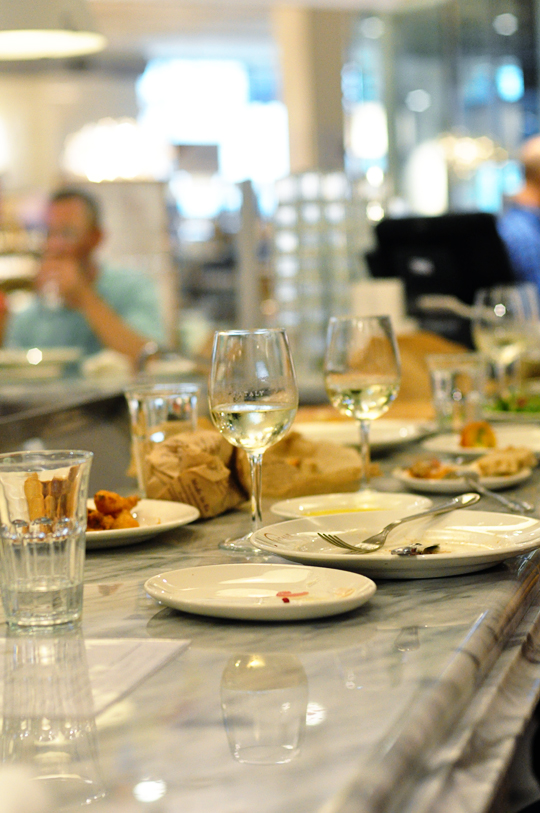 Still fairly full from my humongous breakfast flatbread, we decided to just order a nibbly for lunch (the fairly exorbitant prices aided our decision). I was super curious about the arancini (ahh-raahn-chee-nee), or fried risotto balls with peas, ragout, pork, and veal, so that's what we ordered.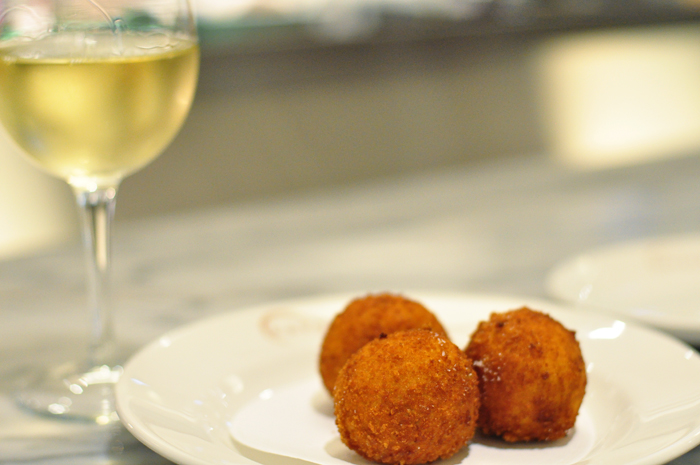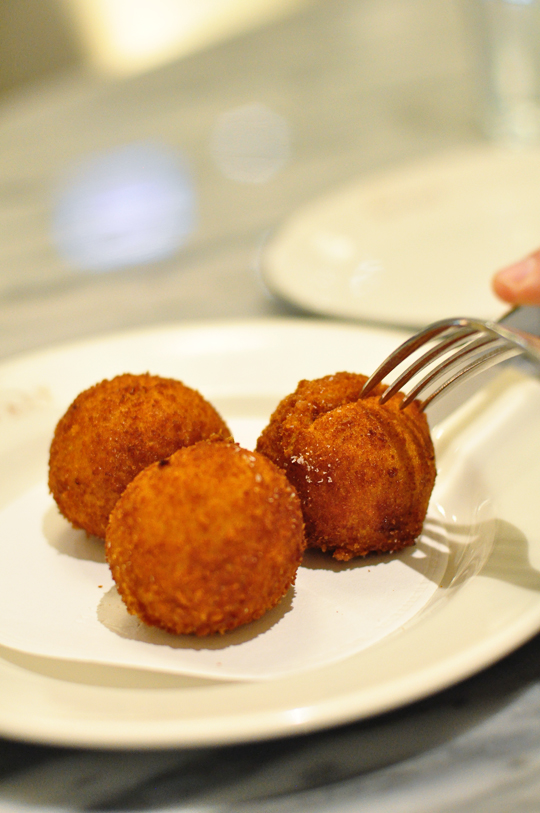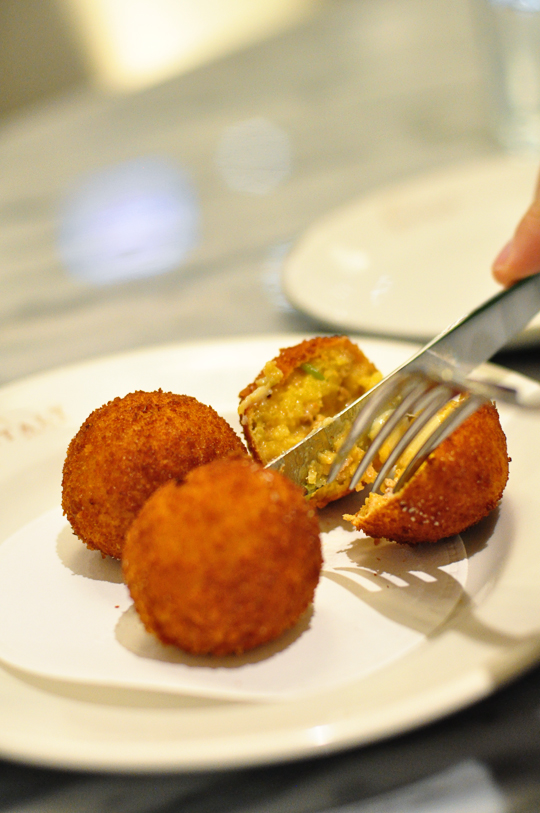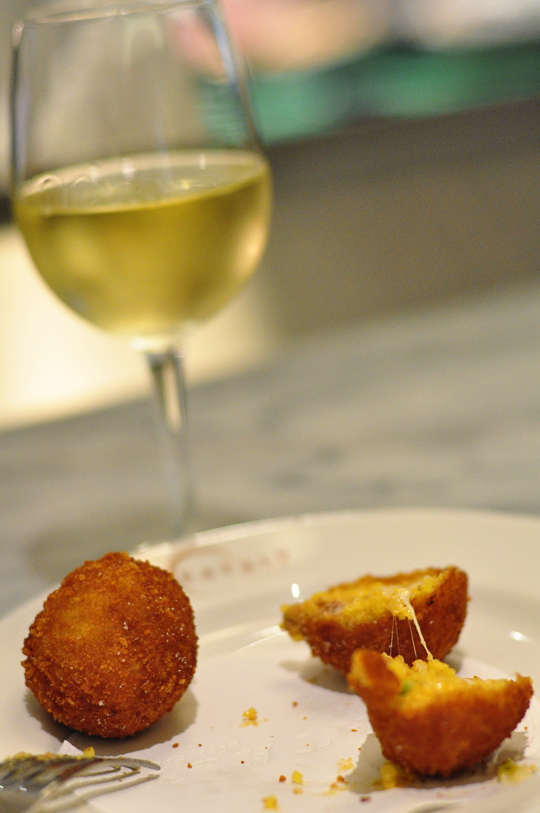 I'll avoid inserting the obvious ball joke and tell you — these were pretty tasty. Apparently arancini originated in Sicily, but these crispy little fritters with the creamy insides were quite content to immigrate to my belly.
We were so inspired that I decided to try making my very first food video, and listen. I am a dork. I'm not sure if it's completely come across through my writing, but once you view the video below, all of my dorkiness will finally be on full display for you to judge.
Also, this took approximately two minutes to shoot and 47 hours to edit, so please. Be kind.
All-in-all? I would definitely head back to Eataly next time in Chicago. While it's certainly a bit of an over-priced tourist hot-spot, it's also a wonderful place to experience just a small taste of Eataly if you can't make it to Italy.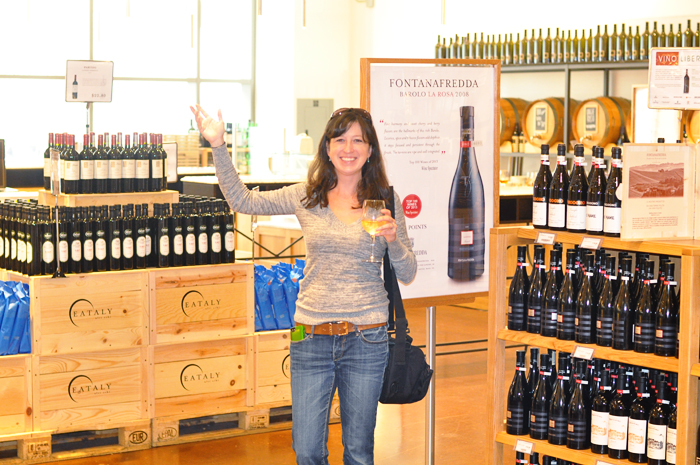 Plus, they have wine.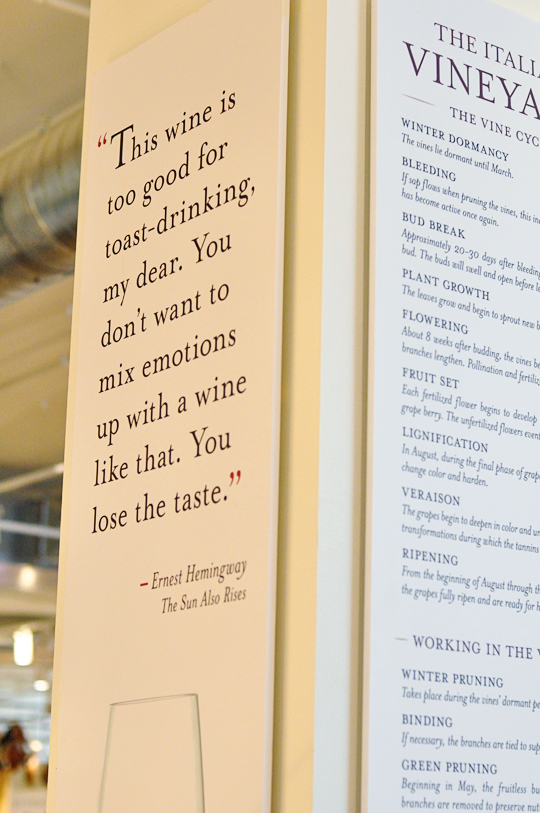 What more could you want?
Need to Know:
Eataly
43 East Ohio St.
Chicago, IL 60611
312-521-8700
Good to Know:
Eataly's website is incredibly informative, so be sure to check it out before-hand to get your bearings.
Had I done this, I would've known that they also offer cooking classes and culinary tours of the place, which probably would've been a very cool experience.
Some of the restaurants may have varying hours, so be sure to check ahead of time.