How To Pretend The 70's Never Happened. (By Painting Your Kitchen Cabinets.)
Okay, you guys.
First, thank you so insanely much for all of the positive feedback you gave me about my painted kitchen cabinets. I was super worried it was one of those things where I was all, I *think* it looks good, but maybe that's just because I've been envisioning it a certain way this whole time and now I can't even see it for what it really looks like and omg who puts ring pulls in the middle of their cabinet doors so they don't have to patch the holes because THAT'S JUST LAZY.
And crap I probably shouldn't put these pictures online where people who actually know what they're doing can look at it and judge me and COULD YOU PLEASE PASS THE WINE.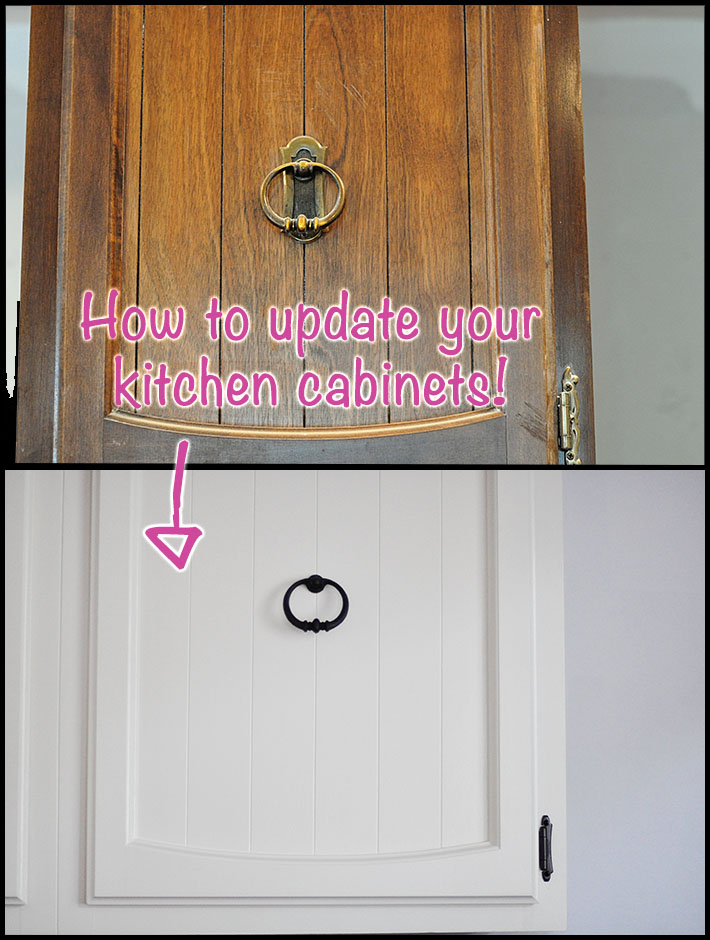 Plus, it's hard to be sure in the digital world — hell, even in the real world for that matter — whether compliments are genuine or if people are just trying to be nice, like —
Sure, honey. Your ring pulls are really… um… retro. You were so smart to re-use them. Bless your heart.
But even if that's the case, I'm going to take it and RUN because compliments — even the ones that are fake but I can pretend are true — totally make me feel better about myself.
It's a head thing.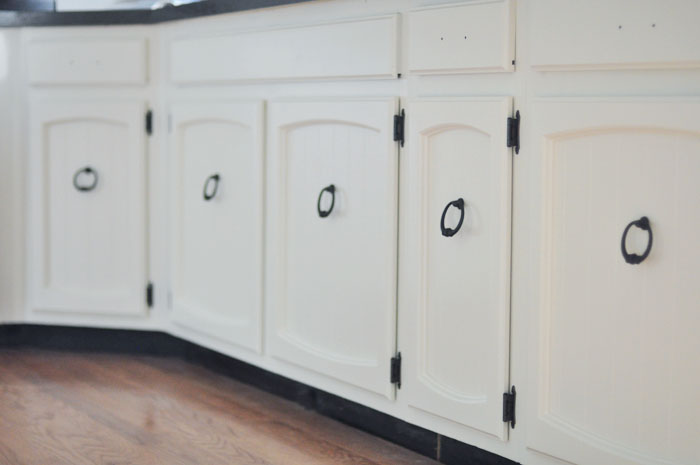 And seriously — I'm actually really kind of digging the ring pulls.
At the very least, we are back to using our kitchen for cooking, rather than treating it as a desolate sinkhole into which we throw all of our life savings.
So that's a plus.
(Although we do still need a backsplash, a light fixture, some shelving, and some wall paint.)
So I'm not going to lie. Updating your cabinets (and you know how I feel about painting) is a lot of work. If we hadn't already blown our budget and I wasn't terrified of destroying the new hardwoods, it probably would've been worth it to hire someone to spray them professionally. But after some unexpected expenses with the wood floors and the drywall, I contracted myself as the official cabinet painter.
I was compensated with Thai takeout and promises of one-day vacations to exotic, far away lands.
Way cheaper than hiring a pro.
The idea of updating outdated cabinets is pretty straightforward. Examine your boxes and doors to make sure everything's in good shape, then:
1. Paint the boxes and doors.
2. Paint/replace the knobs and pulls.
3. Replace the hinges.
Easy, huh?
Yeah not exactly.
Painting the Cabinets
A few of you emailed me asking how to do this. The truth is, there are a great many ways to go about painting your cabinets — anywhere from the super detailed full-on putty and sand-down perfectionist job, to the slap some paint on 'em and call it a day job. My method was somewhere between the two, and so far I'm very happy with the results.
My Basic Steps:

1. Remove all of the doors and drawers and prep the work spaces.
2. Rub the doors and boxes down with a TSP substitute to remove 30 years of grease and grime.
3. Wipe with a liquid sander deglosser to lightly mar the smooth surface and prep for paint.
4. Use some wood filler or Bondo (recommended by my awesome countertop guy) to patch deep scratches and hardware holes if you're using a different size hardware. (I didn't do this part because I was re-using the hardware and didn't mind keeping some of the minor hinge indentations and imperfections in the finish.)
5. Prime.
6. Paint.
7. LET CURE.
8. Top coat, depending on the paint.
Details:
If you plan on painting your cabinets by hand, you're going to need a lot of space. And you're going to need it for quite some time.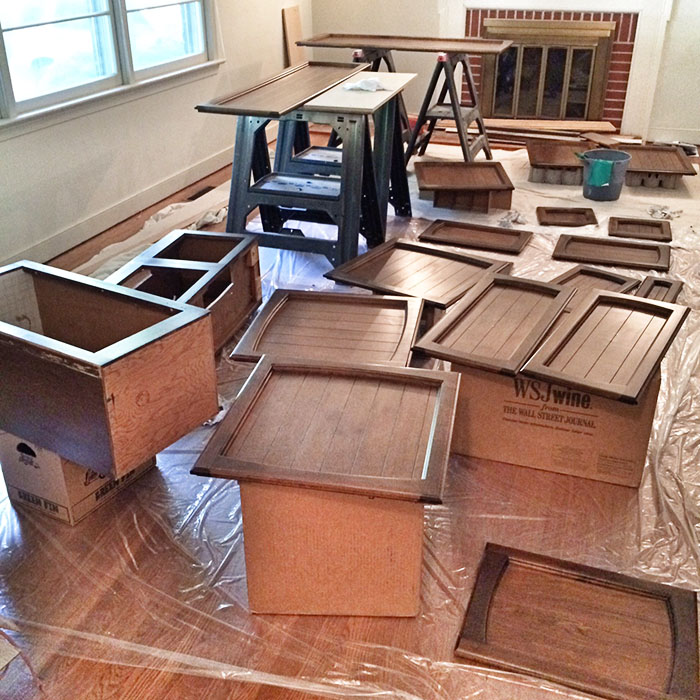 Our living room, which we really never use, looked like this for months.
Of course, I'm a total procrasti-hole and you can definitely do this job faster than that — but, if you're going to take the time to paint by hand, allow at least a couple of weeks for the paint to fully cure (harden) before you re-hang the doors.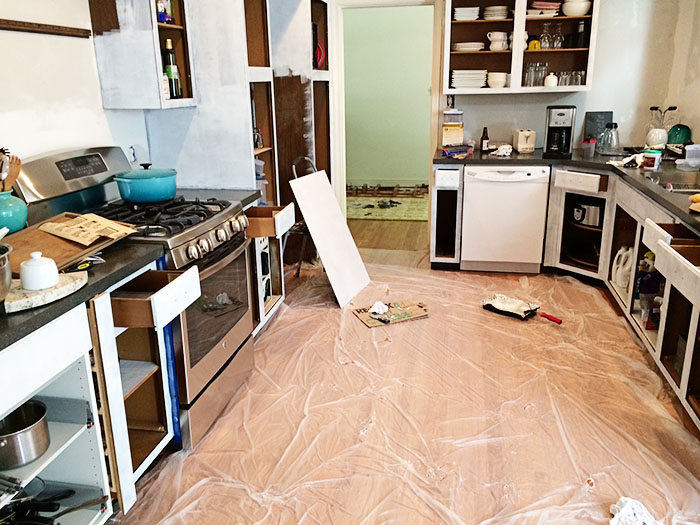 Don't skimp on the plastic and drop cloths. While it takes some time to set up, the cleanup is MUCH faster to deal with than the hyperventilation that comes with spilled paint on new hardwoods.
When working with potentially abrasive chemicals, I like to be prepared: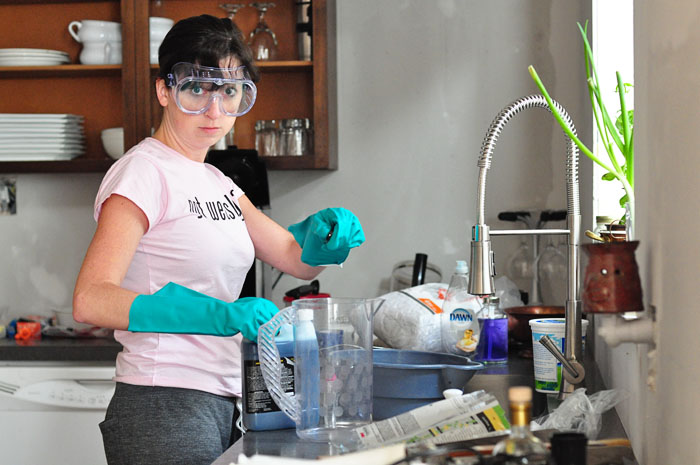 I'm quite fond of the makeup-less, goggles-over-bangs look.
You might be tempted to skip the cleaning step, but trust me — DON'T DO IT. My cabinets didn't look particularly dirty (just dusty from the drywall), but when I wiped them down with the TSP substitute, you wouldn't believe some of the gunk that came off. If you'd rather not use chemicals, some simple soap and water should work, but be warned — if you paint over old stains, there's a chance they could end up showing back through the paint after you're done.
Dilute the TSP substitute according to the package directions…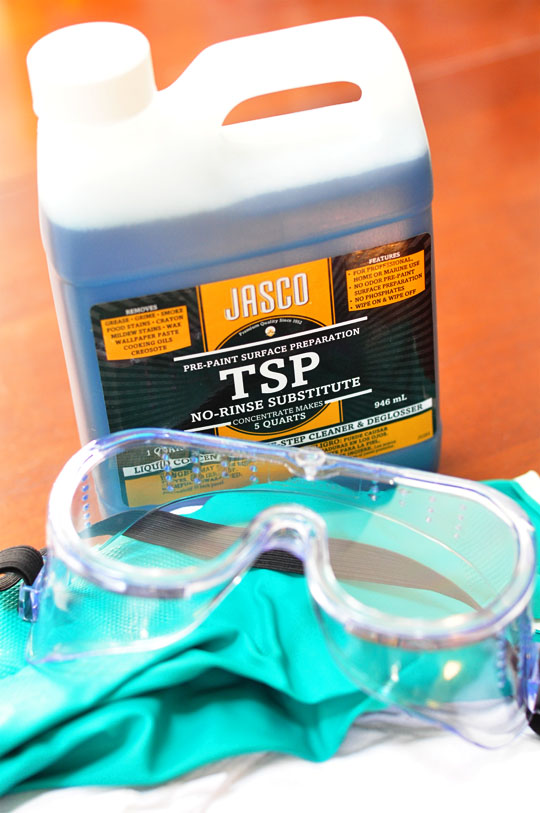 Then use an abrasive pad to remove the scuzz.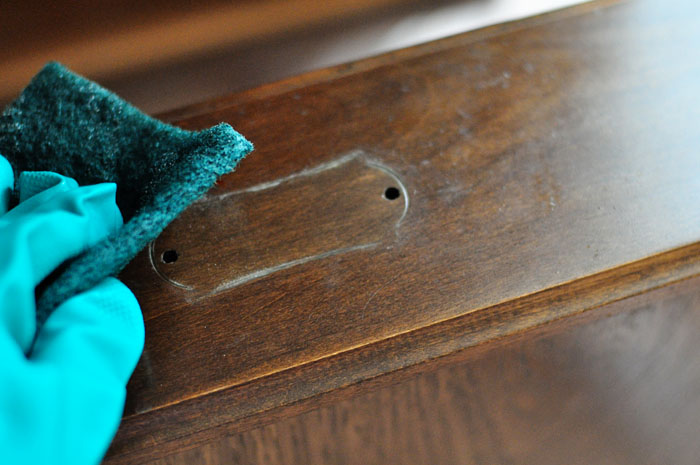 GONE.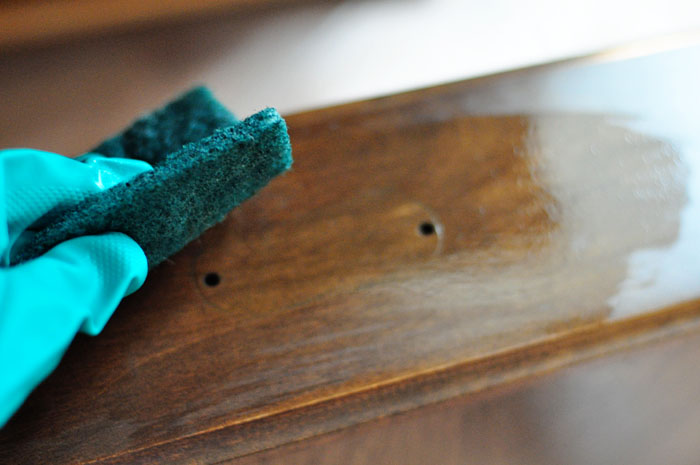 I kept a bag of rag scraps nearby and wiped the doors and boxes dry to remove even more scuzz.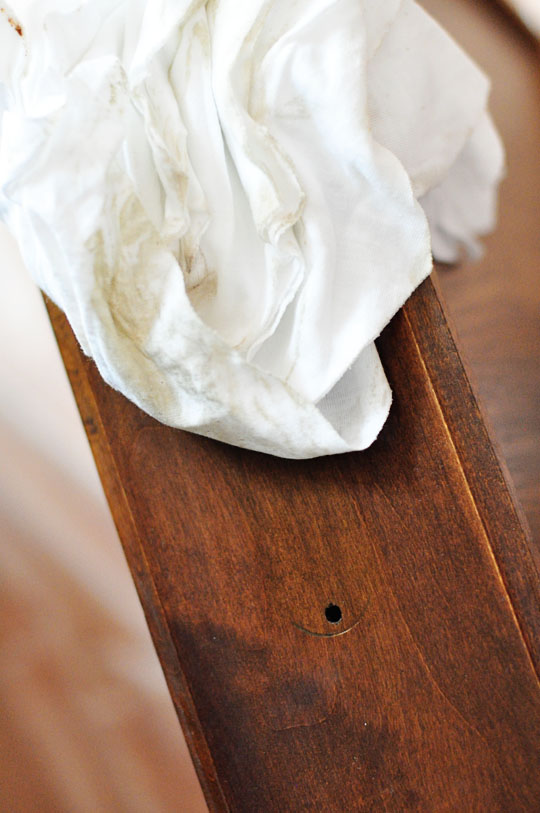 Gross.
The JASCO TSP no-rinse substitute I used advertised itself as a deglosser as well, but listen. I'm the type of person who would rather go through the work of a few more easy-steps up-front than re-doing work I've already done. So I took the time to do a quick wipe-down with this Klean-Strip liquid sander deglosser to scuff up the surface, just to be on the safe side.
I don't have any photos of the deglossing step, but it was fast. I just wiped the cabinets down according to the directions on the bottle — it left them looking a bit milky white and feeling grainy.
When it comes to priming, the key is to work quickly. I used a good quality Kilz Premium Primer, a small foam roller, and my favorite little paint brush for getting into all of the grooves.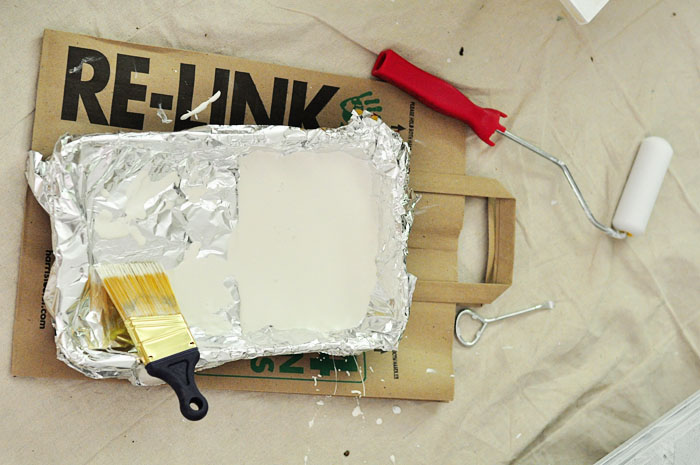 TIP #1: Line your paint tray with foil for super-easy cleanup. Plus, you'll only need one tray for the entire project!
TIP #2: Wrap your brush and roller in plastic wrap and store in the refrigerator between coats so you don't have to wash them as frequently.
Tip #3: When priming or painting, do all coats on the backs of the doors FIRST — then flip over to do the fronts and let cure. That way, if the finish gets marred at all, it will be on the backs of the doors.
Tip #4: Use the paint brush first to get into the grooves and cracks. Then use the foam roller to cover the flat surfaces and edges.
Tip #5: Use a rag to wipe the edges of the back of the side you just painted to remove any drips. This is SUPER important for getting a nice, smooth, professional-looking finish!
I'll admit it — the coat of primer looked a little scary: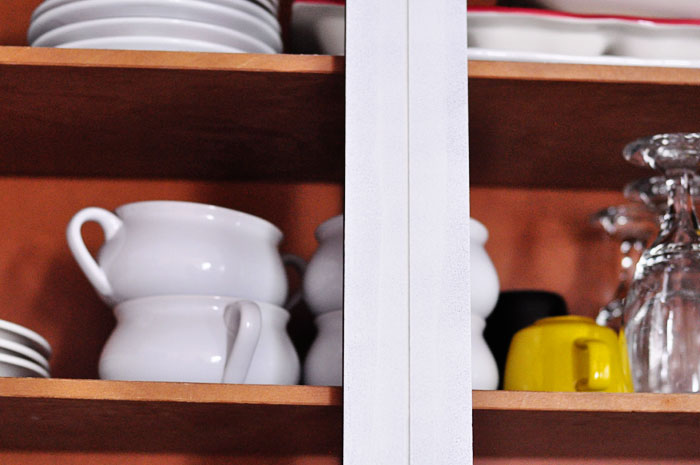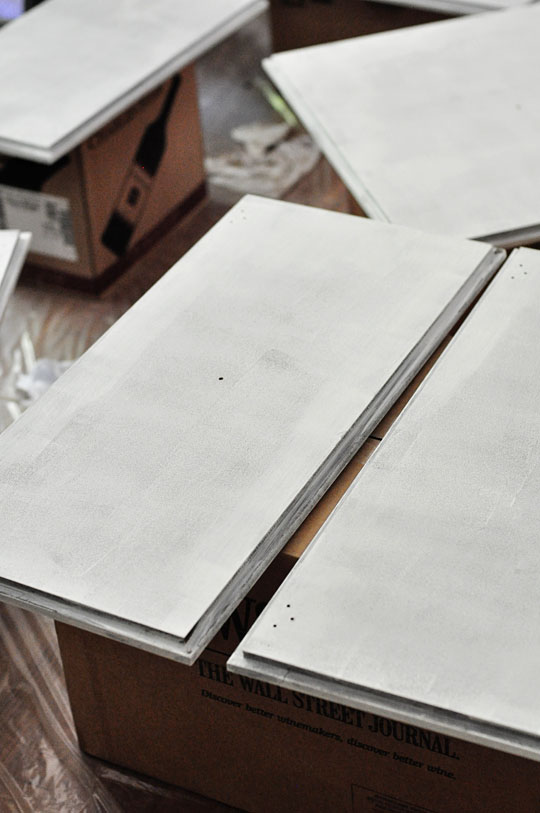 Okay, a lot scary: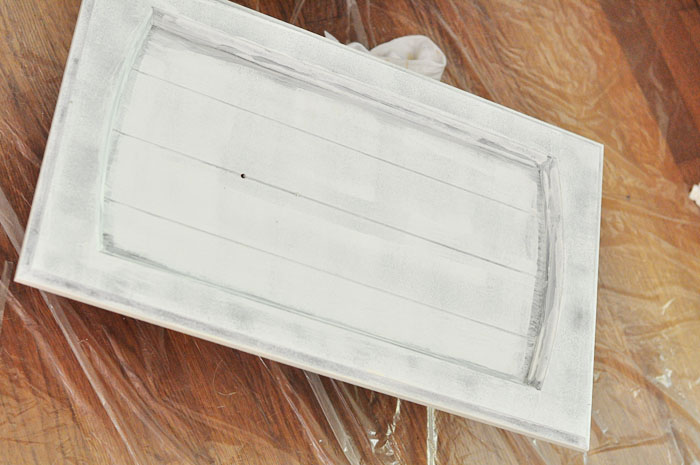 And it was very obvious where I'd used the brush vs. the roller: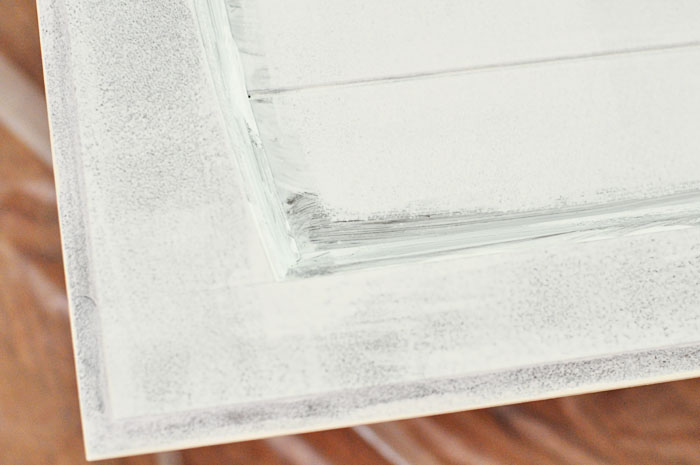 But don't freak out because this is how primer is supposed to look — it just further preps the surface so your paint can stick. I used the same method for painting (first the brush to get the details, then the roller to smooth it all out):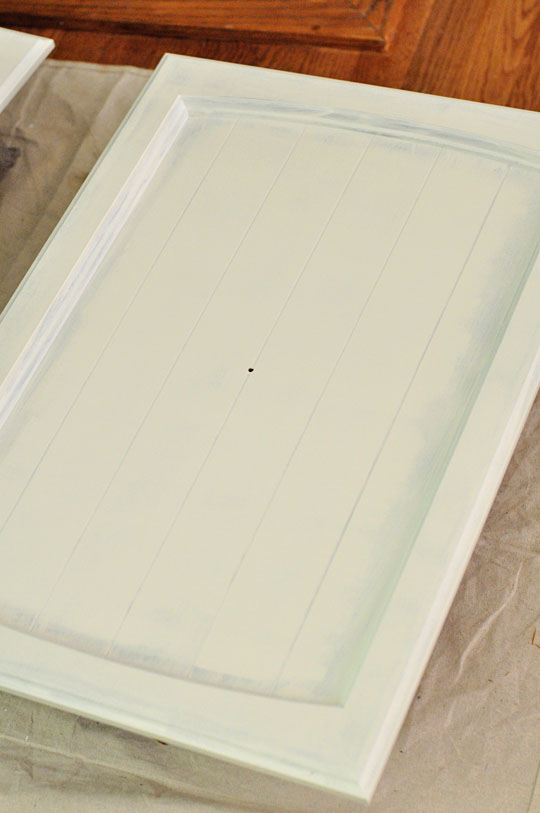 It was still very obvious where I'd used the brush, which didn't get as much coverage as the roller: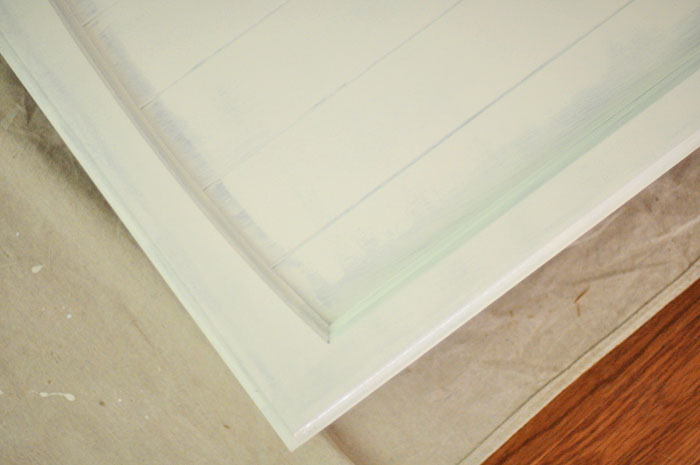 But I tried my best to stay patient and use very thin coats.
Tip #6: Use Benjamin Moore's ADVANCE paint. Just do it. I used the satin finish. It's not a cheap paint, but when it came to this project, I wouldn't do it any other way — this is a latex (water-based) paint that has finishing properties of an oil-based paint. What this means is that it levels itself out nice and smooth and dries nice and hard without all of the noxious fumes and gasses. (Look. I sleep in the same room as two 60-pound dogs and one hairy grown man. I have enough noxious fumes in my life, thankyouverymuch.)
After many painstaking days of procrastination and dawdling and practically an entire season of Sex and the City on my laptop while I worked, I had done it — one coat of primer and two coats of paint on the backs and fronts of the doors and the fronts and sides of the boxes. I promptly left for Florida to let everything cure while I was gone, but when I returned, I saw this: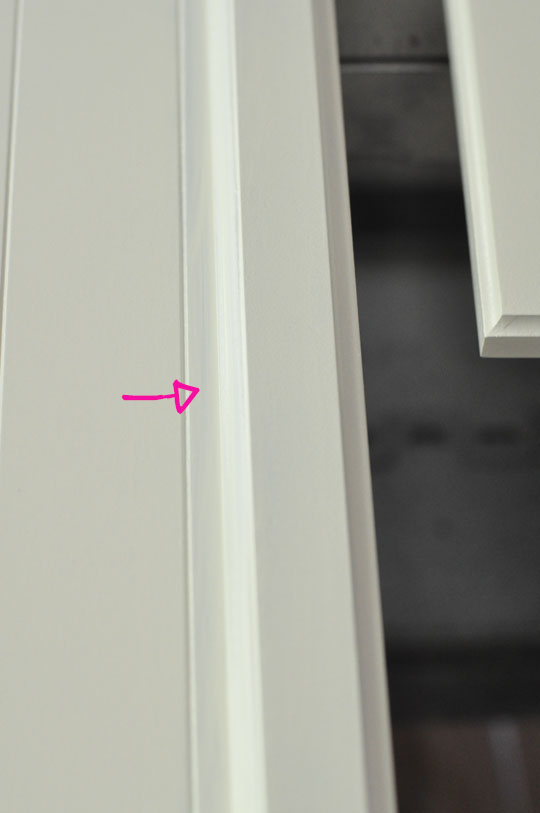 What. The. Dooce.
It's hard to tell in the photo, but basically on the doors around the inside edges where I'd used the paint brush, I could still see strokes and see through the paint. So I contained my eye twitch, grabbed a beer, and added one more coat of paint to the fronts of the doors. (The boxes and door backs were fine with two coats because I'd mostly used the roller.)
Once done, the coverage was perfect. I could still see a bit of the wood grain on the veneer side panels of the cabinets, but everything else was a beautiful smooth finish: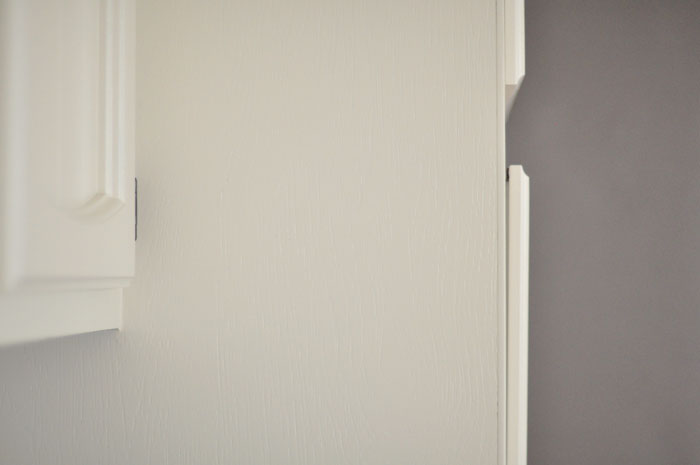 Note: After all of that work, I'd fully intended to use a top coat of Benjamin Moore's Stay's Clear Acrylic Polyurethane to protect my efforts.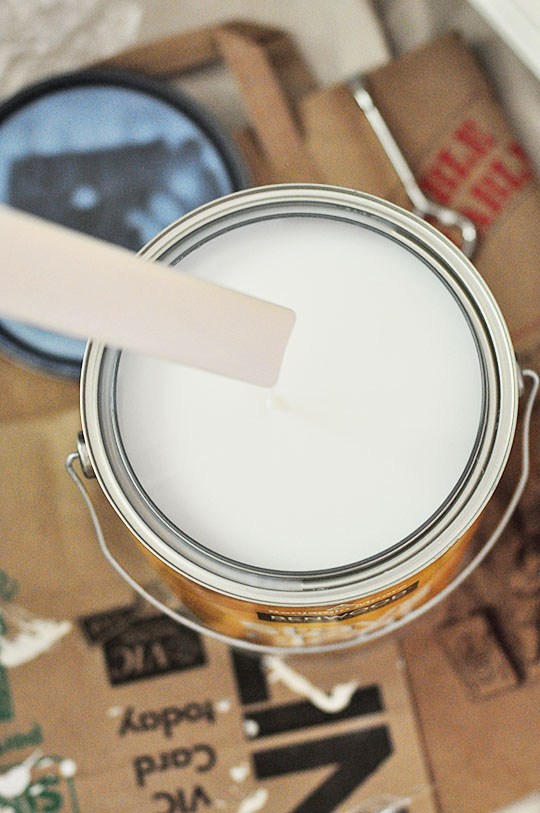 But after two maddening attempts — first with a recommended expensive brush and then a not-recommended foam roller to get it applied to the backs of the doors, I frustratedly called Benjamin Moore to find out why it looked like ass. They calmly explained that since I'd used their amazing ADVANCE paint, I didn't actually need a top coat due to its superior hardening qualities. And bonus? They let me return my opened $80 can of poly. That kind of service alone makes it worth spending the money on their products.
Painting and Purchasing the Hardware
So while my paint was fully curing, I got to work spray painting my hardware. I removed those art deco plates from the backs of each ring —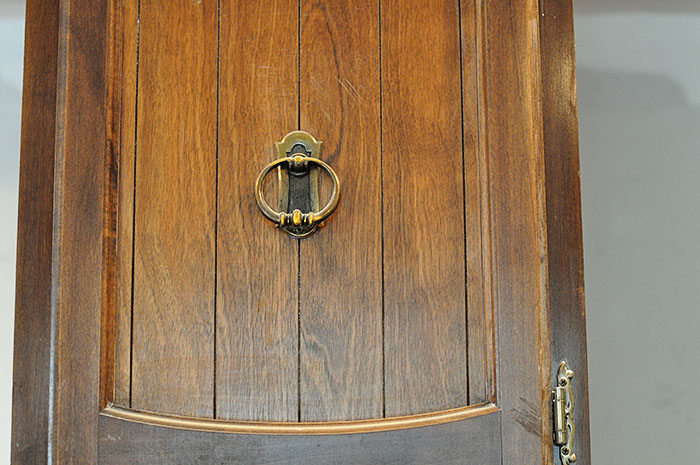 Let them soak in sudsy water for a few hours, scrubbed them with a toothbrush (this was SO gross), and let their lovely brass shine: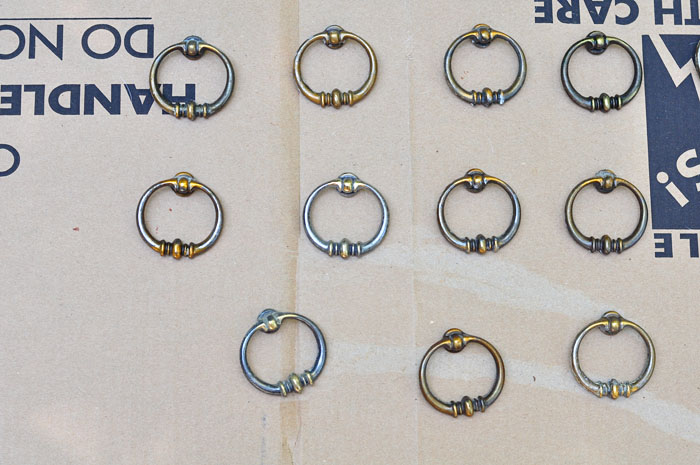 I protected my deck from the overs-pray like so…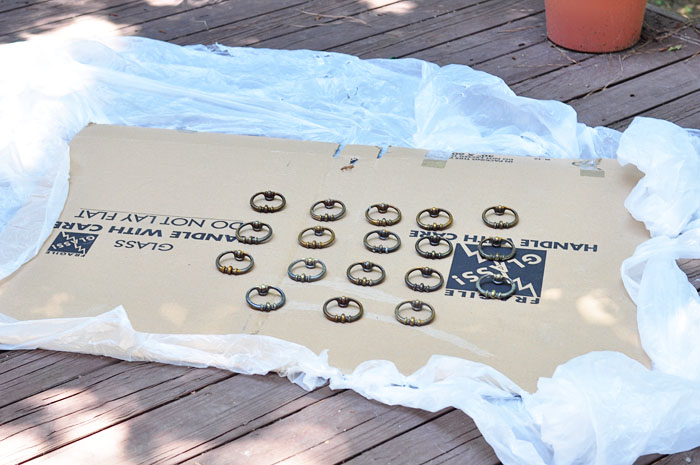 And went to town with 4 or 5 thin coats of Rust-oleum's Universal paint & primer in-one with about an hour of drying time in between each coat.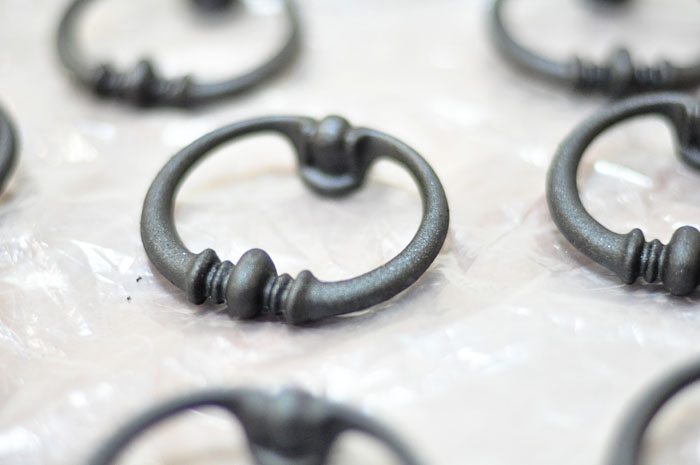 And finally, the update wouldn't have been complete without new hinges. The old ones were falling apart and looked like little golden mustaches: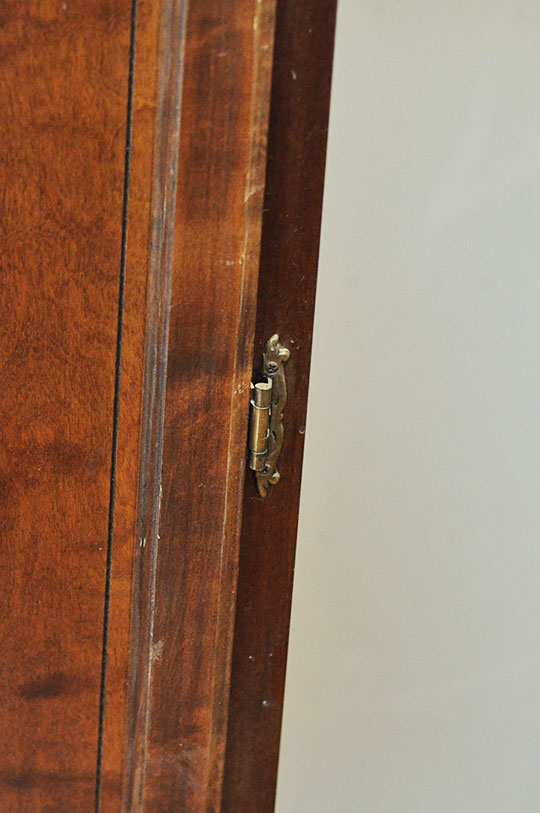 So I ordered these from Hardware Source in oil-rubbed bronze. They're self-closing (meaning they "snap" the doors closed), and I completely lucked out that the screw holes matched those on the backs of my doors: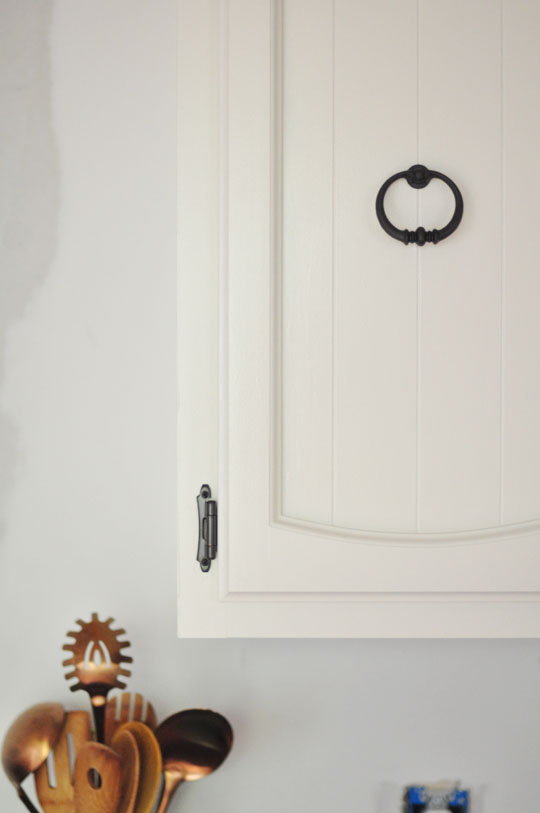 The difference in how these look is immense: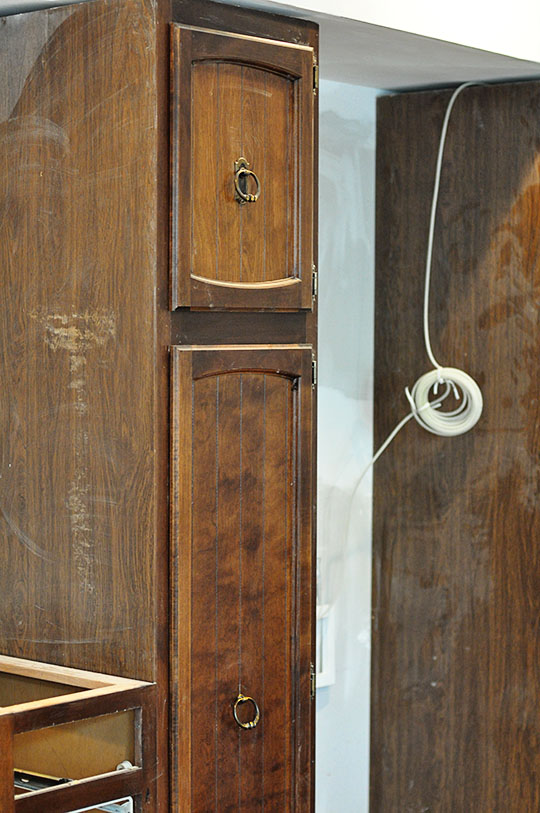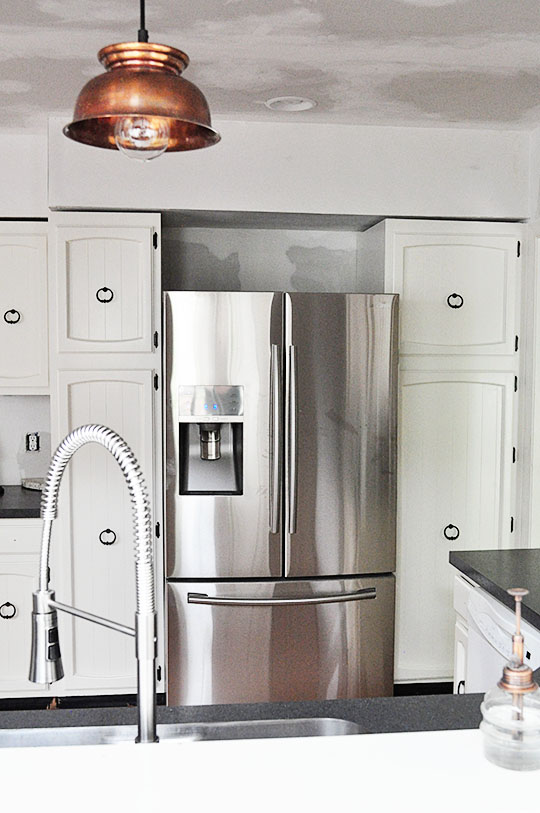 And while I seriously considered abandoning the house and moving to Fiji several times during this process, I'm very glad I stuck it out.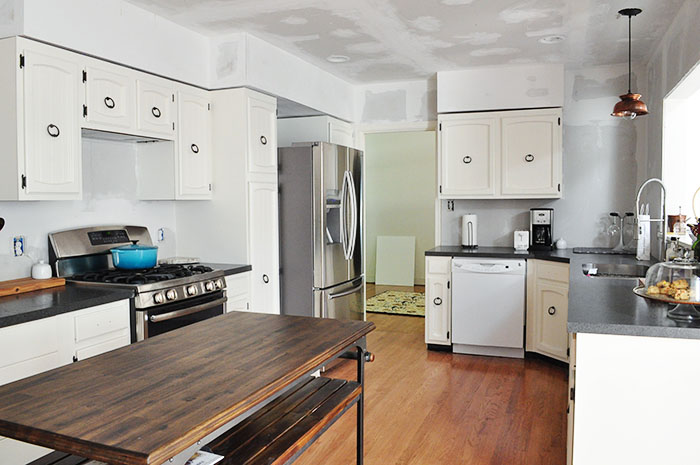 Questions?