Another Good Deed, Another Gold Bead.

"See? That's the house I really wanted to see — just blocks from the river, a pot belly stove, and a spiral staircase!" I pointed to the house — the house I'd been admiring on Zillow during the months before our imminent move to Virginia.
Although it was listed well over budget, I figured it'd been on the market long enough that we could at least look and consider low-balling the offer if we couldn't find anything else. Unfortunately, by the time we lost an offer on a different house and realized we weren't finding what we wanted, this house — the one with the stone fireplace and ideal location and the creek behind the back yard — was already under contract.
It's the one that got away.
Which is something I never fail to mention to people who come visit, since it sits along one of my favorite mutt-walking routes. Justin sighed, and my friend Stacy, who stayed with us last week, smiled kindly.
"And no college boys next door!" I laughed, as I watched an elderly woman at the house next door struggle to drag a heavy plastic bag of sticks and leaves down to the foot of her driveway for waste pickup. I put on my best I'm totally over it face.
Then I glanced at the woman, stout and stooped with fierce determination, dragging the soggy bag inch-by-inch downhill. She smiled and waved.
"Do you want some help with that?" Gut reaction. It's what nice people do.
She looked relieved, thanked me profusely, and launched into a long-winded explanation of her complicated medical history while I lifted the bag and tossed it to the foot of the driveway. Exasperated, she glanced towards some bushes and said, "I don't know how they expected me to get all of these down there!" Following her gaze, I saw about ten more bags, and realized that "they" must be the sadistic team of inconsiderate lawn boys she'd hired to clear her yard.
Justin handed me the leashes and the woman, Bonnie, filled us in on her life story while he and Stacy tossed down the rest of the bags. Feisty and Irish, never married but twice engaged, with a propensity for brown-skinned Persian men who loved her for her intellect as much as her charm, I could tell Bonnie had an insatiable zest for life. Still a college professor, she told us about the latest in presentation software the students use to "blow her away" and dispensed travel tips should we ever find ourselves on the Emerald Isle and let slip the fact that she may only have a few years left to live, but —
"I never slow down," she said with a smile. "I can't slow down!"
We said our goodbyes and walked on towards the river, and I thought about the Good Deed and the fact that I'd get to move the rubber ring on my 100 Good Deeds bracelet.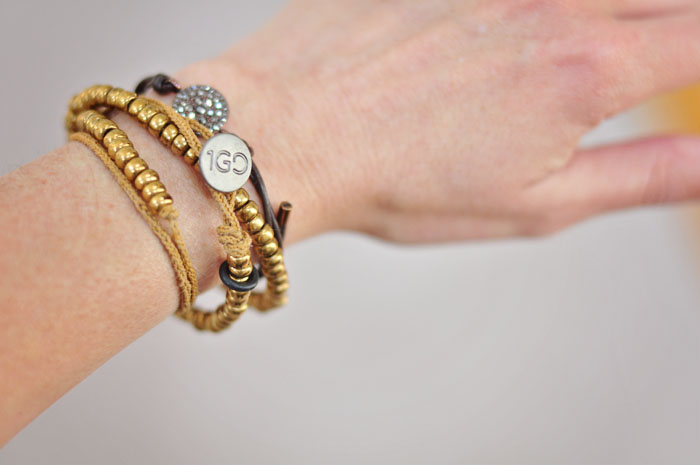 Another deed, another bead.
Mary Fisher, artist, author, and advocate, had just released her memoir, Messenger, a story of discovering joy in service, when she met Thomas Morgan, a filmmaker and father who created the 100 Good Deeds game with his family. Thomas shared the game with Mary, who responded by partnering with women in Africa and Haiti to design and manufacture the 100 Good Deeds bracelet to help them earn a dignified livelihood. The bracelets, handcrafted from fine, braided nylon and glass beads, are both a call to do good deeds and a strategy to empower women.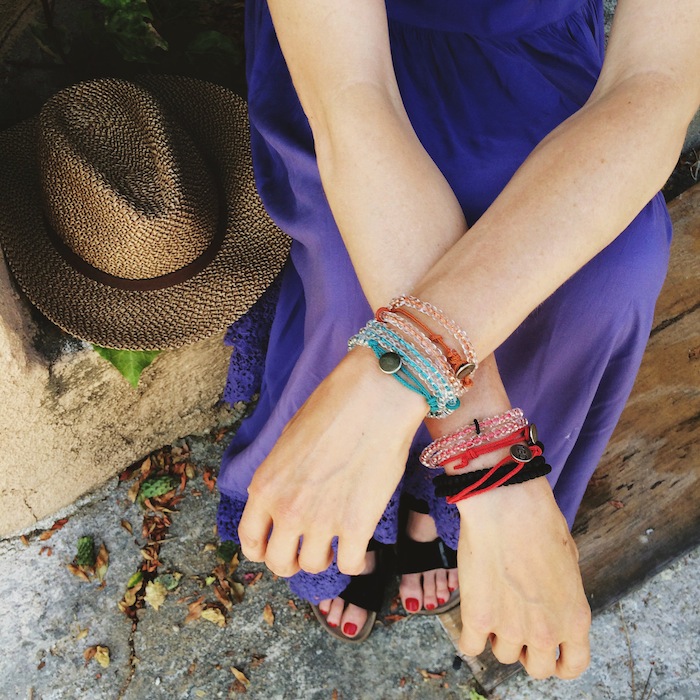 100 Good Deeds is an international movement for positive change. Each bracelet purchase employs a vulnerable woman, and 100% of the proceeds from sales are reinvested into the 100 Good Deeds program.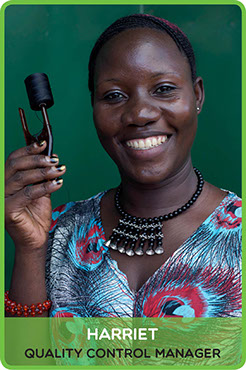 This is Harriet, the woman who made my bracelet.
They're easy to wear, and I think look pretty cool in a hippie chic kind of way.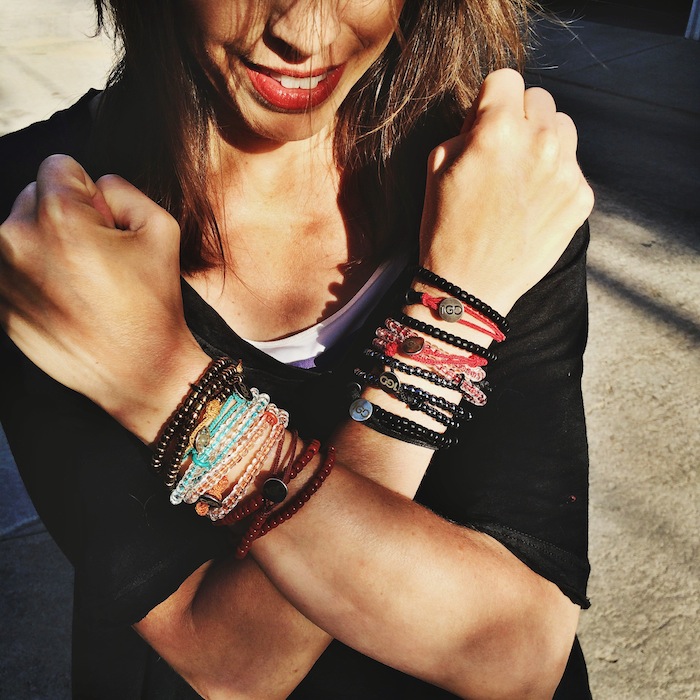 Just wrap the 1GD bracelet around your wrist three times and adjust the length for comfort by sliding the knot along the cord.
The idea is that each time you do a good deed, you move the rubber ring one bead closer toward the 1GD button, which represents the completion of 100 good deeds. Once you reach it, you never have to do another good deed again in your entire life.
Just kidding.
Being nice to people is something that should be second nature, but it seems like more and more people are too busy with their faces stuck inside electronic devices to even notice when someone might need help. So the bracelet remains a constant, steady reminder to practice altruistic kindness.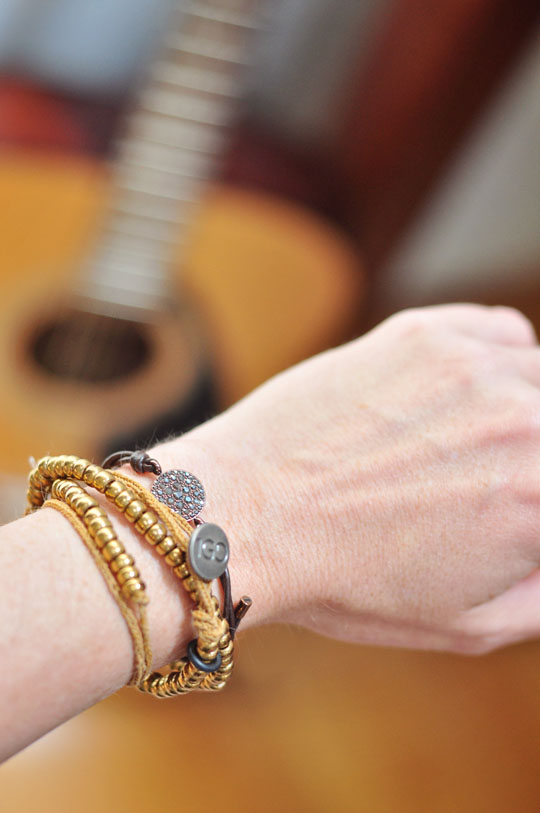 I really love the bracelet they sent me — gold thread with gold beads. It looks beautiful with the brown sparkly bracelet my sister gave me a while back.
Of course, my good deed with Bonnie no longer counts because basically the only rule of the Good Deeds game is you don't talk about the Good Deeds game. Or at least, the deeds you do should be done anonymously. Remember that time that lovely couple paid for Justin's and my entire dinner in Asheville?
But in all honesty, a good deed is a good deed.
Talking about it doesn't mean it didn't happen, no more than marking it on a bracelet means it did. But. The purchase of the bracelet is a good deed in itself — one I wholeheartedly support. And it doesn't hurt to have a reminder — that the opening of doors, the cooking of dinners, the dragging of trash — are things that cost little in terms of money or time, but can make a world of difference to someone who needs it.
There's also a free giveaway! Simply send a tweet sharing a good deed someone else has done for you, mention @The1GDbracelet, use hashtag #1GD and include the link to my blog post. Fifteen lucky readers from participating blogs will be chosen at random and will be contacted by someone from @beEverywhere to receive their very own 100 Good Deeds bracelet!
My 1GD bracelet was provided by Everywhere, LLC. This promotion was not paid, and all opinions are, rest assured, entirely my own.