I Mean, Her Whole House Smells Like Soup.
If you haven't seen the movie Juno, you should probably just go ahead and watch it right now because it's one of the best movies ever.
Don't worry, I'll wait.
…
Okay, back?
Now you understand the title of this post.
Anyway, you should know something about Justin and me. Now that I'm back to working (mostly) full-time, we've decided to once again take turns with meal planning and cooking. (Yes, we still usually use my handy-dandy planning printout.) During my week to plan meals and cook, I try to keep the menu at least two-thirds vegetarian and mostly pretty healthy. And then Justin makes up for it during his week by stuffing us full of beef and bacon, which is mostly okay except I still don't fit into my pre-Italy jeans.
So last week I really tried to find some healthy recipes that also felt good for winter. (I'm sorry, but most salads just don't work for me in winter. Or at all.) Now. I'm not normally a soup kind of person. My whole house is more likely to smell like bacon and stale coffee than soup, and when the cold weather clings and I'm craving warm comfort foods, I automatically migrate towards hot, creamy pasta or chunky white chili.
See, I used to think that in order to feel satisfied after a meal, some kind of chewing had to be involved. Poor, misguided soul. When I tried that 3-day smoothie cleanse, I snuck slices of mango and tastes from tiny spoonfuls of crunchy peanut butter before slipping them into the blender where they'd be pureed into an unsatisfyingly unchewable conglomeration of easily-digestable nutrients. But 3 days of not chewing is extremism at its finest, and it turns out there's a whole world of flavorful creamy soups out there that will actually leave me feeling full and satisfied. And they don't even need to be accompanied by a sandwich.
Enter this incredible roasted cauliflower and fennel soup by Sonnet of In Sonnet's Kitchen.
It's vegetarian without being low-protein.
It's creamy without being full of fat and dairy.
And it's satisfying without being chewable.
Plus, it's super inexpensive and easy to make. It's like I found the holy grail of soup recipes.
I didn't even take any photos of the process because my kitchen is dark and honestly, I didn't think it'd be that great, but wow was I wrong. If you try no other soups before spring, at least give this one a shot.
To make it, you will need:
1 large fennel bulb, roughly chopped (about 2 cups)
1 large head cauliflower, roughly chopped (about 4 cups)
1 tablespoon olive oil + more for roasting vegetables
1 medium yellow onion, diced
2 garlic cloves, minced
6 cups vegetable stock (homemade is probably best, but I used Better than Bouillon and it was quite tasty)
2 cups cooked garbanzo beans/chickpeas (I used 1 can, drained and rinsed — next time I might use 2 cans, just to get even more protein)
Freshly-ground sea salt and black pepper
2 tablespoons fresh dill, divided
2 organic lemons, zested, then cut into wedges
Olive oil for drizzling
Directions:
1. Preheat oven to 350-degrees F. Line two baking sheets with foil and spread the chopped fennel on one and the chopped cauliflower on the other. Drizzle with olive oil and stir to coat. Bake for about 30 minutes, stirring halfway through. (I do these on separate pans just in case one happens to bake faster than the other. This time, they took about the same amount of cooking time to turn soft with nice, golden-brown edges. Don't be afraid to let them get brown. It's what gives the soup its full flavor.)
2. Heat 1 Tbsp. olive oil in a large pot over medium heat. Add the diced onion and sauté for 5-10 minutes, until translucent. Add the minced garlic and stir for around 2 minutes, until fragrant. (You should really smell that garlic — when it makes your mouth water, you'll know it's ready.) Add the vegetable broth and scrape the bottom of the pan to remove any browned onion bits and gather them up into the soup. Then toss in your roasted cauliflower and fennel, as well as the garbanzo beans. Bring to a boil, and let everything simmer for 10-15 minutes. (I kept sneaking tastes at this point. If you can't control yourself, back away from the stove.)
3. Once the flavors have melded, it's time to blend. Now. If you succumb to no other kitchen gadget impulse purchases for the rest of your life (or at least until they invent a beer "keurig" — oh wait, they have), go and buy yourself one of these.
Don't worry, I'll wait.
…
Okay, back?
I used my immersion blender to puree this soup right in the pot. If your really really don't want to invest the $35 or so bucks for an immersion blender, I suppose you could transfer this hot soup to a regular blender, hold the lid down tight with an oven mitt or a towel, pray the steam doesn't cause the lid to blow off and spray hot soup all over you and your kitchen while you blend, and then transfer everything back to your pot.
You could do that.
Or you could just get the dang immersion blender. Even if you don't typically make soup, it can be used for all kinds of dips and sauces. I used mine to make this amazing rosemary sage tomato sauce, and I used to use it to make this incredible mildly spicy chipotle hummus (though now I prefer my food processor for that). The point is that the immersion blender is inexpensive, easy to store, safer to use while blending hot soup, and results in fewer dirty dishes. Bam.
4. Before serving, season to taste with salt and pepper. It should be nice and flavorful at this point, but don't worry, it gets even better. Garnish each bowl with a bit more dill, some lemon zest, and a drizzle of olive oil.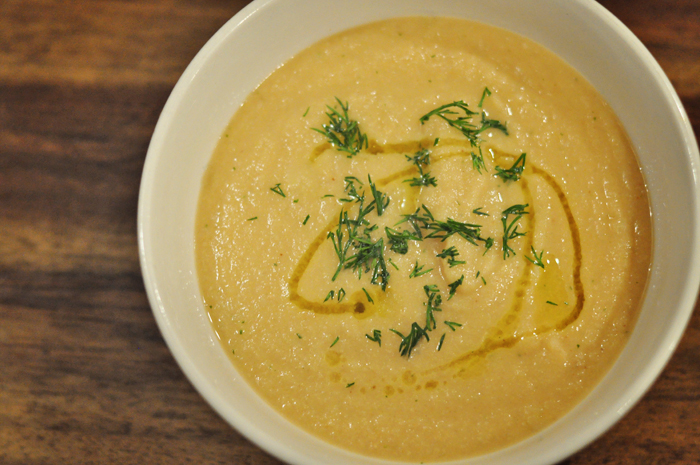 In my case, I went light with the zest and used some lemon-infused olive oil I picked up from the guy whose mom made us fresh mozzarella in Italy. You know. Because I could.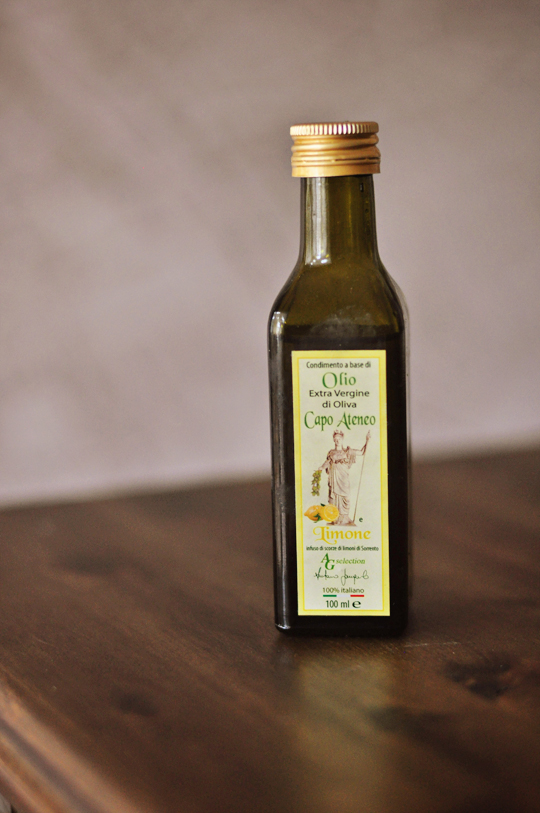 This soup is so simple to make, has very few (and cheap!) ingredients, and yet the complexity of the flavors is kind of astounding.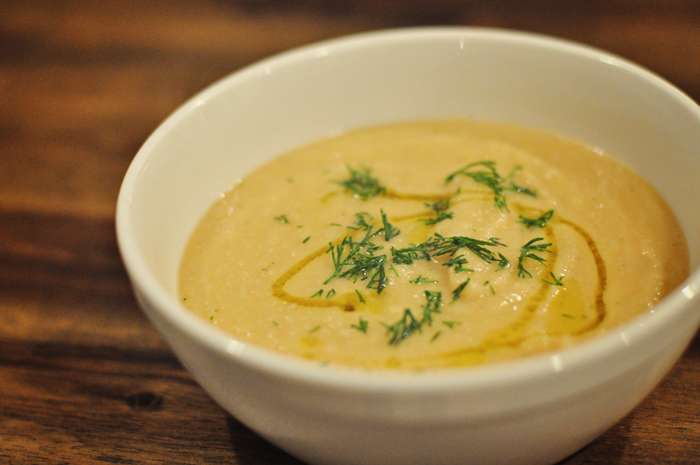 This will undoubtedly be my fallback dinner while spring makes up its mind on whether or not to show up, and both Justin and I are totally okay with that.